This Is What Happens When You Let A Reality Star Give You Dating Advice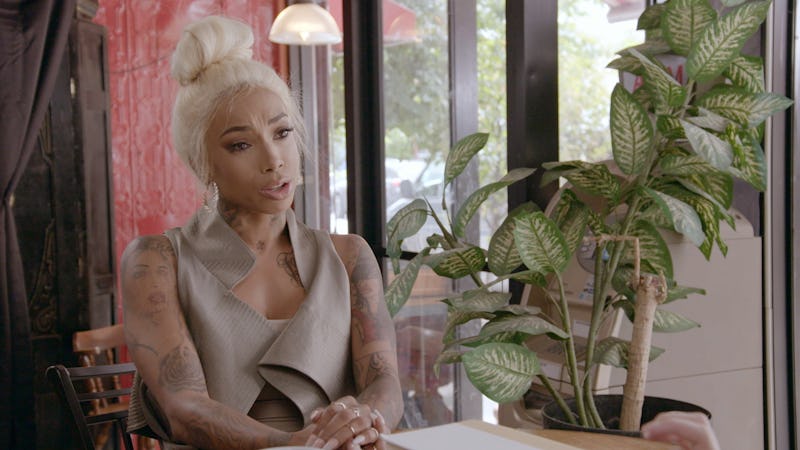 John Campbell
Does the idea of going on a first date absolutely terrify you? Trust me, you are far from alone. Many of us feel like we could use all the advice we can get when it comes to managing our love lives — but would you actually want someone coaching you through every word and movement you make while meeting a potential love interest for the first time? That is the premise of Bustle's new reality-style video Save The Date. Watch as Sky, star of VH1's Black Ink Crew, helps one woman unlucky in love find the confidence she needs to not only go on a first date with someone she's never met before, but also completely rock it.
The video follows Tamara, a newly single 26-year-old woman from Idaho. Her last relationship ended after she was cheated on, so she is understandably feeling a bit fragile. When Sky asks what her dating issues are, Tamara honestly says, "I can't date." She then explains that she always finds herself oversharing on dates, consistently mentions her cats, and that, thanks to her ex, her confidence has taken a real hit.
Sky, on the other hand, has no shortage of confidence. Described as a "celebrity wingwoman" who "loves other people's business," she is probably one of the best people who can help Tamara get out of her rut — and that's exactly what she tries to do. Sky demonstrates to Tamara that the best way to walk into a room is to strut — and to look everyone in the eye while doing so.
And that leads Sky to her next point — eye contact on a first date is crucial. It's a tried-and-true strategy many dating experts echo, and when Tamara practices it herself, she immediately becomes more at ease.
But the fear returns as Sky announces that Tamara has a date — in about 10 minutes.
Getting Ready For The Date
Sky hands Tamara a blue dress to wear, and explains that she will be there with her the whole time, feeding her real-time first date advice via an earpiece... as if first dates weren't already stressful enough.
Sky reminds Tamara to smile, and tells her not to talk too much about her cats, but if she does, no big deal. "If he doesn't like cats, we don't like him either," she quips.
With that Sky, shoves Tamara out the door and points her to the bar next door where she can change, and wait for her date to show up. Remember, Sky says. Shoulders back, and be confident.
In walks Justin, Tamara's date, and Sky exclaims in her ear that he looks like a "background singer for a country band." Sky tries to reassure her that Justin is just as nervous about the date as she is, but it doesn't help much... at least, not at first.
How did the date go down? Watch Save The Date to find out.
Check out Bustle's 'Save The Date' and other videos on Facebook and the Bustle app across Apple TV, Roku, and Amazon Fire TV.
No matter who you are, first dates are going to be at least a little bit awkward. But, sometimes all it takes is a little confidence — and someone literally in your ear rooting for you the entire time — to help you feel better about the whole situation.
Toward the end of the date, Tamara has definitely showed some improvement. Sky watches on with admiration as Tamara and Justin decide to continue their conversation over dinner. As the pair walks out, Sky has one last important reminder for Tamara — to invite her to the wedding.