Busy Philipps Voiced Support For Dr. Ford By Opening Up About Her Own Sexual Assault As A Teen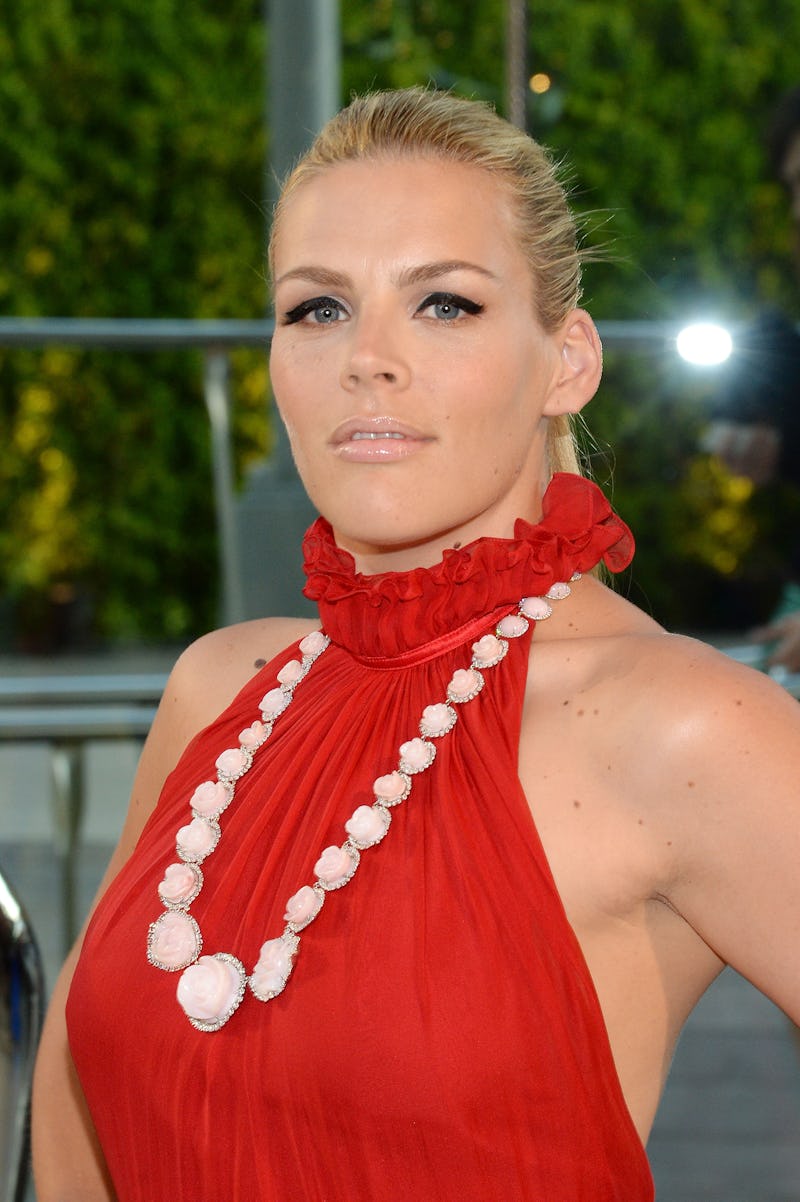 Larry Busacca/Getty Images Entertainment/Getty Images
In a powerful post shared on Instagram, Busy Philipps supported Dr. Christine Blasey Ford, who testified before the Senate Judiciary Committee on Thursday about the sexual assault allegations she made against Brett Kavanaugh, Donald Trump's Supreme Court nominee. (Kavanaugh has denied these allegations.) In a brave move of solidarity with Ford, not only did Philipps support the Palo Alto University psychology professor, but she opened up about her own sexual assault experience as a teenager.
Next to a photo of herself as a 14-year-old girl, Philipps wrote,
"This is me at 14. The age I was raped. It's taken me 25 years to say those words. I wrote about it in my book. I finally told my parents and sister about it 4 months ago. Today is the day we are silent no more. All of us. I'm scared to post this. I can't imagine what Dr. Ford is feeling right now."
It couldn't have been easy for the former Dawson's Creek star to make that statement publicly. As she said, it took her over two decades to admit her rape and to write about it her new memoir, This Will Only Hurt A Little, which comes out on Oct. 16. The 39-year-old didn't even feel ready to tell her parents and her sister until only a few months ago of this year.
It took Ford more than 30 years to come forward with her allegations against Kavanaugh. In July, Ford wrote a letter to Senator Dianne Feinstein and alleged that Kavanaugh "physically and sexually assaulted" her at a party that she and Kavanaugh attended while they were both in high school in the 1980s.
Kavanaugh has denied Ford's allegation, according to NBC News, and said in a statement, "I categorically and unequivocally deny this allegation. I did not do this back in high school or at any time."
Another woman, Deborah Ramirez, also alleged Kavanaugh exposed himself to her at a party in the '80s during their freshman year of college, according to The New Yorker. Kavanaugh has denied Ramirez's allegations. "This alleged event from 35 years ago did not happen," Kavanugh partly said in a statement give to The New Yorker. He also called the allegations a "smear."
Furthermore, on Sept. 26, Julie Swetnick accused Kavanaugh of "targeting" girls as a teen in a sworn statement given to her lawyer, Michael Avenatti. According to Toronto Star's Daniel Dale, Kavanaugh denied Swetnick's allegations and said in a statement, "This is ridiculous and from the Twilight Zone. I don't know who this is and this never happened."
At the Senate Judiciary Committee hearing on Sept. 27, Ford said in her opening statement, "I am here today not because I want to be. I am terrified. I am here because I believe it is my civic duty to tell you what happened to me while Brett Kavanaugh and I were in high school."
Kavanaugh is also slated to testify on Thursday. "In retrospect, I said and did things in high school that make me cringe now," part of Kavanaugh's opening statement reads. "But that's not why we are here today. What I've been accused of is far more serious than juvenile misbehavior. I never did anything remotely resembling what Dr. Ford describes."
It takes a lot of courage to do what both Philipps and Ford have done. And just because they both waited to open up doesn't make them any less credible, nor does it mean their stories are any less valid.
If you or someone you know has been sexually assaulted, call the National Sexual Assault Telephone Hotline at 800-656-HOPE (4673) or visit online.rainn.org.