Chrissy Teigen & Busy Philipps' Twitter Convo About Chips & Accidental DMs Is Hilarious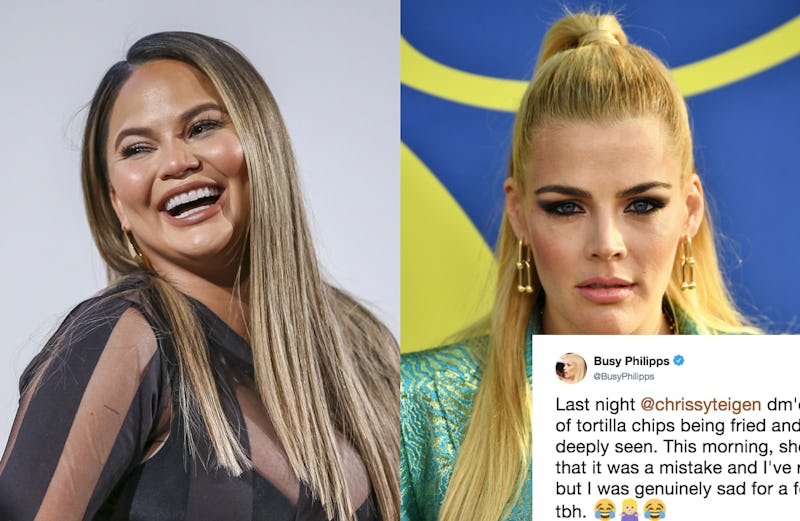 Rich Polk/Getty Images Entertainment/Getty Images; Dimitrios Kambouris/Getty Images Entertainment/Getty Images; Busy Philipps/Twitter
Two of the biggest and most amusing internet personalities just had the best social media exchange. Chrissy Teigen and Busy Philipps interacted on Twitter, and it resulted in a hilarious conversation about fried tortilla chips and accidental direct messages. Basically, they need to become best friends, stat.
On Thursday evening, Philipps took to Twitter and posted,
"Last night @chrissyteigen dm'ed me a video of tortilla chips being fried and I honestly felt deeply seen. This morning, she dm'ed me that it was a mistake and I've recovered now but I was genuinely sad for a few minutes, tbh."
Many would consider themselves lucky, like Philipps did herself, to receive a direct message from Teigen, but especially one featuring chips being deep fried. As the Dawson's Creek star noted, it would be a total letdown to learn the Cravings author messaged you accidentally. What a total bummer, right?
Thankfully, Teigen responded to Philipps. She hilariously replied Thursday, "no!! I just didnt want you to think I was a weird for randomly knocking on your instagram door with a video of chips 'HEY GURL I LIKE CHIPS DO U??' i will henceforth send you all random creepy food videos I take lol."
It's a social media user's worst fear to accidentally DM someone or to even double tap their Instagram twice, especially if it's from months or years ago. Come on, don't act like you've never scrolled through someone's Instagram — and all the way back to their older posts.
Luckily, Teigen and Philipps know who each other are, so it all worked out in the end. Not only did the model vow to send "creepy food videos" to Philipps from here on out, but the Cougar Town actor brought their exchange to a perfect close by tweeting, "Chips are my fav. But send me any creepy food vids that you take. I'm down."
FYI, this seems to be the video being discussed:
Yeah, those chips look amazing. Teigen loves food and shares all kinds of food videos on social media. Everything she makes looks phenomenal. She clearly knows what she's doing. Plus, her second cookbook, Cravings: Hungry for More, drops on Sept. 18. Anyone would probably welcome food videos from her in their inbox.
As for Philipps, she also has a food passion, specifically for baking. Just look at this Tangled-theme birthday cake she made for her eldest daughter, Birdie. Oh, and the following unicorn birthday cake for her youngest daughter, Cricket. Both cakes are seriously impressive. She started baking at a young age. In January 2016, she told Williams-Sonoma when she was a little girl her mother got into baking as a hobby, so Philipps wanted in on the fun. "I asked for an Easy Bake Oven, and my mom said, 'If you want to bake, you can do it in a real oven.'" Well, mission accomplished.
Maybe she and Teigen need to collaborate? Better yet, Teigen should appear on Philipps' new talk show, Busy Tonight. It's a late-night talk show, and per the show's description, "Hosted by actress Busy Philipps, Busy Tonight features comedic commentary, interviews, and segments that go behind her most popular Instagram stories." This sure sounds like the perfect opportunity for Teigen and Philipps to join forces, and possibly by doing a cooking segment together. How amazing would that be?
These two have so much in common, they're destined to be BFFs. Yes, Philipps is known for her tight-knit friendship with Michelle Williams, but that doesn't mean she can't have more than one friend. Plus, Williams would probably adore Teigen.
And with that, let's thank Philipps for making Teigen's accidental DM public knowledge. It's a great way to end the work week.