Cheers! Butterbeer Hair Exists & 'Harry Potter' Fans Are Craving It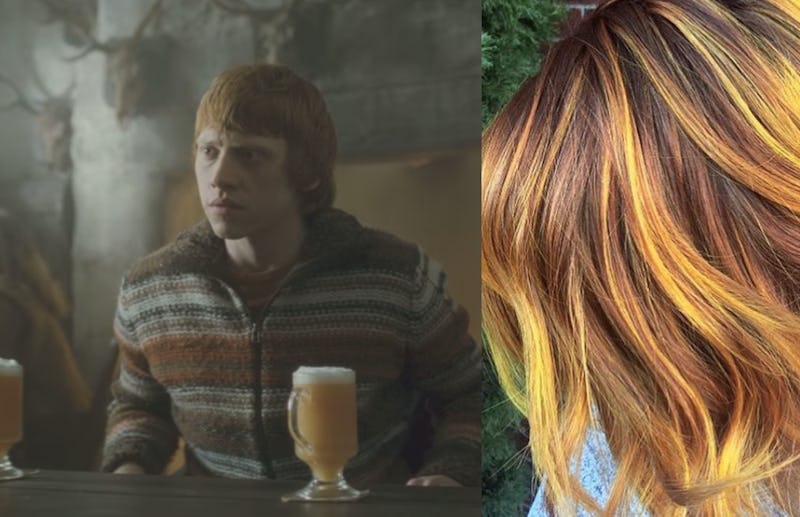 Warner Bros./ Instagram
A Hogwarts hair trend is here and it's beyond awesome. Butterbeer hair is inspired by a popular beverage in Harry Potter lore, mixing red, yellow, and orange tones for a glorious shade that is as unique as the butterscotch-flavored wizarding drink of the books and films. There are loads of interpretations of the trend currently floating around Instagram. However, the most beautiful version of Butterbeer hair that we've seen so far comes courtesy of Columbia, Missouri-based colorist Chris Mears.
He created a gorgeous, multi-tonal, and totally 'Grammable Butterbeer look for a client, which he entered into a contest. It's — natch — tasteful.
Mears' Instagram feed is jam-packed with a variety of unique hair colors, like the green, blue, and purple "Sea Witch" 'do or the blue and purple-tinted "Oil Slick" style. A quick scan of his Insta indicates that he is a master artisan who likes to craft a bold look.
Still, it's his super wearable, warm and golden Butterbeer hair that truly attracts the eye.
The toasty color pops on this client's locks, since she is rocking a shaggy lob with tons of layers that call attention to the depth and dimension of the hues.
It's certainly a lewk — and one you may find yourself requesting next time you pop into your salon ISO of a hair overhaul.
It's gorgeous, isn't it? It's adventurous without being overly ostentatious. The colors are seamlessly blended but don't disappear in one another. You can't help but marvel at the master strokes that went into crafting this 'do.
Mears, a self-professed Harry Potter fan, wanted to do something against the grain of what has been been popular in the hair realm right now. By doing so, he may have helped launch a trend. Funny how that works — bucking trends leads to the creation of new ones.
"My inspiration was embracing warmth," Mears tells Bustle exclusively. "I felt like everyone has been so obsessed with cool tones, and ash and silver, that I wanted to do something completely different and opposite."
Mission accomplished! After a few years of icy and ombre granny gray being one of the most 'Gram-worthy hair hues, warmth is once again asserting itself and seeking follicular dominance.
Mears also revealed that he used Logics Color 7RO Demi on the base and did balayage pieces throughout with yellow color lacquers from Matrix. That specific intel is for those of you keeping score at home and planning to ask your stylist to give you Butterbeer hair.
Perhaps Emma Watson will show up to her next red carpet event rocking Butterbeer strands. That would be a thrill for Potter fanatics.
Butterbeer hair is anything but boring. It translates beautifully IRL. But it's not the only hair hue inspired by a bevvie in recent months. Mulled wine hair, with its rich red and cranberry tones, enjoyed a moment during the holiday season. Also, hair inspired by the many flavors of LaCroix water was a thing last fall.
That said, why not go for it with Butterbeer hair! A quick search of the #butterbeerhair hashtag on Insta yields both subtle and extreme takes on this trend. It's all a matter of what works with your skin tone, personal style, and mane mood. But you should totally raise a non-alcoholic pint and turn up your tress tones to Butterbeer levels.