'Riverdale' Stars Camila Mendes & Cole Sprouse Get Nervous Sweats, Too, You Guys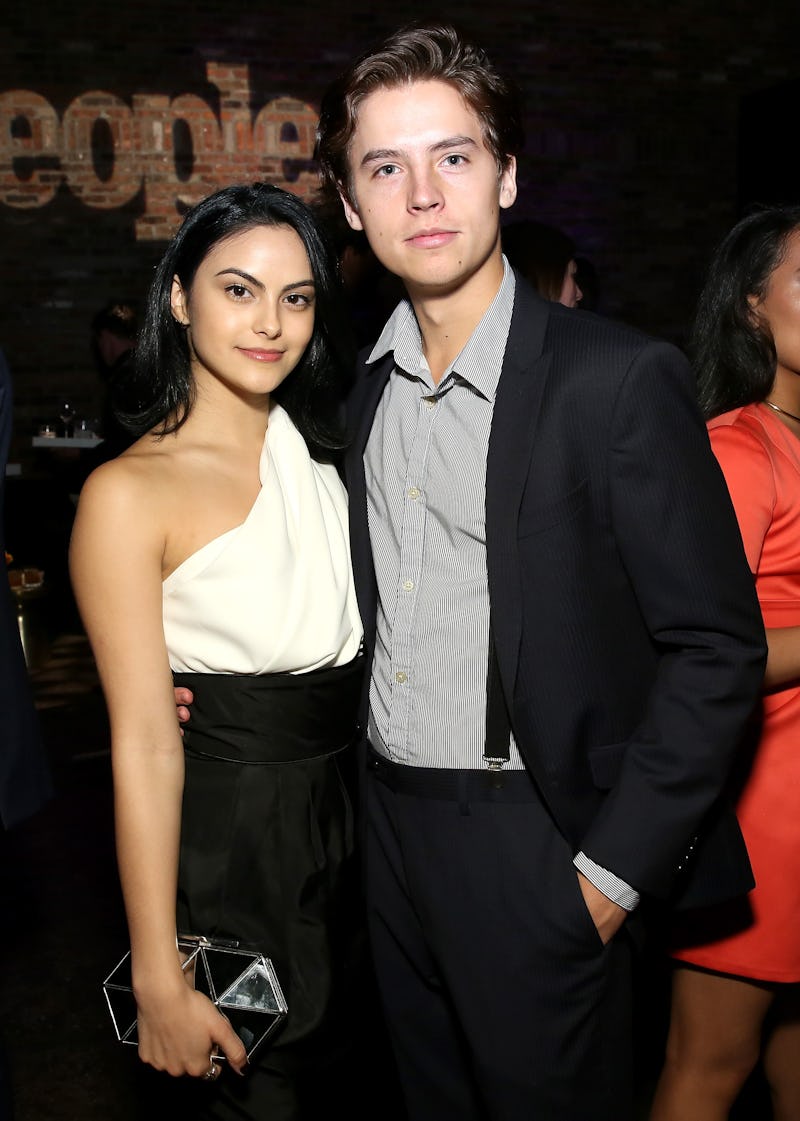 Cindy Ord/Getty Images Entertainment/Getty Images
While it's tough to imagine anyone but Camila Mendes and Cole Sprouse in their Riverdale roles, they weren't so sure they'd get the part at their audition. And in a NYLON cover story published Monday, Mendes said she and Sprouse bonded over nervous sweating as they waited to read for their respective parts, along with their co-star Lili Reinhart.
"I remember that moment so vividly, the three of us being in that room," she told the publication. "I remember sitting next to Lili, being like, 'So, where are you from?' Just small talk before the audition. I remember talking with Cole. We bonded over the fact that we both sweat a lot before auditions."
Mendes, who plays Veronica Lodge on the hit CW series, which is based on the Archie Comics, said she even had to come up with a last-minute coping mechanism. "I was literally in the room with paper towels," she said. "I would keep them under my arms and right before they called my name I would just put them away."
The three actors have grown even closer since then, and while Reinhart and Sprouse's relationship — the pair plays Betty Cooper and Jughead Jones, respectively — has been the subject of plenty of are-they-or-aren't-they speculation, Mendes talked to NYLON about her own rumored romance with old pal Victor Houston, telling the publication that she may or may not be seeing someone.
"There's a prospect," she said of her dating life. When asked if the person was a fellow actor, Mendes replied,
No, and that's, I think, why it's so great. It's somebody completely out of the industry. It's funny because I'm more hesitant to talk about it because I don't want him to read this... I actually would totally talk about it right now, if I didn't feel like, Wait, he might read this.
While Mendes hasn't confirmed the status of their relationship, according to E! News, she and Houston have known each other since high school, and have been dating for the past couple of months after reconnecting recently. (Bustle reached out to Mendes' rep for comment at the time, but did not receive an immediate response.)
Houston seemingly hinted at a romance via social media, posting a series of photos of the pair last weekend. On Friday, June 29, in honor of the actor's 24th birthday, he posted a picture of himself with Mendes with the caption, "Happy birthday beautiful," and on Saturday he uploaded another photo of the pair by the water in Montauk, New York, simply writing, "Baby."
E! also reported that Houston made a brief appearance in a video Mendes uploaded to her Instagram story.
Reinhart and Sprouse, meanwhile, have remained similarly mum about the nature of their relationship, despite persistent rumors of a romance. While the two have shared photos together on social media, and even made their red carpet debut at the 2018 Met Gala in May, Reinhart has made it clear that she prefers not to talk about her personal life.
She told Seventeen in April,
Every time someone asks me about it, I make a decision then and there about whether I'm comfortable. It's not like I'm in some kind of contract, but I'm not in the place where I want to talk about it, and that's totally fine. It's called a private life for a reason — it's mine, and it's special and sacred. My relationships are between me and whomever I'm with, not between me and the world.
Clearly, there are some things that the Riverdale cast prefers to keep private. Relationships are personal, but being sweaty before a big meeting or audition? Well, that's information Mendes is more than happy to share.