A Woman Is Suing Sephora After She Allegedly Contracted Herpes From A Lipstick Tester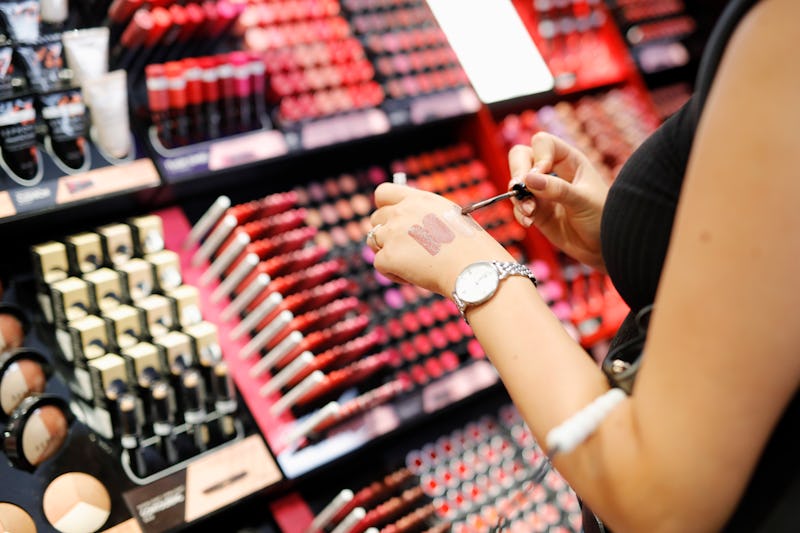 Andreas Rentz/Getty Images Entertainment/Getty Images
When it comes to shopping for beauty, Sephora may just be king (or queen) of all. Not only is the retailer a place to shop for hair care, skin care, and cosmetics, but its rewards program is bae — and then there's the ability to swatch almost all of the makeup in the store to find the perfect shade. But that privilege may have gotten the beauty giant into trouble with the law. Sephora is reportedly being sued by a woman who claims she contracted herpes from a lipstick testing tube at the store.
UPDATE: Bustle was given the following statement by a Sephora representative: "While it is our policy not to comment on litigation, the health and safety of our clients is our foremost priority. We take product hygiene very seriously and we are dedicated to following best practices in our stores."
According to a report from TMZ, few details are actually known about the alleged incident. The woman claims in the suit that she never had the cold sores associated with the herpes virus prior to visiting the Sephora location in 2015 and testing lipsticks. The filer of the suit did confirm the herpes outbreak with medical professionals, but questions still remain as to whether or not the "common use" testing tube at Sephora is what caused her to contract the virus.
"[The woman] is suing the cosmetics chain for the emotional distress over an 'incurable lifelong affliction' she says she now has to deal with as a result of using its lipstick samples," TMZ reports.
Whether or not the source of the herpes virus was a Sephora lip product, the store and other stores with "common use" products have long been under fire by derms and doctors. While Sephora does provide separate wands and sanitation materials for testing, it is hard to be sure every single product in the store is sterile, especially when you are relying on customers to keep products clean.
As of press time, the retailer has not issued a statement regarding the lawsuit. Bustle has reached out for comment from Sephora.
According to Dr. Sheila Loanzon, who spoke with Bustle previously, one in six people are living with the herpes virus, which is more than the number of people who have diabetes. An estimated 3.7 billion people are infected with herpes nationwide.
All things considered, herpes isn't that rare at all. But that's not to say you shouldn't sanitize testers and use them with caution. After all, other common viruses, not just herpes, are transferable through sharing products. Herpes, however, is highly stigmatized, and the virus is often the butt-of-the-joke in pop culture. Due to this unfortunate view of the herpes virus, this alleged incident probably seems more alarming to most than, say, an outbreak of the flu coming from a tester.
If you love seeing lipstick hues IRL or testing foundation shades up close, there are ways to be as safe as possible when using testers in stores. You can use cotton pads and cotton swabs that are available at test stations in order to swatch. Using your hands to do so is a no-go when it comes to preventing bacteria from growing and spreading.
If you really want to stay safe, there's the option to stay away from makeup testers altogether — and that includes free samples taken from common use products. Instead, simply opt to shop at stores with excellent return policies. Sephora happens to have a great return policy, with customers able to get a cash refund on all items accompanied by a receipt before 30 days or for store credit after 30 days.
If you decide to test makeup in stores, keep in mind that you should always sanitize your testers and be cautious. Whether it's potentially catching a cough or a virus a little more serious than the common cold, you want to take as many precautions as possible to prevent illness of any sort.