11 Facts About Captain Marvel That'll Make Her Your Favorite Hero In The MCU, Hands Down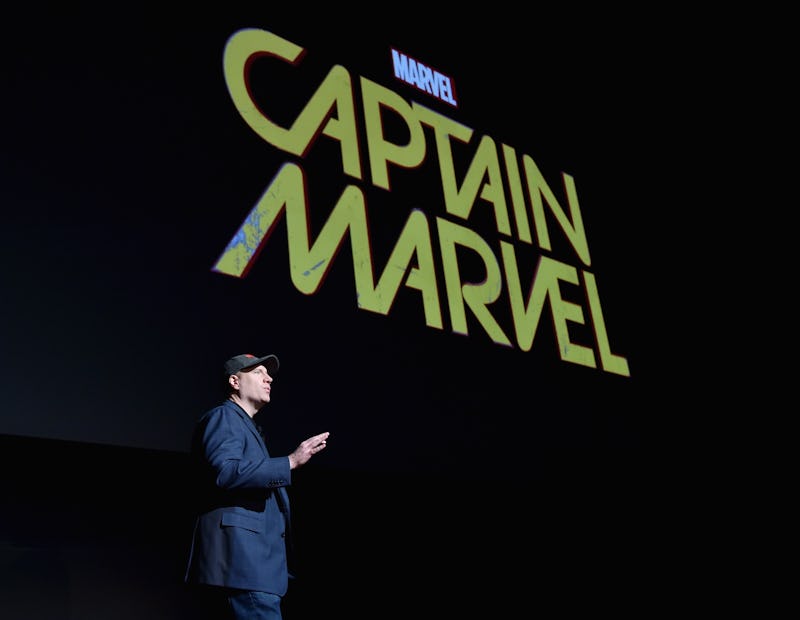 Alberto E. Rodriguez/Getty Images Entertainment/Getty Images
Avengers: Infinity War broke a lot of barriers in the Marvel Cinematic Universe. Superheroes died, some went to space, and the Infinity War post-credits scene teased the arrival of the MCU's very first female superhero to get her own solo film. Even though Marvel's newest superhero didn't appear in Infinity War, teasing her logo in film's final scene was enough to make Captain Marvel fans of us all. And these 11 facts about Captain Marvel will make you even more obsessed.
If you aren't already counting down the days until Captain Marvel's March 8, 2019, release, then get ready to mark your calendars. The character of Carol Danvers, who assumes the title of Captain Marvel in the MCU, first debuted in the comics in the late '60s, and over the past 50 years, she has been the girlfriend, the sidekick, Ms. Marvel, Binary, and, finally, Captain Marvel. She's been through a lot of changes and embodiments, some more successful than others, and when Captain Marvel finally makes her big screen debut, she's going to be the best version of the superhero yet.
There are already plenty of reasons to be obsessed with Captain Marvel. She's the strongest superhero in the Marvel canon and will be the first female superhero to have her own solo movie in the MCU. She's strong, cool, smart, and has been set up as the one thing needed to defeat Thanos in Avengers 4. And, believe it or not, that's not even scratching the surface of facts about Captain Marvel that'll get you even more excited about her upcoming film.