Here's How To Watch International 'Bachelor' Shows, Even If You're In The U.S.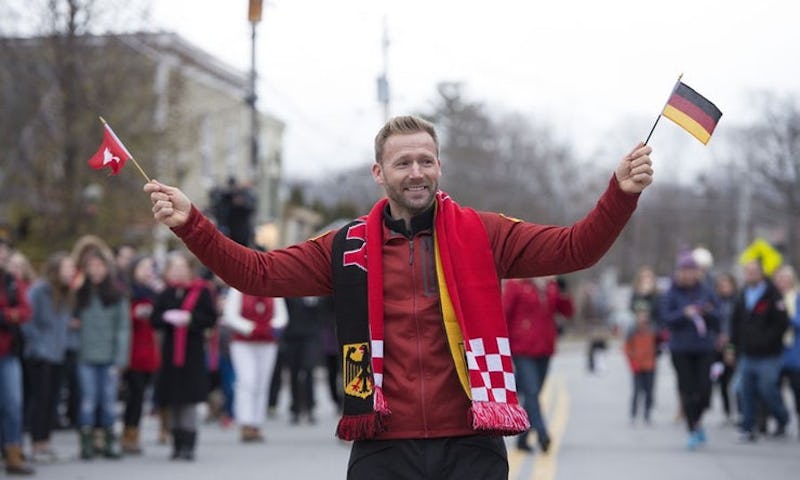 ABC
The Bachelor Winter Games has brought together rose ceremony survivors from across the globe, and it may be opening the Nation's eyes to just how far this franchise has spread. Your favorites on Winter Games may be from versions of the show that you've never seen before, and, unfortunately, American fans can't watch international Bachelor shows — at least not easily. Restrictions most certainly do apply.
As represented in the Games, they have The Bachelor in New Zealand, Finland, the United Kingdom, China, Japan, Australia, and Sweden. The Bachelorette can also be seen in Canada, Australia, and Switzerland/Germany. According to Cosmopolitan, other countries with their own show include Romania, the Ukraine, Israel, Russia, Brazil, and France. And, according to Splinter News, that's not all. Poland, India, Slovenia, and Norway have also joined the fun. Clearly, the winter-themed spinoff competition is just the tip of the iceberg.
So, can you watch any of these if you live in the United States? New Zealand has clips and episodes on the official website, but there is an international restriction. Meanwhile, Australia is incredibly polite about it; their Bachelor website explains that you must "reside" down under to view. You'll strike out on Sweden's website as well, though that page does link to their social media profiles and those are open to the international public. Here's a blooper reel below.
Canada should be easy enough, and you probably have a renewed interest in sexy Canadians courtesy of watching Tessa Virtue and Scott Moir competing at the Olympics (as if Canadian Prime Minister Justin Trudeau wasn't enough) this year. While seasons are available on iTunes, you appear to need to be in Canada to download those as well. However, you can check that show out on Instagram as well and at least get a taste.
Social media might, honestly, be the most trustworthy way to look in on other Bachelor and Bachelorette shows overseas. Did you know that Bachelor in Paradise is coming to Australia? Instagram always comes through. Except for Finland, for whatever reason. Finland is particularly hard to find online.
Similar to Canada, Japan's Bachelor is streaming on Amazon Prime, but you can only watch if you're in Japan. You'll have to make due with promos and short clips on their Insta as well.
Thankfully, you actually can watch clips from Der Bachelor in Germany online. Meanwhile, in the United Kingdom, The Bachelor ran initially on BBC Three before moving to Channel 5. American Anglophiles might be familiar with other shows on that first network, including Gavin & Stacey, Being Human, and Torchwood. Channel 5 houses many reality programs, but as the series ended in 2012 it is not currently online. The closest you could get would be to watch Made In Chelsea, which stars a former UK bachelor.
In an interview with the New York Times, creator Mike Fleiss talked about how the show is able to break boundaries in the name of romance: "I felt like the curiosity around our show was large enough that it could extend past our American cast." He also teased that some international members could cross over in the future, as well.
Whether you want to compare and contrast the shows, figure out what happened when your Winter Games international fave was on their season, or are just fascinated by the multitude of dating shows around the globe, the internet is at least partially able to help you.Plus, you can always just watch the spin-off to get a taste of how international contestants differ from those on American shores. A traditional marathon might not be in the cards, but there's plenty of information out there. Love doesn't know borders, and your Bachelor obsession isn't any different.