Alex & Piper Could Get Their Happy Ending On 'OITNB'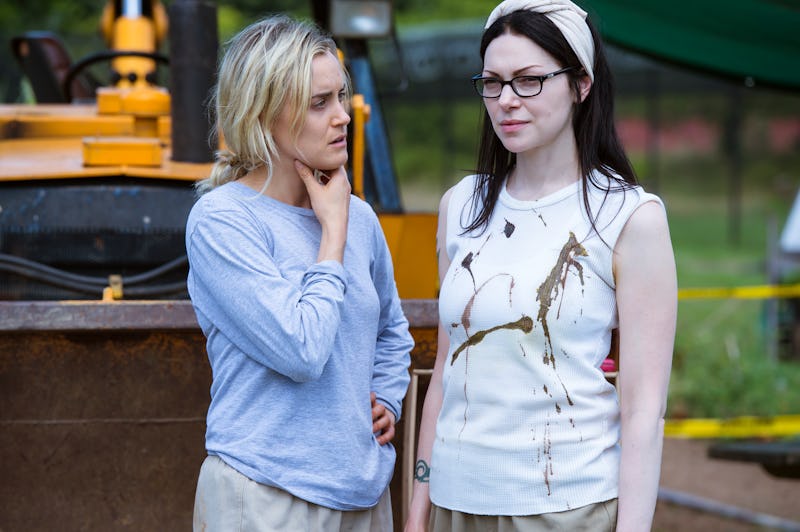 Jojo Whilden/Netflix
There are SPOILERS ahead for Orange is the New Black Season 5, which premiered on June 9. In the fourth season, Alex and Piper reunited as a couple and they continue to be happy together during the Litchfield uprising, even playing house in the yard like a married couple. Can two female inmates get married in prison and if so, can Alex and Piper marry on Orange is the New Black? Yes, they can and it has even happened in real life, especially thanks to the 2015 landmark Supreme Court ruling that declared same-sex marriage legal in all 50 states. So getting hitched at Litchfield is totally possible Alex and Piper.
Even before then, same-sex inmates were allowed to marry as long as gay marriage was legal in the state of their prison, according to BuzzFeed. In 2014, inmates Terann Pavao and Totie Tauala got married at the Women's Community Correctional Center in Hawaii, reported Hawaii News Now. Eric Tanaka, the prison's acting warden, described the ceremony to BuzzFeed: "They'll be in their prison garb. They'll be an officiant there that they arranged to come in and they have two witnesses and of course, facility staff on-hand to witness what is happening. They will also be allowed to exchange wedding bands, but there's no fruit punch or cake or anything like that."
Two male inmates are also allowed to marry in prison — and rapper Lil Wayne details such a ceremony in his 2016 memoir Gone 'Til November, according to the New York Post's Page Six. In the book, he describes how he performed a marriage ceremony between two men in a hall decorated with toilet paper and bottles of Gatorade during his time at Rikers Island. "Imagine seeing [grown] men in jail hanging tissue for wedding decorations," he wrote in the book, according to Page Six. "And one of them is Lil Wayne. Crazy."
In Season 3, Lorna married Vince Muccio at Litchfield, so fans know that heterosexual inmates can definitely have a wedding take place in prison. A wedding between Alex and Piper on-screen would truly bring the series full circle. Back in Season 1, Piper was engaged to marry Larry Bloom as she arrives at Litchfield. They break off the engagement a few seasons later, while Piper and Alex have an on-again, off-again relationship while serving their respective jail sentences.
But if these two make it down the aisle, it could mean the relationship is on-again for good and indicate a more stable future for the couple on Orange is the New Black.