So...Here's The Thing About Ramona's Skincare Line From 'RHONY'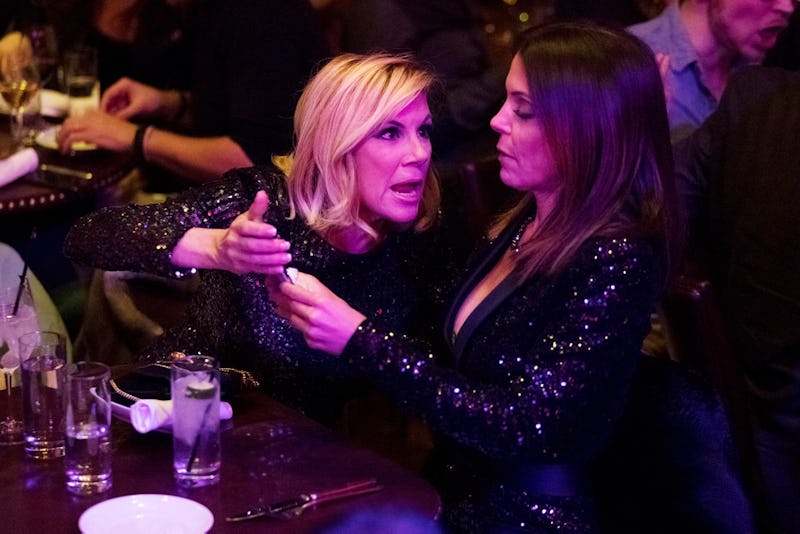 Heidi Gutman/Bravo
Real Housewives was originally a way to flaunt massive wealth and show the rest of America how the 1 percent lives, but it was also a platform and an opportunity to bring more of that cash into the Housewives' bank account. Most of the women across the franchise have at least one spon con client and a cookbook to push their "brand" on America, and that's fine. It makes sense to use the show as a way to sell yourself. The latest Housewife to do so is Ramona Singer — where can you buy Ramona's skincare line from Real Housewives Of New York City?
Old-school Real Housewives Of New York fans will remember that Ramona started her foray into skincare in Season 3 with Tru Renewal. Ramona's new line is called Ageless by Ramona, and, according to Bravo, it's Ramona's newest passion project. "This is something that I really believe in. I really see a difference in my skin by using anti-aging skincare," Ramona told Bravo. Ramona said that she's been using her own products and has really noticed a difference in her skin.
"[The Formula] really promotes collagen and cell renewal, which is what you need because getting a facelift doesn't do that, injecting doesn't do that," Ramona said of one of her products. That sounds good, right? Having a face like a baby's bottom? And now you want to buy it? Well, here's where it gets interesting.
In April 2018, Bravo reported that Ageless By Ramona would be available starting in May 2018 at agelessbyramona.com. Except when you go to that website… there's nothing available to buy. It's just a bunch of opt-in lightboxes and some "Ramona-isms" with a notice that products will be "arriving soon." It's not even in HTML. Ramona's Facebook page has a post from February about her being excited for the launch, and nothing else after. Let's venture to say that you cannot buy Ageless By Ramona on her website or… anywhere else, for that matter at the moment.
The Season 10 finale of Real Housewives Of New York focuses partly on Ramona fighting with Bethenny because she didn't come to her Ageless By Ramona launch party. Or something. When asked by a fan on Twitter about Ramona's new skincare line, Bethenny didn't hold back (as if she ever does).
Ramona's skincare line may be MIA, but her feud with Bethenny is ongoing. In a preview for the Season 10 finale, Ramona tells Bethenny, "I'm very disappointed and hurt that you never responded to my invitation to my celebration of my skincare line." Bethenny, never one to mince words, tells Ramona, "I hear you, OK, I understand that you're disappointed … noted. I don't feel the need to give you an explanation."
And honestly, Bethenny doesn't owe Ramona an explanation. Ramona has spouted the notion that Bethenny doesn't support women before when it's just not the case. Not going to a launch party for a product that seemingly doesn't exist isn't a big deal — Ramona just wanted to start a fight and create a little buzz around her party. But just like the skincare line itself, it just isn't happening this time.