Watching The Super Bowl Without Cable Is Even Easier Than You May Have Thought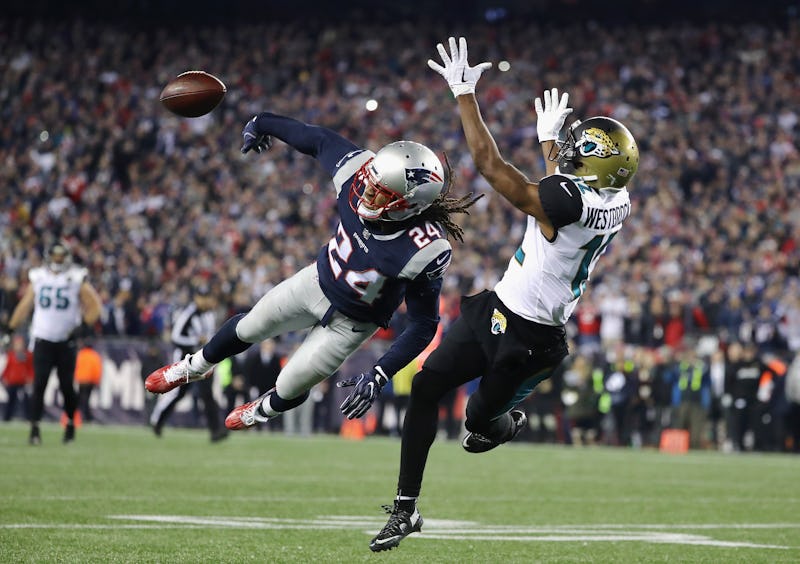 Elsa/Getty Images Sport/Getty Images
On Sunday, it'll feel like everyone's talking about the Patriots vs. Eagles football game — and you're going to have serious FOMO. So you might be wondering, "Can I watch the Super Bowl without cable?" The short answer is yes, and it might be easier than ever before. For years now, tens of millions of people have tuned in for one Sunday in February to watch the championship game. Even if you're not a big fan of the sport, the game has become a cultural cornerstone, and, if you miss it you could miss out on a lot of conversation.
There's a reason it seems like everyone watches: A whopping 111.19 million people watched last year's Super Bowl — a decline from 2016 when 114.4 million viewers caught the live broadcast. That's about 33 percent of the country's population.
To be clear the experience go ways beyond rooting for your favorite team and watching the players score touchdowns. In addition to being the biggest night in football, it's also the biggest night in advertising. Companies pay premium prices for a commercial slot — this year the going rate is $5 million for 30 seconds — which means advertisers are putting their best material forward. Expect to see commercials for cars, insurance, and beer, filled with celebrity cameos, big laughs, a few tear jerkers, and some downright peculiarities. Case in point, the David Schwimmer Super Bowl ad for Skittles.
Then, of course, there's the Halftime Show. In years past, the all-star performers during the mid-game break have created almost as much buzz on the field as the athletes. Whether it was because they blew the audience away with showmanship and talent (Beyoncé, Prince, Bruce Springsteen) or added a surprise element to the proceedings (who can forget Katy Perry's Left Shark?), everyone was talking about the performances afterwards.
Sunday's game at U.S. Bank Stadium in Minneapolis airs live on NBC, starting at 6:30 pm EST. If you, like tens of millions of other Americans, don't currently subscribe to cable or satellite television, or, hell, don't even own a TV, there are still options to watch the event.
There are several apps that will be offering a live stream of the game. While you could watch it through nbcsports.com or the NBC Sports App, this will only work if you already have a cable subscription you can log in through. That is a good option if you happen to be away from your home and want to watch on your device, but this probably doesn't apply to you if you're reading this.
Fear not cord-cutters. Last December, the National Football League also announced that you'd be able to view the game through the official NFL App, Yahoo, and the Verizon go90 app. If you have Chromecast, you'll be able to transfer the computer or phone stream to a television. Note, however, that on these services the game might have different advertisements than the ones you would see on NBC.
If getting all those ads is important to you, and you're hoping to tune into the very special post-game episode of This Is Us, and you own a television that was made in the past decade, then your best option is to purchase a HDTV antenna. This antenna, which you probably haven't thought too much about since broadcasting made the transition from analog to digital in 2009, will allow you to pick up NBC signals. There's a plethora of options to choose from, and, unlike subscription services, this payment is only made once for access to the basic broadcast channels.
However you choose to watch, make sure to tune in at 6:30 p.m. EST — that's when Pink will be singing the national anthem.