This Olympic Ice Duo's Routine To 'Moulin Rouge' Got A Little TOO Risqué For Some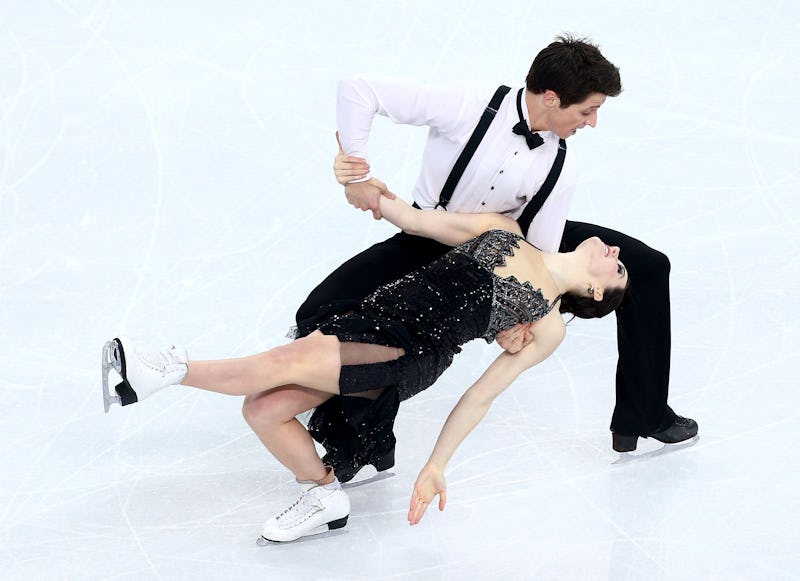 Paul Gilham/Getty Images Sport/Getty Images
I don't usually think of ice dancing as being particularly risqué— if anything, it always seems a little straight-laced and stodgy to me — but it seems that's not always the case: Canadian ice dance duo Tessa Virtue and Scott Moir's Moulin Rouge-themed free skate is apparently so sexy that they're changing it up for the 2018 PyeongChang Winter Olympics in order to make it more family-friendly. The change will be made to one particular lift which the Toronto Star reports was "so suggestive that The Canadian Press had initially been leery about moving photos on the wire that freeze-framed the moment"—although it turns out the story is perhaps a bit more complex than just, "OH NO, TOO MUCH SEXINESS, WE CANNOT HAVE THAT!"
Virtue and Moir, who took home the silver medal at the 2014 Sochi Games, have been skating this routine all year; scored with a medley from the 2001 Baz Luhrmann film Moulin Rouge, it begins with "Tango Roxanne" before seguing into "Come What May." The lift in question, which Lori Ewing at the Toronto Star described as both "risqué" and "athletically impressive," occurs during the "Tango Roxanne" bit (because of course it does — few things are as sexy as a good tango). Previously, it involved Virtue "[sticking] a toe pick in the ice to propel herself backwards so that she landed straddling Moir's shoulders, her hands clasping the back of his head." After several spins in that position, Moir then brought her gradually back to the ice.
Here's what it looked like within the context of the full program — the lift is at about the 2:25 mark:
And here it is isolated as a GIF:
Moir has described the move variously as "suggestive" and "porno"-like, while Virtue stuck with "edgy"; she did, however, note to the Toronto Star at the Canadian championships recently, "We wanted to make a bit of a different statement, and if that was bringing a certain edge or sexuality or darkness or a contemporary feeling to it, mission accomplished, I guess."
The new version, however, will see Virtue "[straddling] Moir's shoulders for a brief moment before dipping one knee down and then dismounting," according to the Star. I'm having a little bit of trouble visualizing what exactly that means (can you tell I don't have a background in skating?), but I assume that in the updated move, Moir's face won't be buried in Virtue's stomach for quite as long as it was during the old one.
To be honest, the lift as it was didn't strike me as "X-rated" or anything; sensual, sure, but not, as Moir cheekily suggested, "porno"-esque (although it certainly is one heck of a program either way — these two are so much fun to watch that I'm seriously considering devoting my evening to marathoning every video of them I can find on YouTube). So: Why the change?
It turns out that it's not just for the benefit of the public's seemingly delicate sensibilities. A large part of it is an artistic and narrative choice; as Virtue explained to Ewing of the Star, "I think we liked that [the original lift] made a statement, and it was different. And that was great for the start of the season, but for the overall vision of the program, we hope that this new position fits a little better." What's more, added Moir, the goal is to "take the ice with programs where we're confident in every single second, and we're in love with the movement every second." He noted, "Hopefully that will show through and we'll be able to capitalize on that."
In a separate opinion piece in the same publication, however, columnist Rosie Dimanno theorized that the change might also have something to do with adjusting the performance to suit the Olympic judging panel. "It's all in the eye of the beholder, of course. But the eyes beholding at PyeongChang, at least those that count most, belong to those magistrates of the marks. And they're a conservative lot," wrote Dimanno, adding later in the piece that "it's still a somewhat stuffy world… especially in the dance division." If it's well-known that risqué programs don't really fly with the judges, then it would make sense to want to switch things up a bit.
What's clear, though, is that Virtue and Moir really love this program, with or without that one lift. They love the music; they love the moves; and you can see exactly how much they love it in their performance. It's in their energy — and even, when the camera gets close enough, in their faces. And that? Is worth its weight in gold when you're competing against the best athletes and artists in the world.
Indeed, when news broke last summer that the pair would be skating to music from Moulin Rouge during the their Olympic year, Virtue told the Toronto Sun, "There was no other option for us. We just knew we felt this and loved it so much, there was nothing that would compare." Moir added, "We always loved the movie. We know it's a theme used a lot in figure skating, but as we always do, we try to give our own stamp on it and make it unique. Only a handful of times in our career, we've brought music to our coaches and almost insisted we skated to it."
This was one of those times, and, well… it looks like it's probably the right call.
It's worth noting, by the way, that Virtue and Moir are no strangers to tweaking their programs as needed. As Tamara Fuentes points out at Cosmo, this is the second time they've switched up some details in the Moulin Rouge routine; and according to Dimanno at the Toronto Star, they've also made some adjustments to their short program — which strings together the Rolling Stones' "Sympathy for the Devil," the Eagles' "Hotel California," and Carlos Santana's "Oye Como Va" — throughout the season as well. And, I mean, that makes sense; when the stakes are as high as they are at the Olympics, you want to make sure every moment of your routine is exactly what it needs to be.
The short program is pretty amazing, too, by the way; they've skated it before, including at the 2017 Autumn Classic International. Said Moir about their musical picks for this program to the National Post, "They're pretty epic songs. Yes, they were before our time, but obviously they've kind of withstood the test of time." (Virtue was born in 1989 and Moir in 1987; "Sympathy for the Devil," meanwhile, was released in 1968, "Hotel California" in 1977, and Santana's version of "Oye Como Va" in 1971.) He continued, "They're still some of the best music. That's the generation of music that in many ways we connect to the most."
Here's that routine:
I…
...Uh…
...Think I might actually be rooting for Canada in the ice dancing competitions this year. These two are on fire, and I love it.
Before Virtue and Moir actually hit the ice, though, we'll be seeing them in another capacity: They're going to be the Canadian flag bearers in the Opening Ceremony, too. Tune into the Opening Ceremony on Friday night, and head here to see the schedule for figure skating and ice dancing competitions throughout the Winter Games. May the best competitor win!