Cara Delevingne Has Bangs On Her 'V' Cover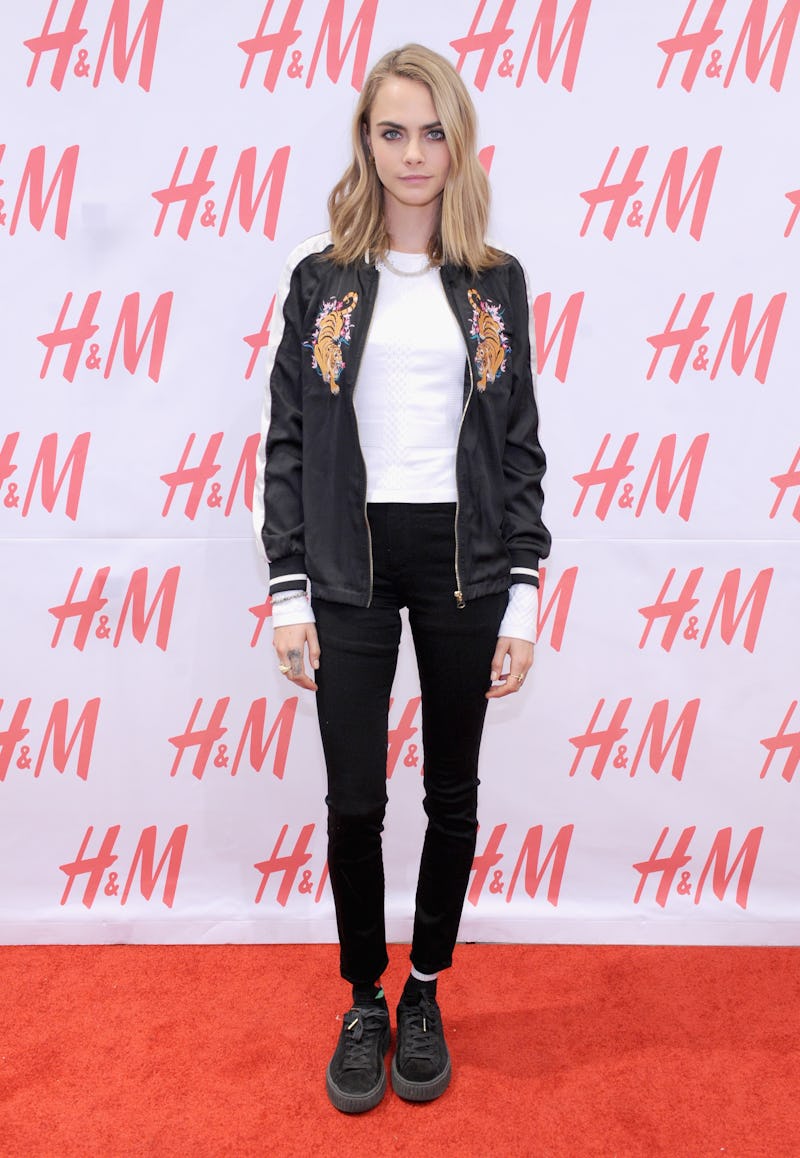 Craig Barritt/Getty Images Entertainment/Getty Images
She made headlines a few weeks ago by going drastically short with her pixie cut and she's becoming a bit of a hair chameleon, but in reverse. The usually honey blonde and wavy-maned model Cara Delevingne has bangs on her V cover. For the new issue of V on stands May 1, she shares space with Dane Dehaan and is rocking a white hot, white blonde bob with bangs, still-statement brows, and piecey, Twiggy x Foxes-like, individual lashes. It's a '60s presentation for Delevingne and all the elements come together to create a decidedly mod vibe.
The face-framing bob, complete with shaggy, brow-skimming bangs, truly stands out not because of the white-hot hue but because of those bangs. I'm not used to CD with fringe. The bangs could have been clip-ins or cut for this cover, but it doesn't really matter, as Delevingne has since moved on to a shorter, choppier 'do with a much more roughed up texture. I also love that her hair looks silky and touchable, too.
Delevingne did really long, thick blonde locks for so long. She's been getting progressively shorter and more white blonde over the past few months, opting for drastic changes with her coif lately. The process is totally working for her.
The volume at the crown, the deep side part, and bangs have the perfect complement in the form of her separated lashes.
This is also Delevingne's take on granny hair, since the bob-with-bangs also takes on a silver cast with this cover. Also, her light locks contrast with her thick, dark brows. It's basically Delevingne doing granny chic, punk rock, and mod all at once. Of course she pulls it off because duh.
The white blonde color and bob length weren't new for Delevingne. But the bangs were! It's sot of a moot point since she is now totally short and newly shorn.
This is where she's at now with the platinum pixie. It's as though all her recent looks have been leading up to this. It was a progressive transition to shorter and whiter, with a pitstop at bangs.
This the more familiar hue and style. But Delevingne rocked it for long that it's refreshing to see her embrace a bold hue and no length!