Cara Delevingne's Royal Wedding Look Is The One EVERYONE Will Be Talking About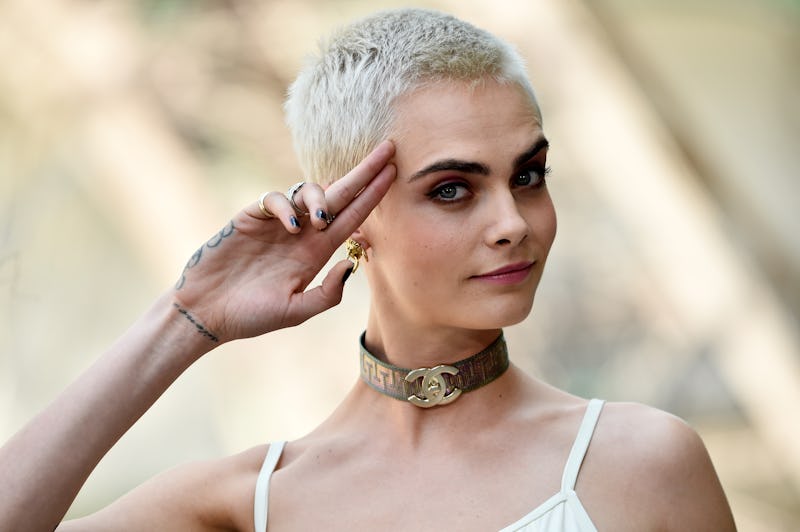 Pascal Le Segretain/Getty Images Entertainment/Getty Images
Damn, Cara Delevingne looks good. But where's the surprise there? Having royal ties herself, Delevingne has been pals with Princess Eugenie for awhile now, and she may well be her most stylish wedding guest. The super model, whose extra fleeky brows have become icons in their own right, already seems to be stunning guests with her suave threads. Seriously, Cara Delevingne's outfit at Princess Eugenie's wedding is making heads turn.
Delevingne, one of the world's favourite supermodels, attended Burberry's perfume launch party the night before Eugenie's royal wedding, where she sported an extra sleek Burberry three piece suit, as Footwear News reported. She apparently chose to keep the androgynous look going for the wedding, and she was one of the sharpest dressed person there. Most notably, Delevingne was wearing a frigging top hat like an actual boss, as Cosmopolitan reported. Below the top hat, she went semi extravagant with a blazer and tails, as well as a blue tie and heels. By the looks of it, she seemed super pleased with her get up. Photos of the model at the wedding show her looking smugly into the camera, sporting that trademark "yeah right, you *wish* you could get this" look of hers.
Delevingne's outfit has already caused a bit of a commotion on Twitter, even luring in those who weren't otherwise fussed about the royal event at all. One user tweeted: "Couldn't care less about the wedding but good LORD Cara Delevingne," while The Sun's executive editor, Dan Wootton, tweeted: "Yes Cara Delevingne! I LOVE that she hasn't gone for a dress". And, in a tweet that sums up many people's feelings entirely: "Cara Delevingne just won the Royal Wedding". And "While plenty of women have rocked a black tuxedo suit on the red carpet," The Mirror's Emmeline Saunders wrote when she saw the model's outfit, "the look is less unusual for a wedding."
But it seems as though this subversion of expectations is winning the crowd over. Let's hope that Eugenie was wooed too, and she didn't feel upstaged by Delevigne's damn fine outfit. But since these two are good pals, I'm sure Eugenie was proud to have her best dressed friend attending her nuptials. According to People Magazine, the pair first met in back in 2015, when they attended the same party at London Fashion Week.
Although it's also possible that they were friends before that, as the Daily Mail reported on June 25, 2015, that Delevingne attended Princess Eugenie's epic 11-hour birthday bash. Fellow supermodels Naomi Campbell and Kate Moss were reportedly also in attendance. But now, Delevingne might be set to cause a similar level of chaos, since, as the Express reported, she's breaking royal protocol with that wedding outfit. "A grey or black top hat is worn with morning dress for racing but at most other events it is carried rather than worn and may be dispensed with," according to the Debretts site.
C'mon, lads. Surely she looks good enough for this one to be waived?