Cardi B Just Confirmed Her Baby's Sex After Many, Many Hints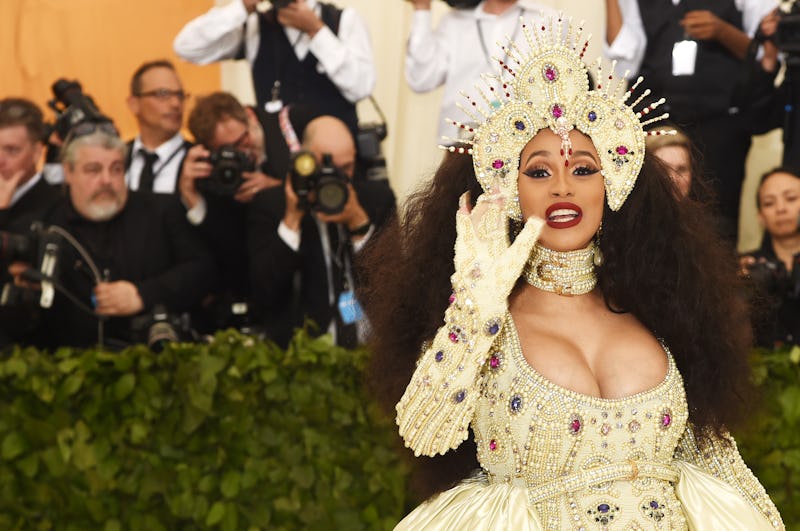 Jamie McCarthy/Getty Images Entertainment/Getty Images
After giving plenty of clues about the sex of her baby on the way, Cardi B has confirmed that she's having a baby girl. As People reports, she made the announcement during an appearance on The Howard Stern Show Tuesday. When the host asked her if she knew the sex of her baby, Cardi B replied, "Yes. I'm having a girl." And now, fans are thrilled for the rapper and mom-to-be all over again.
Previous to this, during a recent conversation with The New York Times, Cardi B having a baby girl already sounded pretty much certain. The Times story was primarily about Cardi B's papal-inspired Met Gala gown, designed by Moschino's Jeremy Scott. But while discussing her dress, the rapper shared some details about her pregnancy, and she referred to her unborn child as "she."
While discussing how "extremely heavy" her Met Gala dress was, Cardi B also discussed the weight of the baby she's carrying. "Shorty weighs three and a half pounds," Cardi B told the Times. "She do. She do weigh three and a half pounds. That's pretty good for seven months, right? Because I was born five pounds."
It wasn't just a one-time use of the pronoun, either. As People pointed out, Cardi B also said "she" when referring to her baby during a Met Gala interview with Entertainment Tonight.
"Oh, she wants to fight me!" Cardi B told ET, referring to her baby apparently kicking. "[My dress weighs] about 35 pounds plus baby. It's OK though, I used to go up the project stairs."
Fans are thrilled about the rapper's reveal, tweeting congratulations to Cardi B about the news:
As another clue, Cardi B shared an Instagram photo on Tuesday that showed a little girl dressed up in a costume similar to her Met Gala dress. And the caption suggests that Cardi B is excited to dress her own daughter in the future. "@aili_in_town soooo bute 😍😍😍i want mines already," Cardi B wrote on Instagram.
Cardi B's sister, Hennessy Carolina, also shared a now-edited Instagram post, in which she referred to Cardi B's baby on the way as "her." "I'm going to be able to hold baby you and give her all the kisses and hugs," Hennessy had written on Instagram. It seems like other people noticed the gendered pronoun in her post, though, because she later changed the caption to read "the baby" rather than "her." And there's also the fact the Cardi B was seen opening pink baby gifts, which hinted that she would be having a baby girl, before she confirmed the news.
It sounds like she and Offset already have a baby name picked out for their daughter, too. Last month, Cardi B told Ellen DeGeneres that Offset already has a name chosen for their child. "My dude named the baby," the rapper said on The Ellen DeGeneres Show, according to People. "I really like the name."
Before revealing her pregnancy, Cardi B denied early reports that she was pregnant. And in one Instagram story posted after the pregnancy was announced, Cardi B reportedly said, "People be so thirsty to scrutinize and try to destroy something that it suppose to be a blessing," according to E! News. It sounds like she was afraid of revealing her pregnancy because she didn't want to be criticized. That's a heartbreaking reason to keep her pregnancy a secret — but it sounds like Cardi B isn't letting any haters affect her. And these days, she's been super open about her pregnancy — when her baby girl is born, she will be surrounded by love.