Cardi B Revealed These New Details About Her Impromptu & Spontaneous Wedding With Offset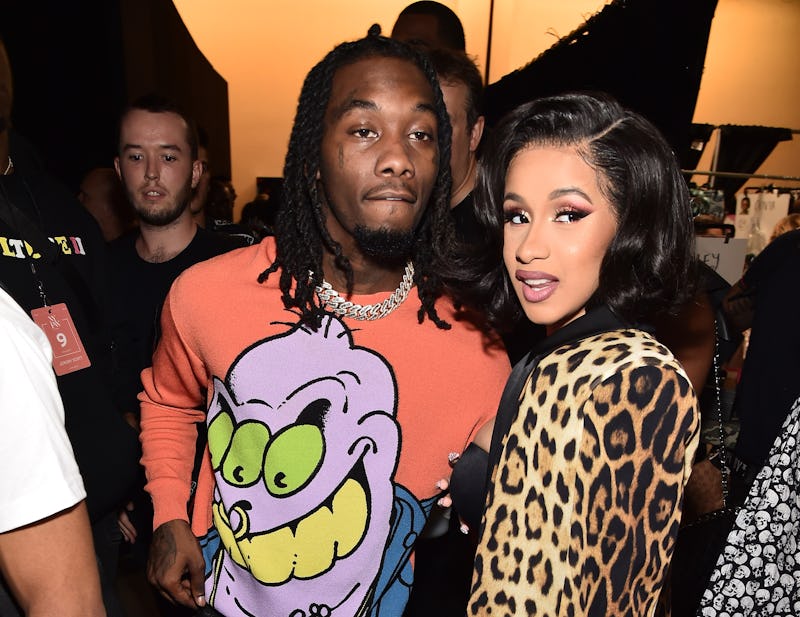 Theo Wargo/Getty Images Entertainment/Getty Images
This past June, Cardi B. shocked fans by revealing that she and Migos rapper Offset had secretly gotten married in September 2017. While the news was certainly surprising to followers of the hip-hop couple, an Oct. 9 interview with W Magazine reveals that Cardi and Offset's wedding was more spur of the moment than some may have originally thought.
In her cover spread for the mag's November issue, Cardi reveals that although she and Offset had discussed getting married in the past, the idea to officially tie the knot came about during a heated argument. The "I Like It" rapper says that she was the one who suggested they elope and shared: "And he's like, 'You're playing around.' And I said, 'I'm for real.'"
Cardi went on to explain the low-key wedding, saying that they got married in Offset's bedroom while both wearing sweatsuits. Despite making their union official, Cardi told the mag that things still didn't seem real because she didn't have a ring. However, that would all change when her new hubby planned a surprise engagement that helped to further trick the world into thinking that the pair were not yet married.
Surprising her onstage during a concert in Philadelphia a few weeks after their impromptu home ceremony, Offset publicly proposed with an eight-carat diamond ring — a moment that Cardi revealed she had been dreaming of for years. She explained in the interview,
"For a guy to get on his knees and ask me to marry him. And he was just like, 'I will never get on my knees. F*ck outta here.'"
Despite remaining mostly mum about the secret wedding, Cardi did share a personal snapshot of the event in honor of her and Offsett's first wedding anniversary. She posted the photo on Instagram with the simple caption, "TBT ...September 20th."
Although their fairytale romance seems like it was totally meant to be, Cardi revealed to W that there were some major roadblocks on their way to the altar. Citing their professions and the nature of their hectic work schedules, the 25-year-old Bronx native shared:
"When I got married with my dude, we still had a lot of doubts, because our relationship is not like everybody's. He was always traveling, and I was always traveling. We're artists. So I used to see him, like, twice a week, and, you know, he's known for having different women, and I'm known for, like, not taking sh*t from guys. But we really loved each other, and we was scared to lose each other."
Continuing to speak candidly about her relationship and its imperfections, Cardi revealed that she's committed to making her marriage work, adding:
"Every single day there's rumors about me and my dude. And it almost drives me crazy, because I start to believe them. I don't have no proof. I don't have receipts. But I just got to know my man. We practically on the phone 24 hours a day. If I can't find him, I'm going to find his friend. Somebody going to answer the phone. But I cannot be feeling insecure, to a point that I would drive my dude away, because these people want that to happen."
This past July, the couple welcomed their daughter, Kulture Kiari Cephus, and appear to be living out their happily ever after. While their trip down the aisle may feel a bit unconventional to some, it seems that for Cardi and Offset, it couldn't be more perfect.