Cardi B Isn't "Embarrassed" By Her Feud With Nicki Minaj — But She Does Have One Concern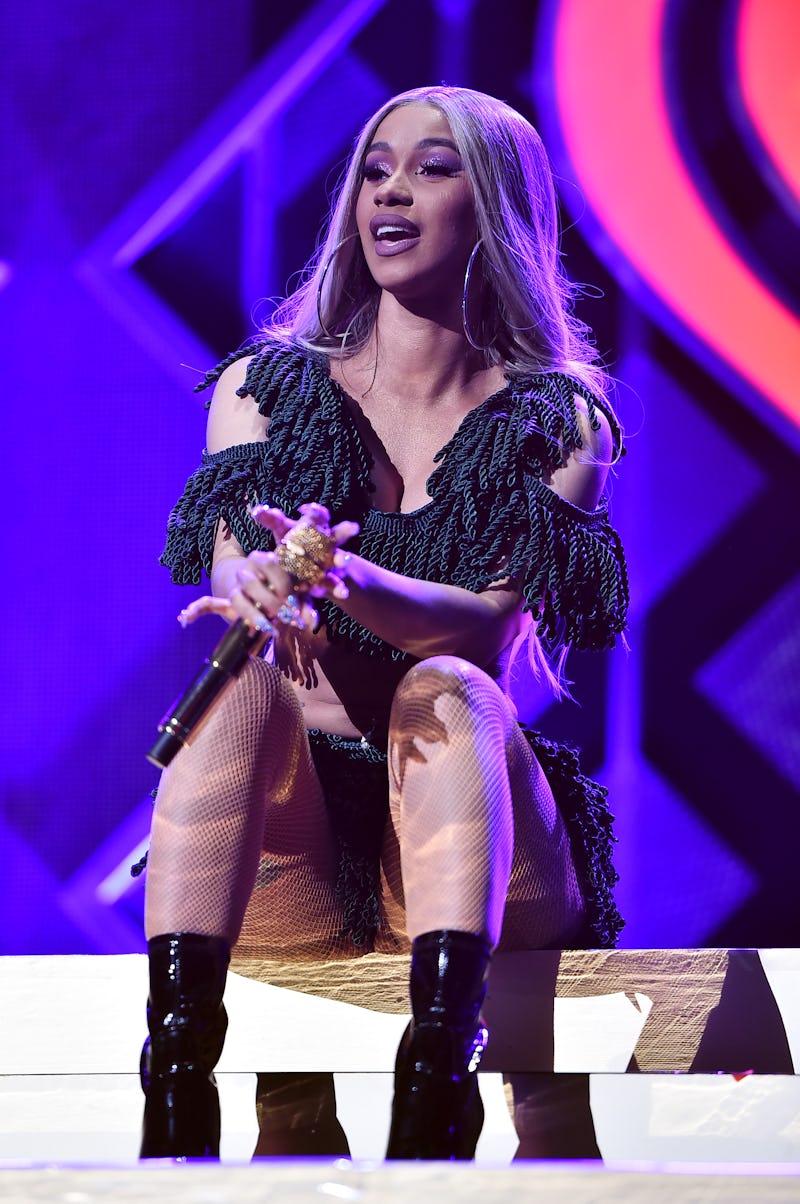 Theo Wargo/Getty Images Entertainment/Getty Images
When it comes to outspoken celebrities, there's nobody as forthright as Cardi B. But even though the rapper doesn't ever shy away from being unapologetically herself, even she has to admit that there are a few downsides to her sometimes confrontational nature — and it has to do with her very public feud with Nicki Minaj. In fact, Cardi B regrets that her feud with Nicki Minaj distracted from their music, even though she noted that she's "not embarrassed" by the whole ordeal.
During a recent interview with CBS News (via Entertainment Tonight), the rapper opened up about the long-rumored feud with Minaj, which allegedly kicked off when the pair had a disagreement over their verses on the Migos song, "Motorsport," and culminated in an infamous altercation at a Fashion Week party in September. But while Cardi didn't shy away from addressing the rift between herself and Minaj, she's admitted that she isn't exactly thrilled that their feud has dominated headlines recently.
"It's unnecessary," Cardi said about the media attention surrounding their fights. "I think it's bad for business. You know, a lot of people like to say 'All publicity is good publicity,' to me, it's not. That takes away from people paying attention to your craft. It makes people not even pay attention to your craft, they just want to see drama."
And though the rapper noted that she isn't embarrassed by the public nature of the feud — "Am I ever embarrassed about anything I ever do? No," she said, with her typical candor — Cardi did admit that she's had a hard time blocking out the criticism that has come along with her sudden skyrocket to fame. "When I was a nothing, everyone was rooting [for me], and now that I'm finally here, people have a problem [with] it. Like, I work so hard, why do people feel like I don't deserve it?" The rapper said that she tries to ignore the backlash, but noted that "it just drives you insane."
Cardi's frustration with the constant focus on who she's feuding with is understandable — even in October, the rapper had to clarify to Apple Beats 1 DJ Ebro Darden that her latest single, "Money" wasn't intended to be a diss track, despite some outlets reporting that it was a dig at Minaj after their fight.
"The way that I came up, it was never about dissing nobody, and I still feel like I don't need to diss anybody for nothing. My music was never about that," she said during her Apple Beats 1 appearance. "I don't like when people be subbing me. So, why would I subbing you on music? Any problem I have, I always address people face-to-face."
Cardi knows how entertaining it is for fans to be sucked into a rap feud — in April, she admitted in an interview with Apple Music that even she was entertained by the feud between Minaj and Remy Ma. But it's not surprising that she feels that constantly making headlines for arguing with other rappers is distracting people from the music she's making and the work she's been doing.
Still, Cardi made it clear to CBS News that she has no intention of changing who she is or the way she reacts to things, even if that means earning some bad publicity in the process. After all, Cardi knows that the reason fans connect with her is because she's so unapologetically herself at all times.
"You just gotta be yourself," she said about her approach to life in the public eye. "When I talk, I make a lot of mistakes. Like, I might say words, and the words are not even in the dictionary! But people still like it, because you can tell that I'm saying it from the heart."
Cardi might have regrets on how the media conflates her feuds with her music, but that doesn't mean she's going to change anytime soon, and for that, fans will be very grateful.