Cardi B's "Money" Is Not A Nicki Minaj Diss Track & She Won't Be Releasing One Any Time Soon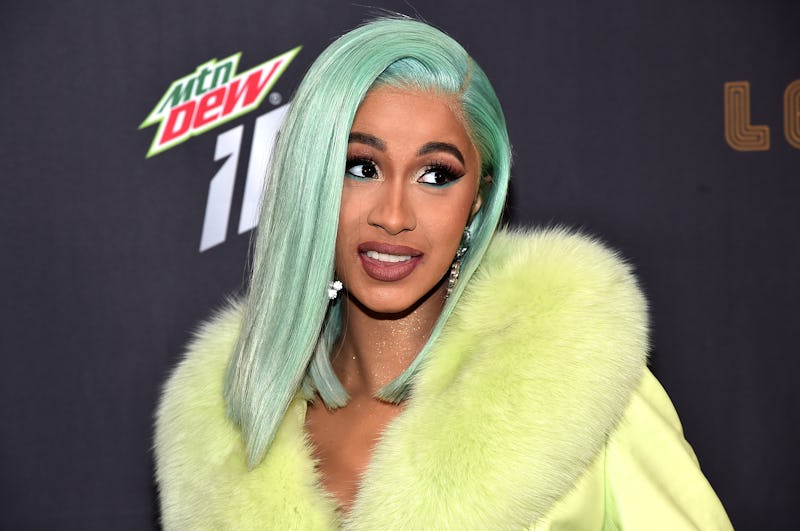 Theo Wargo/Getty Images Entertainment/Getty Images
When Cardi B's new single "Money" was released on Tuesday, Oct. 23, many listeners wondered who, if anyone, the song was being directed towards. Despite the nature of their highly publicized feud, which reached a boiling point during New York Fashion Week in September, Cardi recently revealed that "Money" is not a diss track about Nicki Minaj, according to E! News. In fact, the 26-year-old emcee said that she's never felt the "need to diss anybody" in her music at all.
On the song, which was leaked earlier this week, the Bronx-born emcee addressed her both her critics and competition without naming names, rapping, "Cardi at the tip-top, b*tch / Kiss the ring and kick rocks, sis." Some of the song's content raised eyebrows upon its release with many speculating that the verbiage was a retort in reference to her complicated relationship with Nicki Minaj. However, Cardi quickly cleared things up during a recent FaceTime interview with Ebro Darden's Beats 1 show on Apple Music, as reported by E! News, explaining:
"The way that I came up, it was never about dissing nobody, and I still feel like I don't need to diss anybody for nothing. My music was never about that."
So, no, "Money" isn't a diss track, and it doesn't sound like the rapper has any interest in making any other diss tracks either. But, even though the song's lyrics are not aimed at anyone in particular, Cardi maintained that she's always going to address disrespect accordingly and "face-to-face." She continued, telling Darden:
"I don't like when people be subbing me. So, why would I subbing you on music? Any problem I have, I always address people face-to-face."
While Cardi put rumors to rest about her new tune and its relation to Minaj, it seems that there may be another person in her world that the song is actually dedicated to — her daughter, Kulture Kiari Cephus. "Money," which is Cardi's first solo single since giving birth this past July, mentions a myriad of the rapper's favorite things. Towards the end of the song, Cardi sends a sweet shoutout to the newborn, making it evident that the love she has for her baby girl trumps everything.
On the first two rounds of the chorus, Cardi raps: "I like boardin' jets, I like mornin' sex (Woo!) / But nothing in this world that I like more than checks." Though it goes without saying that Cardi's list of "likes" does not disappoint, her third return to the chorus shines a bright light on what's really important in her life. Substituting the word "checks" with her baby's name, Cardi raps, "But nothing in this world that I like more than Kulture" making for one of the sweetest hip-hop mommy moments ever.
In addition to the adorable namedrop, Cardi also used her daughter's initials in the song's last line to symbolize her most prized possession. She continues, "All a bad b*tch need is the K. K. C. (Woo!)"
Now that Cardi is back to making money moves in her solo career, it seems that she's not going to allow any drama to hold her back. With things seemingly dying down between the two, fans can only hope that Cardi B and Nicki Minaj will find a way to make peace with one another — because they'd certainly be a force together.