Cardi B's New Song "Money" Mentions Kulture In The Sweetest Way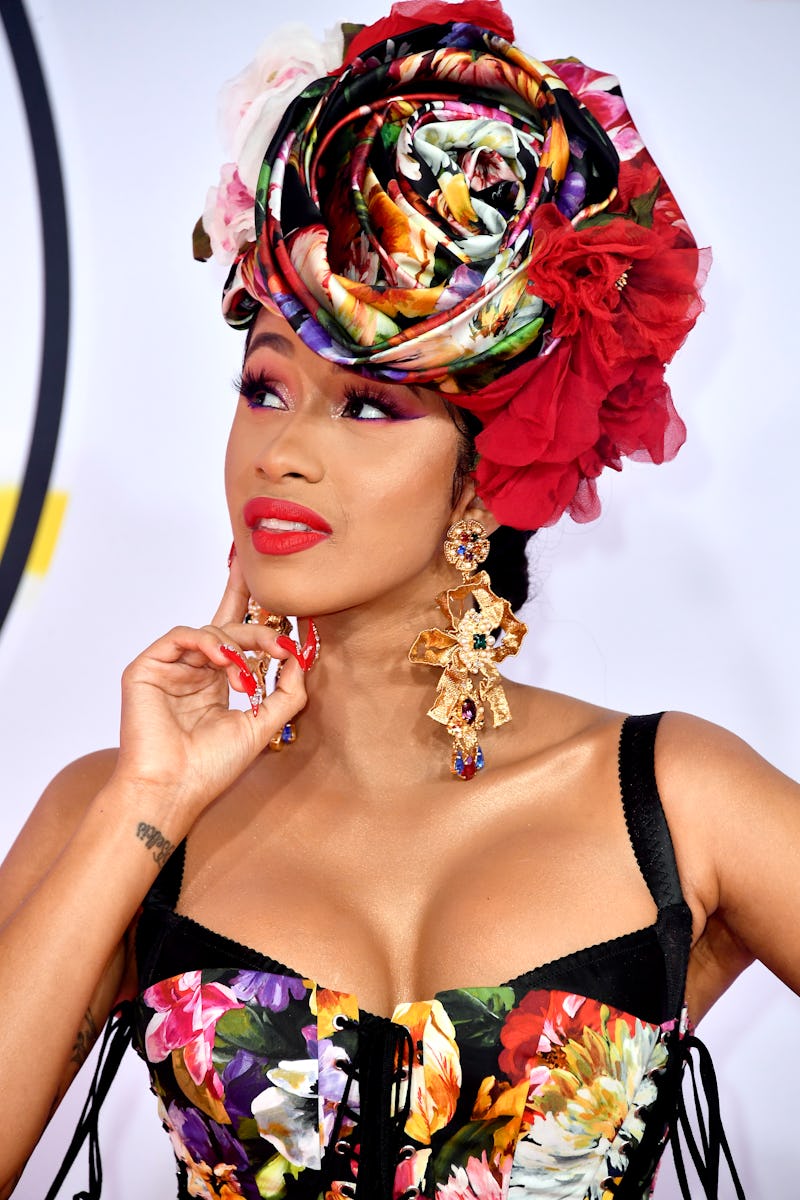 Frazer Harrison/Getty Images Entertainment/Getty Images
In her first solo single since giving birth this past July, Cardi B sends a sweet shoutout to her newborn daughter that is sure to make your heart melt. Cardi's new song "Money", which was released on Tuesday, Oct. 23 mentions a myriad of the rapper's favorite things. However, her sweet tribute to Kulture proves that being a mother is her number one priority. Amidst the song's catchy chorus Cardi reveals:
"I like boardin' jets, I like mornin' sex (Woo!) / But nothing in this world that I like more than checks."
While — like most things Cardi B — the list of "likes" does not disappoint, the Bronx-born emcee's third return to the chorus sheds light on what's really important in her world. Omitting "checks" from the lyrics Cardi raps, "But nothing in this world that I like more than Kulture" making for one of the sweetest mommy moments ever. In addition to the adorable namedrop, Cardi also uses her daughter Kulture Kiari Cephus' initials in the song's last line to symbolize that the 3-month-old is what matters most in her universe. She continues, "All a bad bitch need is the K. K. C. (Woo!)"
The track, which was originally expected to drop later in the week, arrived as an early gift to fans who couldn't be more excited to hear new music from the 26-year-old recording artist. Upon hearing the song, may couldn't seem to get enough of the Kulture mention, taking to Twitter to express their love for Cardi's doting lyricism.
As one of the hardest working people in the entertainment industry, Cardi has remained a major presence on the album charts, releasing music as a featured artists seemingly nonstop. However, her latest song enters to prove that the former reality star is officially back to making money moves as one of hip-hop's most-popular artists. In August, Cardi took to Instagram Live to reveal that she had been working on new music with hopes to release approximately ten songs by the year's end. She went on to explain that five of the tracks were completed when she recorded Invasion of Privacy but were left off of the album because they "didn't make sense" with the project's theme at the time and said that she only needed four or five songs to finish the record. Although, it is immediately unclear if "Money" is one of the the songs Cardi was referring to when she made those statement this past summer, it's safe to say that a new album is coming along in the very near future.
This has certainly been a whirlwind year for the artist, whose first single "Bodak Yellow (Money Moves)" was released in June 2017. Earlier this summer, Cardi revealed that she secretly wed Migos rapper Offset in Sept. 2017 and later gave birth to their daughter Kulture in July 2018. She also released her wildly-successful debut album Invasion of Privacy in April and received two nominations at the 2018 Grammy Awards. In addition to those nods, she has won three American Music Awards, three MTV Video Music Awards, two iHeartRadio Music Awards, two BET Awards and a Billboard Music Award over the past few months. In this year alone, Cardi has also garnered 20 Billboard Hot 100 Hits, according to Forbes.
While her new song may make many revelations about her love of money, Cardi's reference to Kulture reveals that nothing comes before her baby girl.