Cardi B's ASMR Video Is Nothing Short Of Mesmerizing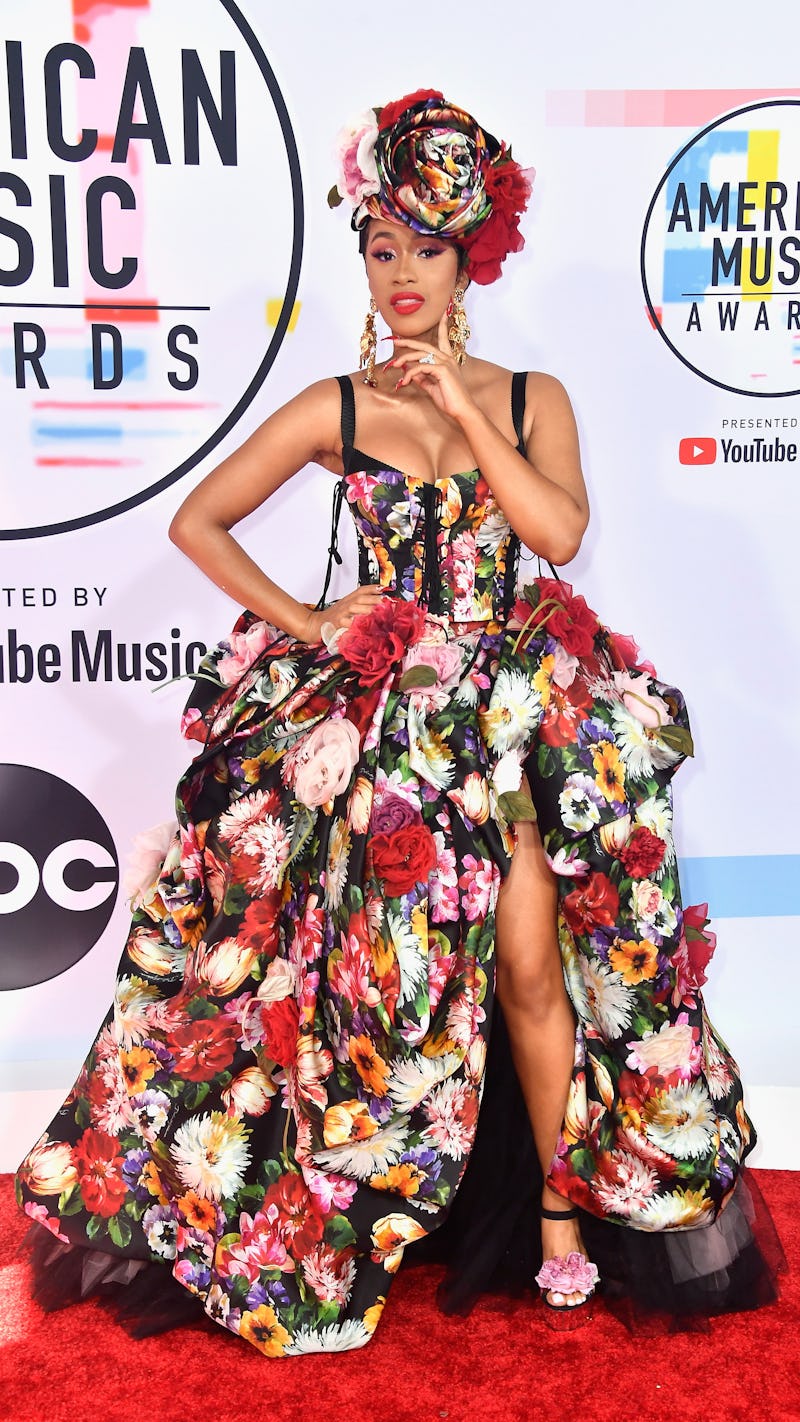 Frazer Harrison/Getty Images Entertainment/Getty Images
The evening is winding down. You're ready to let go of any stress that has made itself cozy in your brain like an unwelcome house guest. Go ahead and pull up the ASMR video Cardi B filmed for W magazine. You know, if you're into ASMR, that is. Cardi is the latest celebrity to record a video for W's ASMR interview series, and the recording will probably plop you right in a blissed-out trance. Again, if you're into ASMR, that is.
ASMR (autonomous sensory meridian response) is the term for the weird-but-good feeling that happens as a reaction to different auditory and visual stimuli. It's the sensation that overcomes a person's body when they hear or see something that both soothes and stimulates the brain in jusssssst the right way, the rush of tingles that envelop your mind in a blanket of calm. There is a lot of content that's been made for the sole purpose of creating those tingles. There are videos of food being chewed, makeup brushes bouncing against camera lenses, fingernails clicking against an aluminum can, cakes being decorated, and makeup palettes being turned into globs of slime. Oh, and there is whispering. So, so much whispering.
It isn't for everyone, but ASMR does serve as a relaxation tool for many. And Cardi is one of the many who tucks herself into bed each night with some autonomous sensory meridian response content. At the top of her interview with W, she whispers,
"My husband thinks it's very strange and weird that I watch ASMR every single day to go to bed. But it gives me a very tingly, tingly, tingly, tingly, tingly, tingly sensation… sensation… sensation."
She goes on to whisper about the success of "Bodak Yellow," being a new mom, making the music video for "I Like It," and the high pile shag rug she's cradling. You can hear every hushed syllable, every mouth movement, and every okurrrrr. If that sort of thing is not your deal/puts you on edge, maybe think twice before you listen to this over headphones.
And if you can't make it through the extremely miked mouth noises (no shame, everyone's ASMR journey is different), try fast-forwarding to the 10:15 mark. At that point in the video, someone outside of the frame hands Cardi a bead maze and she gets to work. She moves the pieces around the loops of metal, letting the shapes crash into each other right next to the microphones. After she spends about a minute clanging the blocks together and against the base of the maze, Cardi picks up the toy and starts drumming her fingernails against it. The mikes pick up every last click, tap, slide, and drag.
If you want more Cardi B ASMR material, BBC Radio 1 have just the video for you. The three-time American Music Award winner recorded an ASMR version of "Bodak Yellow" when she appeared on The 8th with Charlie Sloth in November 2017.
May the dulcet tones of Cardi's whispers and fingernail taps lull you to sleep.