Why You Shouldn't Expect Cardi B To Stop Name-Dropping Her Fiancé In Songs Anytime Soon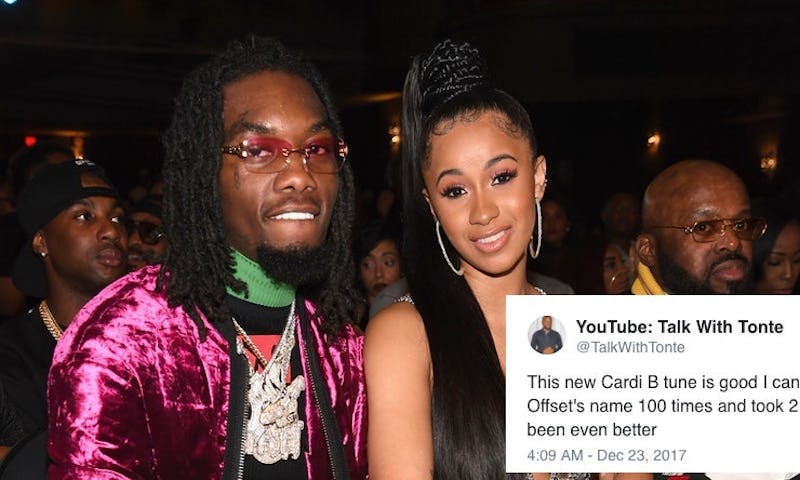 Paras Griffin/Getty Images Entertainment/Getty Images; TalkWithTonte/Twitter
Cardi B has been living her best life all throughout 2017, and for anyone who didn't already know, she doesn't care if that pisses you off — especially when it comes to her fiancé, Offset. Cardi B's references to Offset in "Bartier Cardi" recently sparked some criticism from fans, but after the song's release, she was quick to ward off the haters and let the world know that she really couldn't care less.
After making music history with "Bodak Yellow" this summer, Cardi B finally dropped her long-awaited follow-up single "Bartier Cardi" late Thursday night, and people still haven't stopped talking about it. By Friday morning, the 21 Savage-assisted track was receiving all sorts of praise from fans on social media, but there appeared to be only one issue that people were having with the song: the amount of times she dropped Offset's name.
Upon listening to the track, you'll hear that Cardi only mentions Offset in the chorus. But she drops his name four times in each chorus, which makes for a total of 16 times that her fiancé was mentioned throughout the entire track — and fans weren't having it. Some listeners took to Twitter to express their love for "Bartier Cardi," but not before airing out their opinions on the issue.
Though Offset's name is mentioned a lot more frequently on "Bartier Cardi," the new song isn't the first time she's used her bae for rhyming inspiration. She was featured alongside fellow female MC Nicki Minaj on Migos' "Motorsport" back in October, and at one point during her guest verse, she raps, "I get upset off, I turn Offset on." The single mention in that verse paired with how many times she mentions him in her new song is basically what sparked fans to be somewhat annoyed.
But because Cardi B is Cardi B, she took to social media to defend herself upon catching wind of everyone's comments. The 25-year-old posted a photo to her Instagram story and Twitter with a lengthy caption that reads, in part:
"If I wanna put my man name on all my songs soooooo f*ckkiiiiinnnng what! ... Im his biggest fan... Imma mention his name even in my prayers b*tch! Sh*t when Im about to die last word out my mouth is Offset."
She later headed answered a few fan questions on Twitter about the issue:
And then she tweeted, "My next song I'm name it OFFSET do [sic] the f*ck of it ........but anyways that Bartier Cardi thooo."
Essentially, Cardi B isn't here for any of your negative comments about her references to Offset, and no matter how you feel about her, you have to love her for standing her ground when it comes to her man.
According to Billboard, Cardi B and Offset have been an item since February, after the pair collaborated on "Lick," a track from one of Cardi's earlier mixtapes. Despite being seen with each other on several occasions, the pair was pretty hesitant to confirm their relationship with one another during interviews, but it wasn't until around the time of the Met Gala that they officially went public. But October, shortly after a short-lived breakup, the couple got engaged during their joint performance at Philadelphia's Power 99 Powerhouse.
In Cardi B's defense, after a dreamy proposal like that (and being given that massive diamond ring), it's hard to see why she wouldn't want to rep her man in every song she makes. But, as always, people are going to have their opinions, though, considering how amazing this year has been to Cardi B, no one should really expect for her to spend too much time dwelling on theirs.