Cardi B Is Nominated For 2 Grammys In 2018 & The Internet Can't Handle It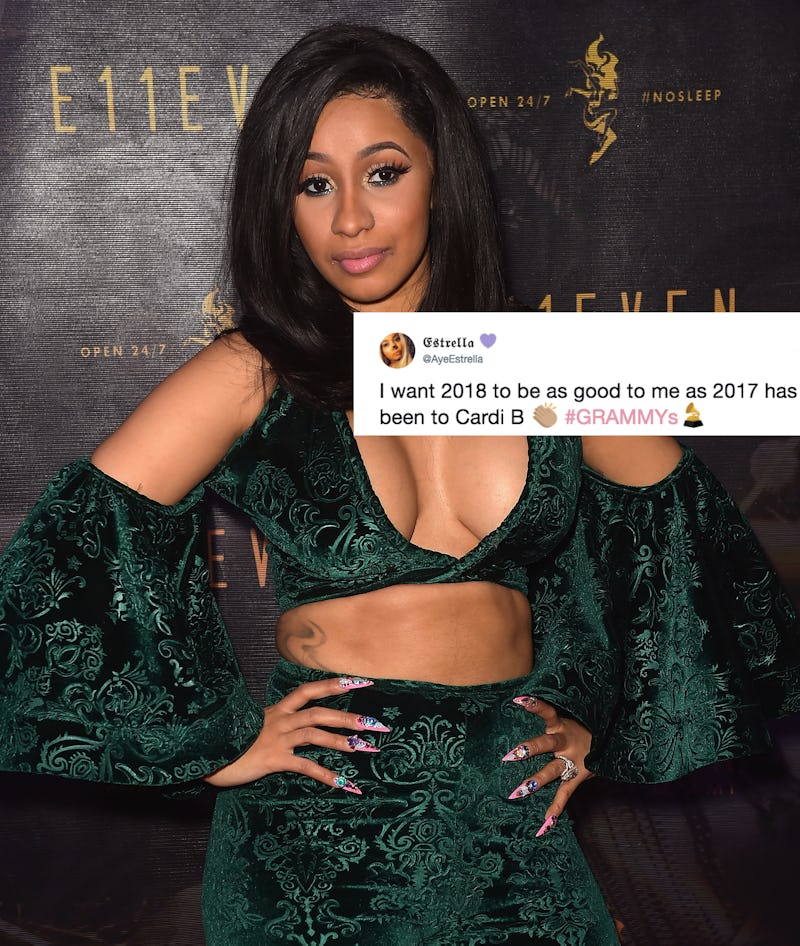 Getty Images/Bustle
When Cardi B's song "Bodak Yellow" hit the airwaves this summer, the world lost its mind. Now, Cardi B is nominated for two Grammys, Best Rap Performance and Best Rap Song, and, as you can imagine, fans of the rapper have completely gone insane. For good reason, too. "Bodak Yellow" had a meteoric success, making history in September when it topped the Hot 100 Chart and made Cardi B the first solo female rapper to do so since Ms. Lauryn Hill did so in 1998 with "Doo Wop (That Thing)." Watching Cardi B's continuous success has been a highlight of 2017 for many, and seeing the Latinx rapper receive two Grammy nominations proves that not everything is terrible in the world.
While the past year has been tumultuous at best for most people, Cardi B's steady rise to success offers the public a semblance of consistency and logic at a time when most things don't make sense. Thanks to Cardi B, everyone has a little hope for the world. After all, she's the first Latinx female rapper to ever reach number 1 on the Billboard Hot 100, and for an anthem of female empowerment and general badassery, no less. As if that career success weren't enough to make 2017 the best year ever for Cardi, the rapper also got engaged to Migos' Offset after the sweetest on-stage proposal.
For Cardi B's fans — which seems to include everyone on Twitter — these Grammy nominations provide yet another invitation to revel in Cardi B's majesty, and finally feel some true excitement.
Even before "Bodak Yellow," Cardi B was on the path to success. After the Bronx-born rapper became a stripper as a teen when she was "poor as hell," as the rapper told Vlad TV, she went on to join the cast of the VH1's Love and Hip Hop. In "Bodak Yellow," she raps about her journey, confidently proclaiming, "I don't dance now, I make money moves." It's impossible not to want to cheer her on, too. During Seasons 6 and 7 of the reality show, fans got a taste of Cardi B's hilarious personality and impressive talent. She left the show in 2016 to focus on her music career. "I don't want people to think I became a rapper because I was on Love and Hip Hop," Cardi told Vibe last year. After leaving the show, she went on to appear on Gabrielle Union's BET show, Being Mary Jane, kicking off her 2017 to a great start.
One of the best parts about watching Cardi B get everything she wants in 2017 is getting to hear all of her nuggets of wisdom that she effortlessly mixes in with one of her favorite words — shmoney. The Dominican and Trinidadian rapper has a lot to say about gender and race, and she never holds back from speaking her mind. She often takes to Instagram to share videos of herself telling people why strippers deserve payment for providing entertainment just as athletes do and simply sharing the "real sh*t" she's learned in her year of stardom. Cardi B, in general, is fun to watch, and throughout the past year, her interviews have increasingly proved that the world needs her in all her hilarious, silly, bad ass glory.
While some have taken to Twitter to express concern over the fact that Cardi B wasn't nominated for Best New Artist at the Grammys, the fact that she has received these two nominations still gives offers reason to celebrate. If people can't feel excited about anything good happening to Cardi B, what can they feel excited about? There's not much else giving the world hope in 2017 other than Cardi B, and hopefully her exciting chain of victories will only continue into 2018.