Cardi B's Surprise Birthday Party Photos Reveal How The Rapper Celebrated Her Big Day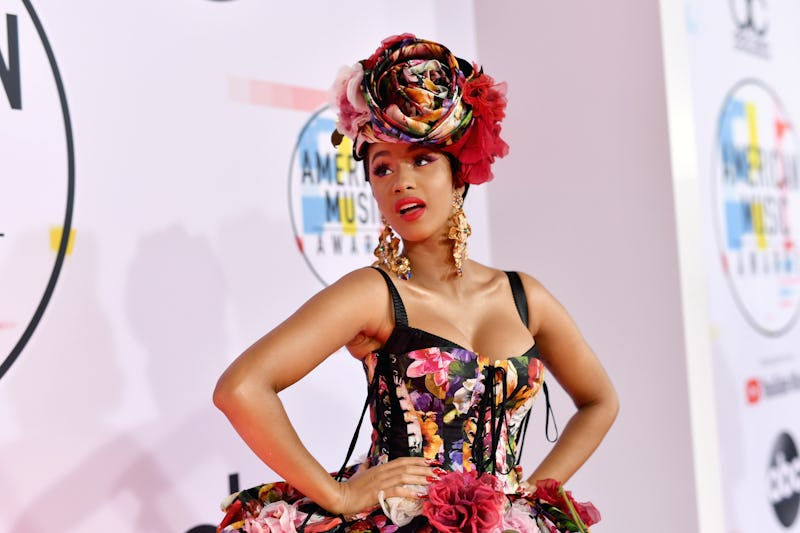 Emma McIntyre/Getty Images Entertainment/Getty Images
What better way to ring in your birthday than being surrounded by family, friends, and a host of your favorite celebrities? Well, Cardi B did just that on Friday, Oct. 12, when celebrating her 26th birthday. Her husband, Migos rapper Offset, gifted the "Bodak Yellow" star with a party, and Cardi B's surprise birthday photos will make you wish you were there.
People reported that Cardi B rang in her 26th with a shindig at Beauty & Essex on Friday night, and though grateful, the Invasion of Privacy artist was totally holding out for an intimate dinner with her husband instead. After spending the evening picking out her outfit for, what she thought would be, a restaurant-esque date night, the rapper settled on a stunning Moschino frock fit for a birthday queen — and, of course, perfect for the ultimate surprise waiting for her. Offset was pretty good at tricking his wife, because as Cardi B stated on her Instagram Saturday, she "avoided eating dinner" prior to the surprise to save her appetite for the birthday meal.
Accompanying an Instagram video documenting her grand entrance, Cardi B wrote, "The fact that i avoided eating dinner last night cause babe said we was going to a romantic dinner then BOOM!! Thank you everybody that showed up to my surprise bday party !It was Soo beautiful Thank you babe for the surprise and everybody who was involved!"
People also reported that among her family and friends, celebrities Tiffany Haddish, Kourtney Kardashian, Moschino mastermind Jeremy Scott, and Tyga, were also present for the fun night.
Aside from turning the big 2-6, Cardi B has a ton of other accomplishments to celebrate. And yes, they're all pretty deserving of a huge bash, too. After spending over a year dominating the Billboard Hot 100 charts, Cardi B also brought home a couple of 2018 Grammy Award nominations, and most recently, had one of the most talked about performances at the 2018 American Music Awards. Oh, and you can't forget giving birth to her first child, baby Kulture. The rapper and new mom has certainly been busy, and so letting loose with loved ones is totally something worthy of an agenda appointment.
Speaking of deserving, the birthday girl also received some of the most extravagant gifts ever on her big day. In another Instagram post shared Saturday, Oct. 13, the rapper gave fans a look at some of those key pieces — including showing off a brand new watch, seemingly gifted to her by her Quality Control Music team, and a custom studded bracelet and necklace adorned with her newborn daughter's name, gifted to her by her husband, Offset.
In the post, Cardi B thanked everyone for their kindness, writing,
"Thanks hubby @offsetyrn for my necklace and bracelet !I looveee it ! KULTURE! Thank you @pristine_jewelers for helping hubby out. Thank you @qcmceo_p @coachk44 for my new watch i love it ! IM SO THANKFUL SOOO GRATEFUL!"
After taking over the industry in her 25th year, there's no telling what Cardi B has up her magical sleeve for 26. All in all, here's the hoping this new year will be the best one yet.