Cardi B's New Album Is Making Women On Twitter Finally Feel SO Understood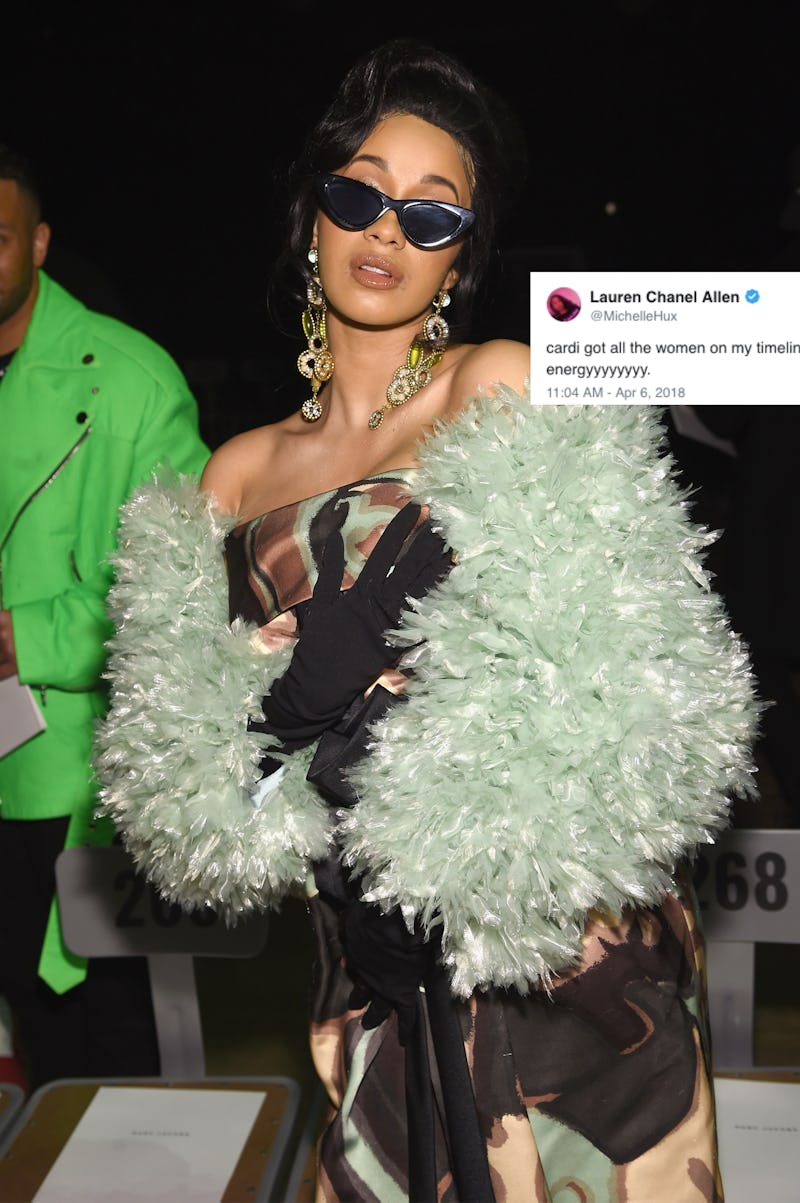 Dimitrios Kambouris/Getty Images Entertainment/Getty Images; MichelleHux/Twitter
Cardi B's new album was released on Friday, and fans can't seem to get enough of the rapper's 13-song Invasion of Privacy. While the offering has something to give listeners from all backgrounds, Cardi's album has women feeling empowered and ready to party all at the same time, especially based on all the tweets posted since it came out.
Determined to remain at the top of her game, Cardi, who many initially deemed to be a one-hit wonder with "Bodak Yellow," dropped a cohesive project that is so undeniably good that it was certified gold within hours of its release. Filled from beginning to end with anthems and tracks that showcase feelings of kick-ass confidence and moments of vulnerability, Invasion of Privacy has certainly solidified Cardi's position as a superstar — and women are paying close attention.
While her talent is certainly undeniable, Cardi's no-holds-barred approach to life has played a major role in making her one of the most beloved and relatable entertainers of this generation. Her natural ability in entertaining people with her over-the-top personality and realness is something felt throughout the entire Invasion of Privacy project.
Many of the songs on Cardi's debut address things that many women have dealt with at some point in their lives, including the woes of romantic relationships and the feeling of others doubting their abilities. On the SZA-assisted track "I Do," Cardi tackles the once preconceived notion that her success would be short-lived. Both powerful newcomers to the music world, the pairing of Cardi and SZA alone is an epic show of female empowerment.
Revealing that she's in the game to stay, Cardi raps,
"They said by now that I'll be finished, hard to tell / My little 15 minutes lasted long as hell"
Cardi also gives off some major confidence goals on the song, letting everyone know that she's best of the best — at everything when she shares, "I say my own name during sex"
The track "Thru Your Phone" has also stirred up a lot of chatter on social media. Stacking up to become the breakup anthem of the year, the song candidly touches on the many emotions of being cheated on by your significant other.
Female fans have seemed to resonate closely with the song in which Cardi raps:
"I don't wanna hear 'bout invasion of privacy / I had a feeling, it turns out you lied to me / I'm holding back everything that's inside of me / How you all f*ckin' with b*tches that follow me?"
Women also appear to be totally feeling "She Bad," in which Cardi proclaims her love for Chrissy Teigen, Rihanna, and most importantly herself.
She also proves that she doesn't need designer clothes to be the baddest chick in the rap game:
"Boujee, bad, and thick, I could buy designer, but this Fashion Nova fit"
Showing a moment of vulnerability that feels all too real to some of her fans, Cardi shares the pain associated with breaking up with someone you love on "Be Careful." Many fans loved Cardi's transparency on the track, believing it was a direct warning to her fiancé Offset where she was addressing rumors of infidelity during their relationship.
In the lyrics, Cardi shares her wish to be in a romance similar to the one NBA baller Stephen Curry shares with his wife Ayesha Curry. However, Cardi likens her own relationship to that of tumultuous romance of Tommy and Keisha in the movie Belly. Among many telling lyrics, Cardi raps, "It's gonna hurt me to hate you, but loving you is worse"
With Cardi B now leading the charge of women's anthems, it's safe to say fans everywhere are going to have Invasion of Privacy on repeat for a very long time to come.