'Bachelor In Paradise's Carly & Evan Just Announced They're Having A Baby In The BEST Way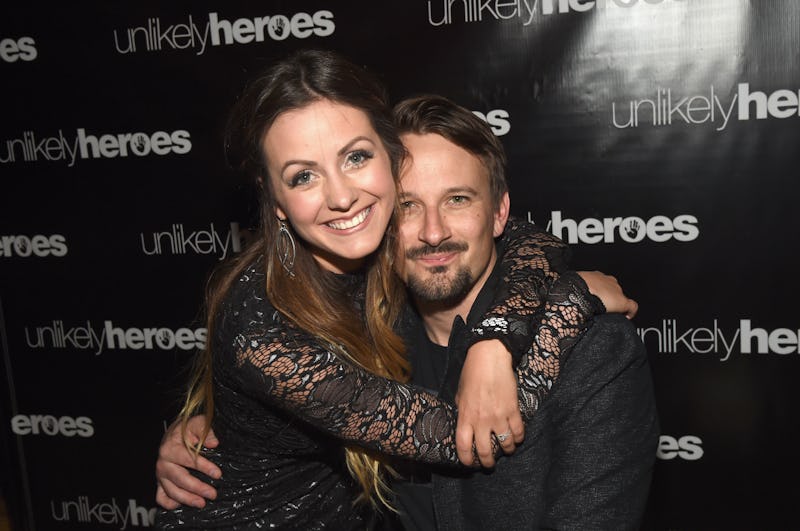 Rick Diamond/Getty Images Entertainment/Getty Images
Bachelor Nation is about to get a little bit bigger. It's official: Bachelor in Paradise couple Carly Waddell and Evan Bass are expecting their second child, and they announced the news with the most perfect Instagram photo involving their daughter, Bella.
If you follow Carly on social media, you know she's been open about the fact that she and Evan have been working on giving Bella a little brother or sister lately, and now, the time has come — and all three of them look so pumped about it. In the photo she shared on Instagram, Carly, Evan, and Bella are all showing off their bellies, as Evan holds up a six-pack of beer, Bella holds a sippy cup of juice, and Carly holds an ultrasound photo.
In the caption, Carly wrote:
"Beer Belly, Bella Belly, BABY BELLY!!! We so SO EXCITED to FINALLY announce Bella's little brother or sister will be here in November!!! (If you wonder why I haven't been on social media as much...well, this is why!) For a fun story of how we found out about our new little bundle of joy check out the @mommiestellall podcast that drops today, I'll give you ALL THE DETAILS!"
If you click through the photos, you can also see close ups of Bella's shocked face, and it's definitely worth it — she may have a future in acting.
Several of Carly and Evan's fellow Bachelor alum have already chimed in on the Instagram post to share their comments on the exciting news, including some of their former BiP costars. Tenley Molzahn, Amanda Stanton, and Izzy Goodkind all weighed in, among others, and it seems like everyone is over the moon for these two.
The proud father commented on the post as well, writing, "Hey um, I thought you were gonna auto tune abs on for me." Sorry, Evan — looks like Carly forgot to add that finishing touch.
Evan also shared a different snap from the same day on his Instagram of the three of them together, holding up the ultrasound photos. And yet again, Bella is showing off her shocked face — but it's so cute, so why not? He wrote:
"Ok, so I think I finally figured out what's causing all these babies. Baby number 473ish coming soon! (Im currently carefully curating this babies Instagram page to be released with ointment line in 2054.)"
Being that Evan and Carly didn't exactly get off to the most promising start when they first met on BiP, it's pretty cool to see how far they've come since then. Now, they've built an entire life together with a new little one on the way, and it's been so much fun for fans to watch.
Congrats to Evan, Carly, and Bella on the new addition to their family. Knowing Carly, plenty of updates are coming on social media and on her Mommies Tell All podcast, and hopefully, plenty of them will include Bella hamming it up for the camera again.