Kate Middleton's Mum Duped TWO Of Her Daughter's Outfits For This Big Moment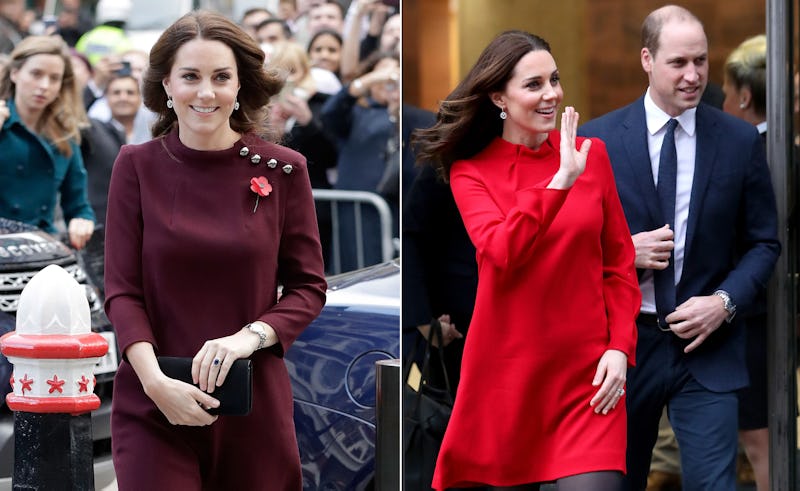 Left: John Phillips/Getty Images Entertainment/Getty Images | Right: Chris Jackson/Getty Images Entertainment/Getty Images
I was one of the lucky kids who wasn't subjected to matching outfits with my mum (at least, that I can remember). Funnily enough however, Kate Middleton and her mother Carole Middleton seem to have put their own sweet spin on that dreaded childhood moment by taking it, flipping it, and reversing it if you will. It apparently turns out that Carole Middleton and Kate Middleton have matching dresses, as it seems like Carole wore a couple of very familiar pieces for a recent interview with The Telegraph. And honestly with a daughter as stylish as the Duchess of Cambridge, I don't blame her one bit.
Carole, who has been running a party accessories agency called Party Pieces for the past 30 years, joined The Telegraph for her first interview to share her tips for the season. The paper joined her at her Grade II listed home Bucklebury Manor, where Pippa Middleton's wedding reception was rumoured to have been held, where she was photographed beside a jolly dining room set up. Although I have to give her major snaps for her festive foliage arrangements (that beauty above the mantelpiece is everything), it was her high necked red dress that I just couldn't take my eye off of.
It turns out I wasn't the only one who was drawn to it, as Hello! pointed out that it was identical to one that Kate Middleton had worn back in 2017 in Manchester for the Children's Global Media Summit.
The red dress is by a British designer called GOAT and it's called the Elodie Tunic Dress in Berry. Sadly, it's currently out of stock on the brand's website and it's not a huge surprise as anything the Duchess wears tends to instantly sell out.
Carole's second dress also appeared to be a loan from her daughter and it's clear that the Middletons have a soft spot for GOAT, as it was another piece from the brand. Described as a "tunic shaped dress with long sleeves" and "high shine pewter buttons", it's a £480 dress called the Eloise Tunic Dress in Burgundy.
Again, it's no longer available on the site (probably to the benefit of our bank accounts) but other colourways in navy, iris, and khaki are still floating around. Carole was photographed looking every inch as regal as her daughter in the family sitting room, who wore the dress last year in London for an event.
It's pretty cool that the pair seem to be trading style tips and it's especially sweet that Carole appears to have turned to her daughter for such an important occasion. It turns out sartorial advice isn't the only thing she's taking from Kate however, as she revealed that the Duchess of Cambridge was instrumental to helping with her business.
Carole said in her interview with the newspaper, "My children have all worked for the business. Catherine started the First Birthday brand — she chose the products and looked after all the imagery and the catalogue production...Because [my children] all grew up with me working, Party Pieces has been very much part of our lives and what we talked about. I still ask their advice and say, 'What do you think of this?'"
Too cute. TBH I don't think I could imagine my own mother borrowing my bright pink boiler suit on any occasion, let alone asking for business advice. (Sorry, mum.)