Carrie Fisher Will Be In 'Star Wars: Episode 9' In An Unexpected Way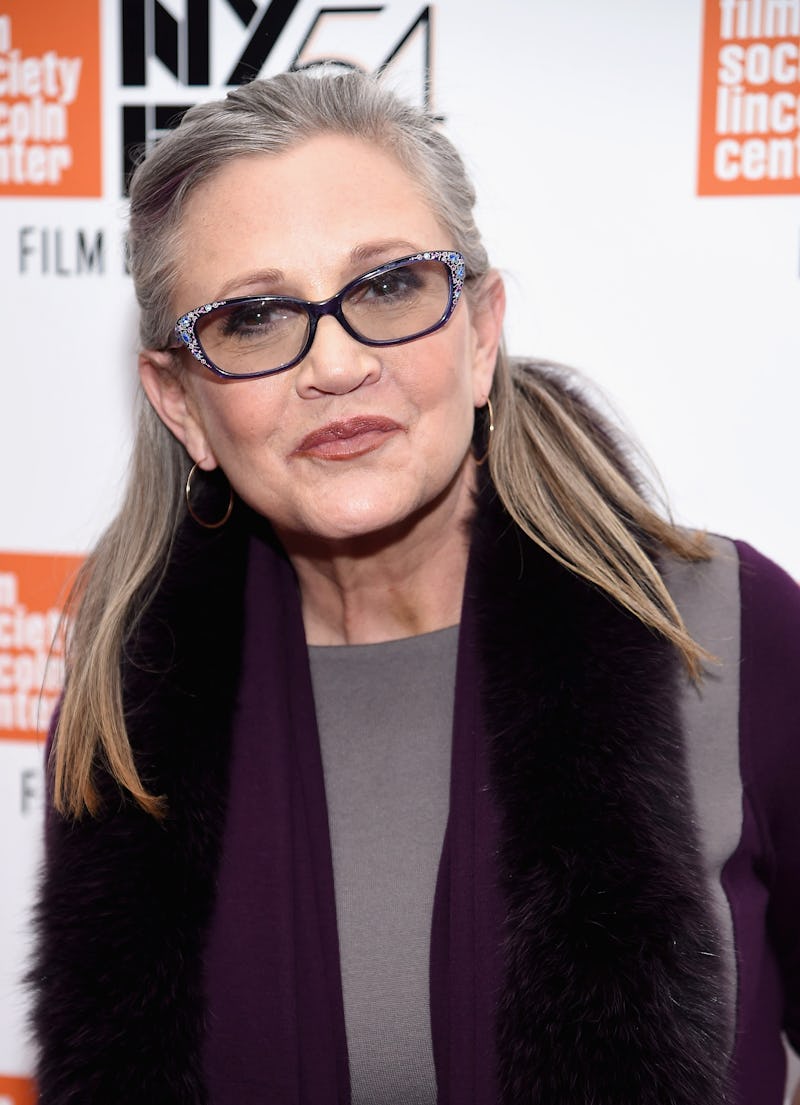 Dimitrios Kambouris/Getty Images Entertainment/Getty Images
On Friday, July 27, Star Wars fans got a surprise: the Star Wars: Episode 9 cast was announced by Lucasfilm. The cast has plenty of fan faves returning to the franchise, but there was definitely one unexpected one — Carrie Fisher will be in Star Wars: Episode 9.
Before you start to freak out, though, no, they're not going to holographic her in a la Tupac at Coachella. They're not even going to CGI her in. She also won't be played by her lookalike daughter, Billie Lourd, but Lourd did have a hand in how Fisher's appearance in the final film will go down.
According to a press release from Walt Disney Studios,
"The role of Leia Organa will once again be played by Carrie Fisher, using previously unreleased footage shot for Star Wars: The Force Awakens. 'We desperately loved Carrie Fisher,' says Abrams. 'Finding a truly satisfying conclusion to the Skywalker saga without her eluded us. We were never going to recast, or use a CG character. With the support and blessing from her daughter, Billie, we have found a way to honor Carrie's legacy and role as Leia in Episode IX by using unseen footage we shot together in Episode VII.'"
Including Fisher as she was — with words that she actually once spoke, no less — is a respectful tribute to the beloved late star, and likely an important move for fans of the franchise. Fisher passed away on Dec. 27, 2016, just a few months after she finished filming her scenes for The Last Jedi. Because the project had wrapped with her performance in tact, the studio was able to edit her scenes subtly without much disruption.
Of Fisher's pre-recorded, post-mortem role, Last Jedi director Rian Johnson told the New York Times,
"I felt very strongly that we don't try to change her performance. We don't adjust what happens to her in this movie. Emotionally, you can't help recontextualize it, now that she's gone. It's almost eerie how there are scenes that have an emotional resonance and a meaning, especially now. She gives a beautiful and complete performance in this film."
Prior to Episode XIII's release in December 2017, Lourd had given the franchise her blessing to use additional previously recorded footage of Fisher in Episode IX. However, a few days later, Lucasfilm president Kathleen Kennedy told ABC News (as per The Hollywood Reporter) that Fisher would not, in fact, be appearing in the final film after all. "Sadly, Carrie will not be in nine," Kennedy said. "But we will see a lot of Carrie in eight."
It's unclear when or why that decision was reversed, but the fate of the universe — and Fisher as Leia — now rests in the hands of director J.J. Abrams. It's been said that Episode IX was supposed to be "Leia's film," so no pressure or anything, J.J. The final installment of the Skywalker saga is scheduled to start filming in August of this year, and is currently slated for a December 2019 release.