Carrie Underwood & Kelly Clarkson's Red Carpet 'American Idol' Throwback Moment Is Must-See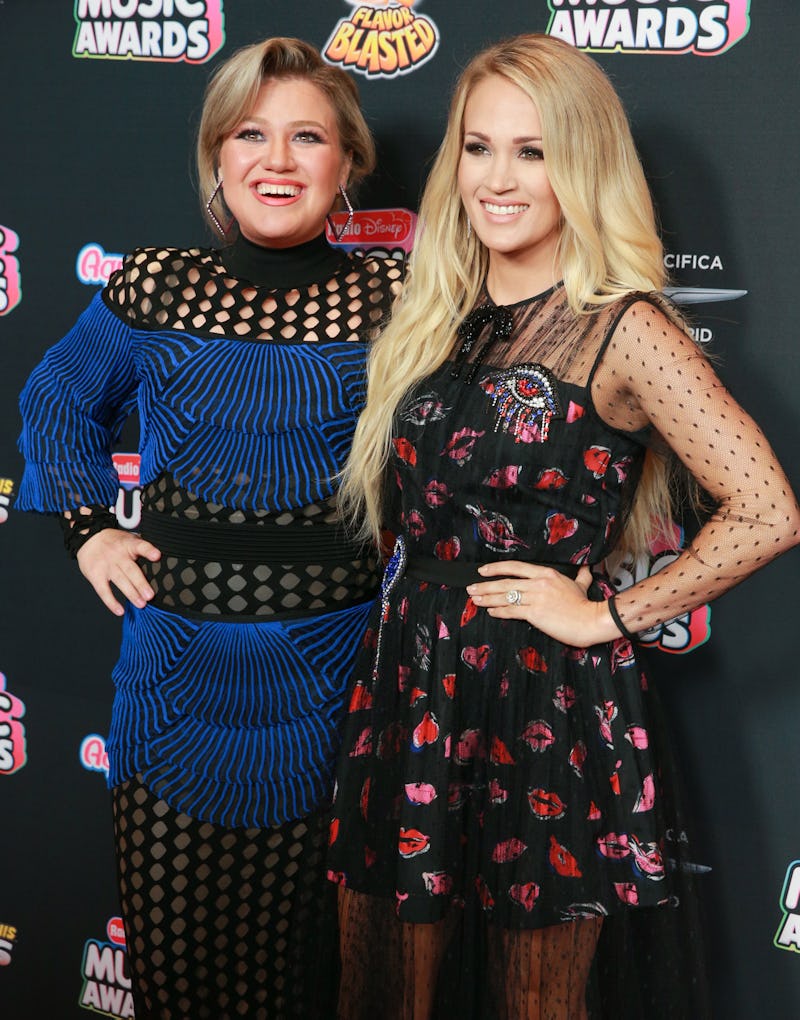 Rich Fury/Getty Images Entertainment/Getty Images
The reboot of American Idol premiered this year, and on Friday, some of the original stars honored their Idol roots. Carrie Underwood and Kelly Clarkson had an American Idol reunion on the red carpet at the 2018 Radio Disney Music Awards. The two stars, who were both winners on their respective seasons, posed together for photos before the event. Both singers got their career start on the reality series, which produced major hit-makers throughout the early seasons. Clarkson was the winner of the first season of the show in 2002, while Underwood took the honor during the fourth season in 2005. The two stars linked arms on the red carpet for the event, giving fans of the series a major throwback moment.
In April, an online poll attempted to pit the two Idol icons against one another, but the stars weren't having it. Although they don't know each other well, they're clearly fans of each other's work. On the Radio Disney red carpet, Clarkson told Entertainment Tonight,
"Everybody always tries to pit me and Carrie against each other. So, when I saw her I was like, 'You know what? Let's just end this right now and get a picture together because we are never in the same place.' And, like, it never happens. And people always try to put it together like we're enemies. And I'm like,''We don't even know each other well enough to be enemies.' So, anyway, I went to get a picture and then everybody lost their mind."
It's fitting that the American Idol alums united on the red carpet, as both also received awards during the show. According to People, the Radio Disney Music Awards gave Clarkson the Icon Award while Underwood was given the Hero Award. The awards are given out by fans, who vote for their favorites out of the year's nominees. It's a process similar to the voting on Idol, so it's no surprise these reality-television winners once again swept an event.
Fans of the singers who tuned in to the awards got the opportunity to see both perform. Clarkson performed a medley of her hits, including "Miss Independent" and "Heat." Underwood chose to perform one of her newer tracks, and sang "The Champion" with Ludacris. It's not the only recent award show that these two pop icons have appeared and performed at, as both were on the stage at the CMT Awards in early June.
It's been a major year for both singers. Underwood started the year off with a terrible accident, and took several months off from work to recover. The singer, who fell down a flight of stars at her home, made a triumphant return to music with a new single called "Cry Pretty" and a performance at the CMT's.
Clarkson has also had a major couple of years for her career. In 2017, she released her new album Meaning of Life. She performed a medley of her music at the American Music Awards the same year, proving that she's had a long career of hit-making. She also joined the panel of judges for NBC's The Voice, and her presence on the show is already being celebrated by critics.
In the past, Underwood and Clarkson have been open about being pals online. Last month, Clarkson shared some pictures of workout gear that Underwood gifted her. She posted a video opening the present on Twitter, writing: "Thank you Carrie Underwood! This apparel cake idea was adorable! I'm just now receiving it because it's been at Starstruck! Love all your gear girl!" The Before He Cheats singer responded to Clarkson's post, writing, "So glad you love it!!! We will send you more!"
American Idol may be airing new seasons, but it's clear that Underwood and Clarkson will remain two of the most influential singers to come out of the show. Lucky for the world, these two are also pals, and their interactions online and on the red carpet are so great. No matter how many new episodes of the reality-singing competition premiere, fans will always make time for a throwback moment between these two winners.