Carrie Underwood's New Post-Accident Selfie Is Proof That She's Ready To Return To The Stage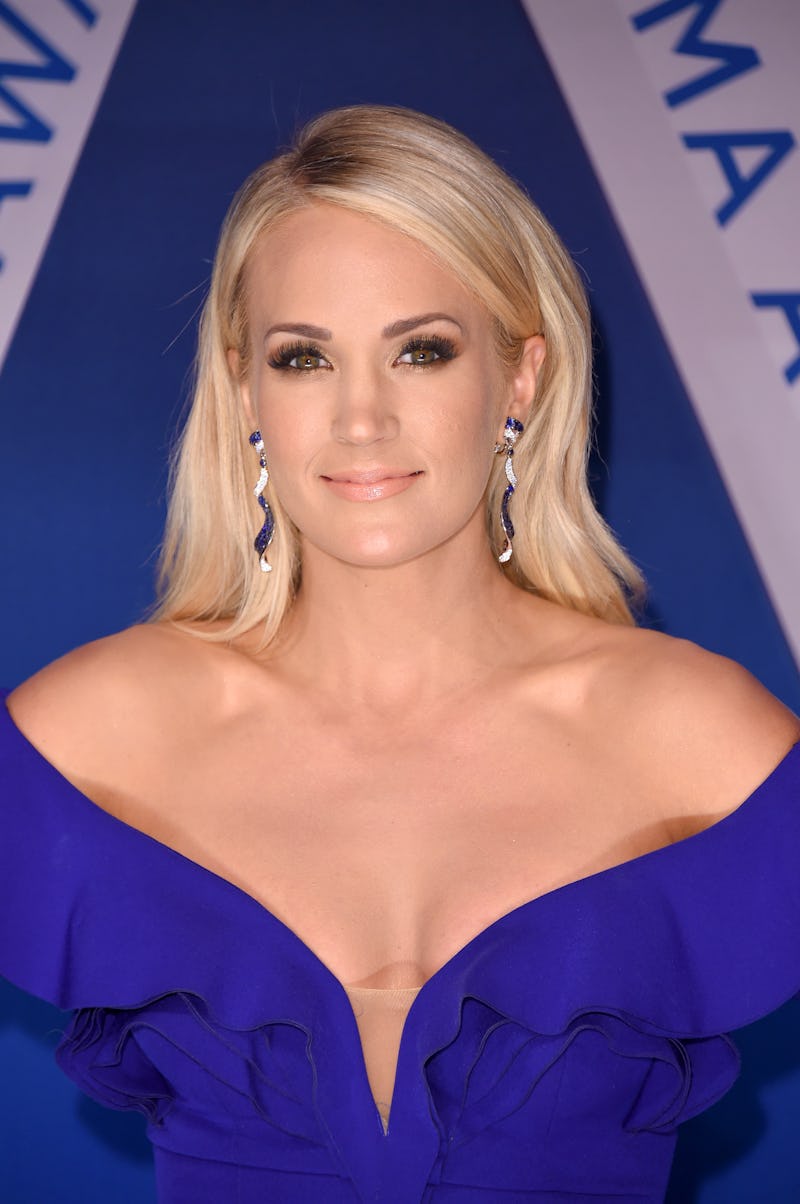 Michael Loccisano/Getty Images Entertainment/Getty Images
On Sunday, Apr. 15, Carrie Underwood will take the stage for the first time since a major fall left her with multiple injuries. On Saturday, Underwood shared a selfie before her first post-accident performance at the Academy of Country Music Awards, and it seems like her recovery is going well. The singer posted the close-up pic to Instagram, and in it she appears to be backstage preparing for the show.
In the caption, she wrote:
"Had a great rehearsal for the @acmawards! Can't wait until tomorrow night!"
The award show will be both her first performance and public appearance since she fell down a flight of stairs in her home in November. The accident resulted in a broken wrist and her needing 40-50 stitches in her face, according to People. While reps assured fans the singer was fine and healing, the incident also required the star to take time off from public life to recover.
In early April, Underwood announced her return to the world of music. She shared a picture practicing with her band, which was her first photo post-injury. The caption read "Missed these guys", and Underwood sent a special message to her fan club. The message was obtained by People, and it read:
"In addition to breaking my wrist, I somehow managed to injure my face as well. I'll spare you the gruesome details, but when I came out of surgery the night of my fall, the doctor told [Underwood's husband] Mike that he had put between 40 and 50 stitches in. Now, here we are 7 weeks later, and even though I've had the best people helping me, I'm still healing and not quite looking the same."
The star continued to make a hesitant return to the public eye amidst her recovery, and her appearance on Sunday will be a major step.
The selfie is just one in a series of posts Underwood has shared to tease her performance at the ACMs. In early April, she posted a picture of her eye with glitter tears before the announcement. Earlier this week, she dropped a new single titled "Cry Pretty." It's likely to make the set-list for her appearance at the award show.
On her website, Underwood shared a health update, and thankfully, it was full of good news for the country star. "Physically, I'm doing pretty darn good these days!" Underwood wrote, according to People. "My wrist is almost back to normal, about 90 percent there and the docs say that last 10 percent will come in time. And my face has been healing pretty nicely as well."
Before debuting the new single and sharing her pre-show selfie, Underwood had started to post more pictures in the past couple of months. Last week, she shared a black-and-white picture of herself in profile. Then on Saturday, she shared a snap of herself rehearsing her new song. It was one of the first pictures the star had shared of herself performing in several months, and marked the beginning of what will likely be a triumphant return to the public eye.
Fans are excited for Underwood to be fully-recovered and out performing again, and they shared their thoughts in the comments on her most recent post. People wrote messages like "we missed you!" and "Beautiful!" — and it seemed like her followers were super excited by the prospect of hearing her voice on the country music stage again. In her post on her website, Underwood shared a message to show that the appreciation was mutual. She wrote,
"I definitely feel more like myself than I have in a while. Thank you all so much for your love and support this year and always. I feel it and I appreciate it. I can't wait to start this new chapter with you!"
This new chapter will start on Sunday, when Underwood appears at the ACM Awards. It's clear the singer worked hard to overcome this health setback, and the recovery period hasn't stopped her from writing new music and planning to get back on stage like the country legend that she is.