Carrie Underwood's "Love Wins" Music Video Has A Poignant Message Of Hope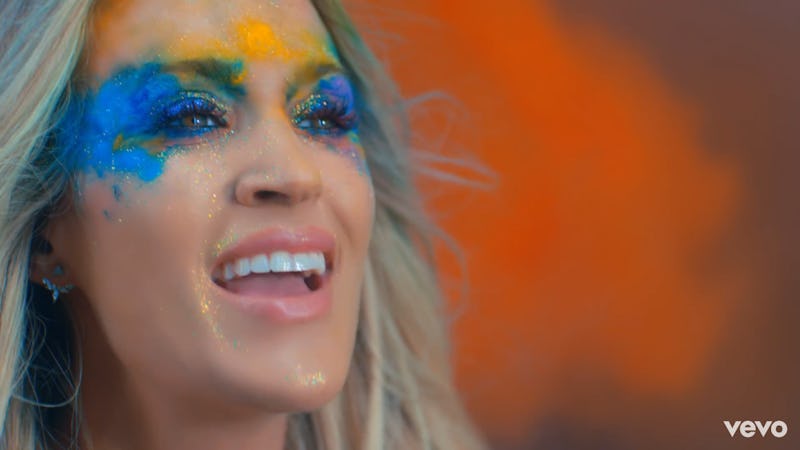 Carrie Underwood Vevo/YouTube
What the world needs now is more music with a message. Carrie Underwood's new music video for "Love Wins," which she released on Tuesday, Sept. 11, is filled with themes of hope and bringing color and light to dark, divisive times. "Love is the only thing worth fighting for," she belts in the powerful anthem, the second single off of her new Cry Pretty album which will drop on Friday, Sept. 14.
The country superstar was conscious of society's divisions when penning the power ballad. "When we were writing 'Love Wins,' we wanted to be mindful of all the things that were happening in the world ... not pinning anything down to one specific subject or anything," the seven-time Grammy winner explained in a recent iHeartRadio interview. She added:
"We wanted to give hope. We wanted to let people listen to it and think, hey I want to be nicer to people today. I want to befriend someone that thinks differently than I do. We just wanted to provide a message of hope. I feel like we did that, and I do think that love wins."
To convey that message, Underwood's latest music video first opens with almost-gray images of a seemingly downtrodden group of people navigating some sort of desolate, post-apocalyptic world. In contrast, the singer appears in interspersed scenes wearing a bright, flowing orange dress with a clear blue sky as the backdrop.
She sings the "Love Wins" lyrics:
"Sirens screaming down the avenue
Just another story on the evening news
Politics and prejudice
How the hell it'd ever come to this?
When everybody's gotta pick a side
It don't matter if you're wrong or right."
Seems pretty relevant, to say the least.
Touching on topics ranging from immigration to violence, the seemingly hopeless people seem to find comfort in her words, including the soaring chorus:
"I believe you and me are sisters and brothers
And I believe we're made to be here for each other
And we'll never fall if we walk hand in hand
Put a world that seems broken together again
I believe in the end love wins."
Cut to a concert scene that gives serious music festival meets color-run vibes, as the mood brightens and a diverse group of people can be seen happily dancing amidst burst of rainbow smoke and/or dust in this place of refuge — and vibrant colors. Underwood also has blue and yellow colors both dramatically and beautifully smudged around her brown eyes, as she dances in a white dress that she's clearly not concerned about getting stained with splashes of color. The scene is one of joy and unity that's in perfect harmony with the inspiring message of the track.
While its unclear when exactly the video was filmed, it's not glaringly obvious that the singer is pregnant with her and Nashville Predators hockey pro husband Mike Fisher's second child. (They are already parents to a 3-year-old son named Isaiah Michael.) The country music superstar has been open with fans about her pregnancy journey, sharing her first baby bump photo an Aug. 10 Instagram photo taken offstage at Nashville's Grand Ole Opry.
Underwood announced her second pregnancy in May via Instagram, explaining why her Cry Pretty Tour 360 wouldn't kick off until May 2019. "Mike and Isaiah and I are absolutely over the moon and excited to be adding another little fish to our pond." she said in her Instagram video post. "Love you guys! We will see you on the road in 2019."
With her new song and music video, it seems Underwood is trying to campaign for a more optimistic and inclusive world for her growing family and will surely instill the message that "love wins" in her little ones.