Carrie Underwood Revealed Her Baby Bump For The First Time In An Adorable Selfie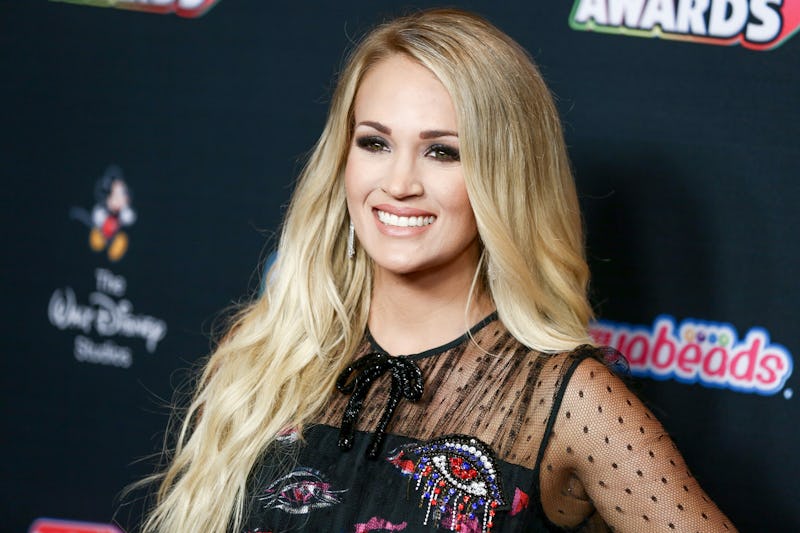 Rich Fury/Getty Images Entertainment/Getty Images
Here's a new way to bump the beat at the Grand Ole Opry. Country music superstar Carrie Underwood revealed her baby bump for fans in an Instagram photo taken offstage in Nashville on Friday, August 10. The seven-time Grammy Award winner — who announced her second pregnancy on social media just two days earlier — shared her baby love, captioning the shot "@ opry," along with some hearts. The shot itself might be dark, but Underwood's joy is very visible.
The second-time mom-to-be already seems to be tackling the pregnancy with the same ease she hits a high note. In another photo of Underwood performing at the Grand Ole Opry that was posted to the official Twitter account of the famed weekly Nashville concert the same night, she appears to be effortlessly belting out one of her hits. Fellow Opry performers The Oak Ridge Boys also shared a picture with the expectant singer, who's slated to hit the stage of the famed Grand Ole Opry House once again this evening for the second night of her Opry weekend.
Underwood, already mom to 3-year-old son Isaiah Michael with her Nashville Predators hockey pro husband Mike Fisher, also used social media to break her pregnancy news with fans. "Ooh baby do we have a bundle of info to share with you!" she captioned the August 8 Instagram video.
After announcing that her tour in support of her upcoming new album, Cry Pretty, wouldn't kick off until May 2019 in the video post, Underwood addressed the question that undoubtedly came to fans' minds immediately. "You might be wondering or asking, 'Carrie, why is your tour starting in May?' Well… yay!" she gushed before the camera panned up to reveal four balloons spelling out the word "BABY."
She continued, "Mike and Isaiah and I are absolutely over the moon and excited to be adding another little fish to our pond." Also sharing the Cry Pretty Tour 360 dates with fans, Underwood, whose new album drops on September 14, concluded the post saying, "Love you guys! We will see you on the road in 2019."
Just before she revealed the happy pregnancy news earlier this week, Underwood, who, just last last November, had to get 40 stitches in her face following a scary accident in her home, candidly spoke about wanting to adopt a child. "I'm 35, so we may have missed our chance to have a big family," she told Redbook, in an interview published on August 2. "We always talk about adoption and about doing it when our child or children are a little older. In the meantime, we're lucky to be a part of organizations that help kids, because our focus right now in our lives is helping as many kids as possible."
According to Us Weekly, Underwood's adoption plans haven't changed, after learning she was expecting a second child. "Carrie does still talk about adopting children because she truly does want a large family and wants to be a mom to several kids," a source told the magazine.
Either way, as she said in her pregnancy announcement video: "This has just been a dream come true with [the] album and with baby news and all that stuff. We're just so excited and just so glad you guys can share in this with us and be a part of this with us."
The Underwood-Fishers clearly have much to look forward to over the next year, and their willingness to share their journey has undoubtedly been music to fans' ears.