Casey Affleck Reflected On The Allegations Of Misconduct Against Him In A New Interview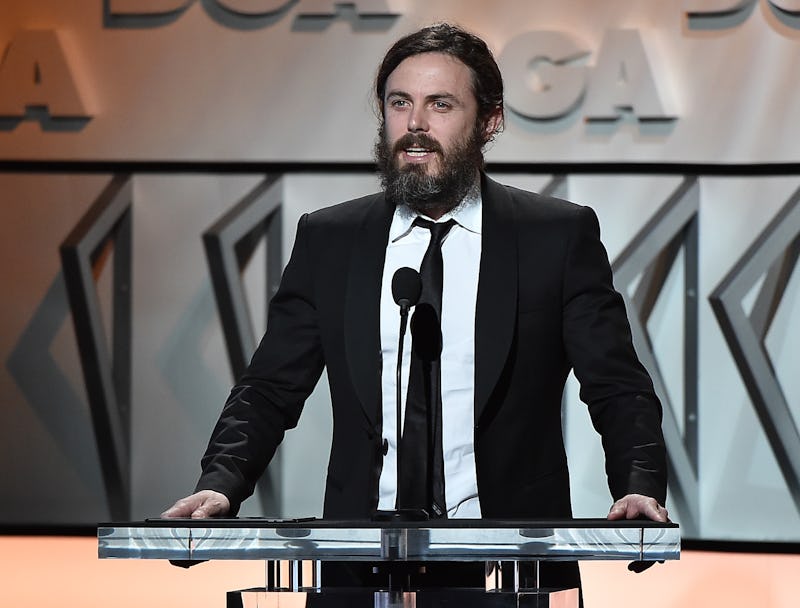 Alberto E. Rodriguez/Getty Images Entertainment/Getty Images
Surprising news from Hollywood: For the first time, actor Casey Affleck addressed #MeToo, the allegations former coworkers made against him, and more in a lengthy interview. Speaking to the Associated Press on August 9, Affleck opened up about his personal, professional, and legal experiences — including his decision to bow out of presenting at the 2018 Academy Awards.
Affleck didn't shy away from talking about his past, diving right in. "First of all, that I was ever involved in a conflict that resulted in a lawsuit is something that I really regret. I wish I had found a way to resolve things in a different way," he said. "I hate that."
In 2010, Affleck settled two separate sexual harassment cases filed against him by Amanda White and Magdalena Gorka, two women who worked with him on the set of his mockumentary I'm Still Here. The terms of the settlement were kept private, but reported allegations ranged from getting into bed with a woman without her consent while she was sleeping and exposing himself, among other things. Affleck denied the allegations in previous statements, telling The New York Times in 2016, "It was settled to the satisfaction of all. I was hurt and upset — I am sure all were — but I am over it." He spoke about the allegations again in 2017, offering a vague comment about how "people say whatever they want," in an interview with Variety.
In his new interview, however, Affleck appeared to take responsibility for the allegations against him, noting that in hindsight he may not have acted as professionally as he should have on the set of I'm Still Here, which he directed. "I was a boss," he admitted, "I was one of the producers on the set." The Oscar winner then elaborated, with seemingly genuine reflection, the ways in which he failed his employees on the set of I'm Still Here:
"[I]t was an unprofessional environment and, you know, the buck had to stop with me being one of the producers and I have to accept responsibility for that and that was a mistake."
It's clear that for Affleck, a lot has changed since the lawsuits were first brought against him. He continued his self-reflection, telling the AP that he now recognizes that he was responsible for setting the tone on set. Affleck further specified the uneven power dynamics on set:
"I contributed to that unprofessional environment and I tolerated that kind of behavior from other people and I wish that I hadn't. And I regret a lot of that. I really did not know what I was responsible for as the boss. I don't even know if I thought of myself as the boss. But I behaved in a way and allowed others to behave in a way that was really unprofessional. And I'm sorry."
The fact that he recognized his role in any of the alleged events that led to lawsuits is crucial. Though he seems to stand behind his previous statement in denying the allegations described by the women who accused him of misconduct, the fact that he is willing to admit to some degree of fault is still notable.
Affleck added that he has spent the past few years learning more about his role in what happened, moving away from his previous defensive response to the allegations brought against him. "I kind of moved from a place of being defensive to one of a more mature point of view, trying to find my own culpability," he told the AP. "And once I did that I discovered there was a lot to learn.
Recently, Affleck said, he'd been learning a lot from the Time's Up movement. "In this business," he began, "Women have been underrepresented and underpaid and objectified and diminished and... just generally had a mountain of grief thrown at them forever." Affleck continued:
"No one was really making too much of a fuss about it, myself included, until a few women with the kind of courage and wisdom to stand up and say, 'You know what? Enough is enough.' Those are the people who are kind of leading this conversation and should be leading the conversation."
Further, it's obvious that Affleck appreciates the strength and tenacity it took to propel #MeToo and #TimesUp movements forward, and now recognizes they're about forging ahead, not lingering on past debates. He also noted that his efforts — not his words — will contribute to them the movement most.
"I know just enough to know that in general I need to keep my mouth shut and listen and try to figure out what's going on and be a supporter and a follower in the little, teeny tiny ways that I can."
Overall, it's clear that Affleck has made an effort to reflect on the allegations against him and his past actions. It's not perfect — it's even a little defensive, which Affleck recognizes — but it's certainly an auspicious start.
If you or someone you know has been sexually assaulted, call the National Sexual Assault Telephone Hotline at 800-656-HOPE (4673) or visit online.rainn.org.