Catt Sadler Had The Most Touching Response To Women Defending Her At The Golden Globes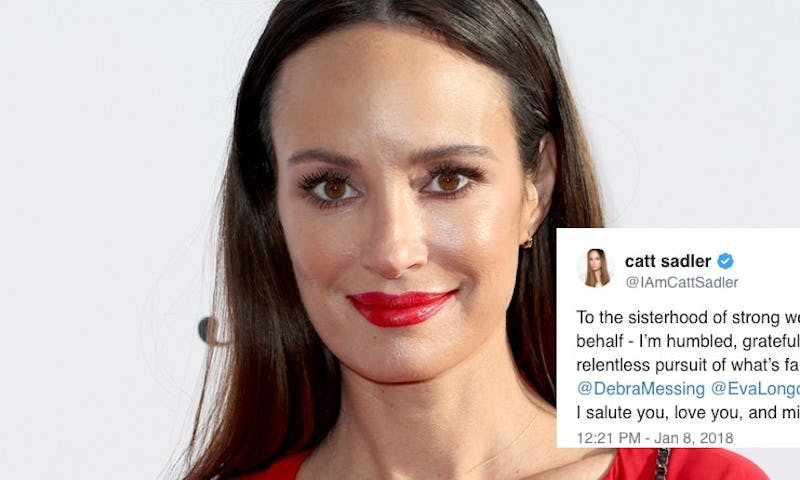 Frederick M. Brown/Getty Images Entertainment/Getty Images; Catt Sadler/Twitter
Though Catt Sadler has remained notably absent from television broadcasting following her recent departure from E!, her presence proved to be strong amidst Sunday night's Golden Globes celebration as many voiced support for Sadler's decision to leave the network over a pay disparity issue involving co-host Jason Kennedy. Afterward, Sadler responded with a message of gratitude, which would help prove that the sisterhood among women in Hollywood is stronger than it has ever been before.
As for E!'s role in the the pay disparity accusations, the president of Lifestyle Networks at NBCUniversal Cable Entertainment, Frances Berwick, spoke out saying, "There is a lot of misinformation out there," during the recent Television Critics Association press tour, according to Variety. Berwick further explained:
"Catt Sadler and Jason Kennedy had different roles and therefore different salaries. Catt was focused on daytime. Jason Kennedy is on primetime evening news, plus red carpet. Our employee's salaries are based on their roles and their expertise regardless of gender. We wish Catt well, but I hope that sets the record straight on that."
Sadler's response was, nonetheless, a heartfelt moment as she shared a series of tweets thanking the many women who spoke out on her behalf during the 2018 Golden Globe Award ceremony, which was notably focused on the support of women in the entertainment industry and beyond. (Bustle also reached out to E! for comment on the situation, but did not receive an immediate response.)
On Monday, Sadler took to Twitter to address the outpouring of encouragement from celeb supporters such as Debra Messing, Jessica Chastain, Brie Larson, Amber Tamblyn, Laura Dern, Eva Longoria, Ellen Pompeo, Sarah Jessica Parker, Natalie Portman, and Amy Schumer, writing:
"To the sisterhood of strong women using their voices on my behalf - I'm humbled, grateful, and beyond inspired by your relentless pursuit of what's fair for ALL women ... I salute you, love you, and miss you too. #TimesUp"
The show of support was an emotional, yet validating, moment for the television personality who, in a separate tweet, went on to point out:
"Your brave voices comfort me and propel this movement forward. #Together #TimesUp #EqualPay 'A new day is on the horizon!'Thank You"
She would also personally thank Julianne Moore in another tweet, writing:
"When one of your lifelong heroes validates your cause. I am getting more emotional by the minute. Thank you @_juliannemoore for being a constant light in this industry and using your voice for change for all. Sending you huge heaps of love."
The crowd's majority would don black attire in support of the Time's Up movement which fights against sexual harassment while standing up for women's rights.
However, it seems that the show of solidarity would not just be confined to wardrobe and acceptance speeches, as many the night's emotions were poured out during the red carpet walkup.
During her red carpet interview with E!, Debra Messing directly called the network out for its apparent treatment of Sadler and openly address the issue head on with the channel's awards correspondent, Giuliana Rancic. It was a powerful moment, to say the least, that would give a clear indication of the tone for the evening's celebration.
Draped in black flowing pants and a high-low top, Messing shared her reason for wearing black to the night's festivities, telling Rancic:
"We want diversity, we want intersectional gender parity, and we want equal pay... I was so shocked to hear E! doesn't believe in paying their female co-hosts the same as their male co-hosts. I miss Catt Sadler. We stand with her."
Comedian and actor, Amy Schumer posted an Instagram plea asking fellow celebs, and fans alike, to show their support for Sadler during the night's ceremony. Sharing a photo of the former E! News host, Schumer captioned it, "If you're on the carpet tonight or at home post in support and ask @eentertainment what happened? We thought you would be for pay equality and say #imwithcattsad."
While both Amber Tamblyn and Jessica Chaistain have both called for E!'s attention to the matter of Sadler's pay discrepancy.
Sadler abruptly walked away from her nearly 12 year role at E! this past December, after she claims she learned that co-host Kennedy would be — and has been for some time — earning "close to double" her salary although they both joined the network around the same time and share similar roles in the company.
Amidst her departure, Sadler shared in-depth details about her reason for leaving the network, telling People that she was "informed and made aware that my male equivalent at the network who I started with the same year and have come up with doing essentially similar jobs, if not the same job, wasn't just making a little bit more than me but was making double my salary and has been for several years."
As a notable fixture at E! for more than a decade, Sadler's courage has no doubt become an inspiration to those who have heard her story. Though the gender pay gap comes as no surprise for the many women who continue to fight for equality in compensation, the recent show of solidarity among some of Hollywood's most powerful voices has helped thrust the much-needed conversation of pay disparity into more headlines.