Pictures Of The Most Girl Power-Filled Moments From The Golden Globes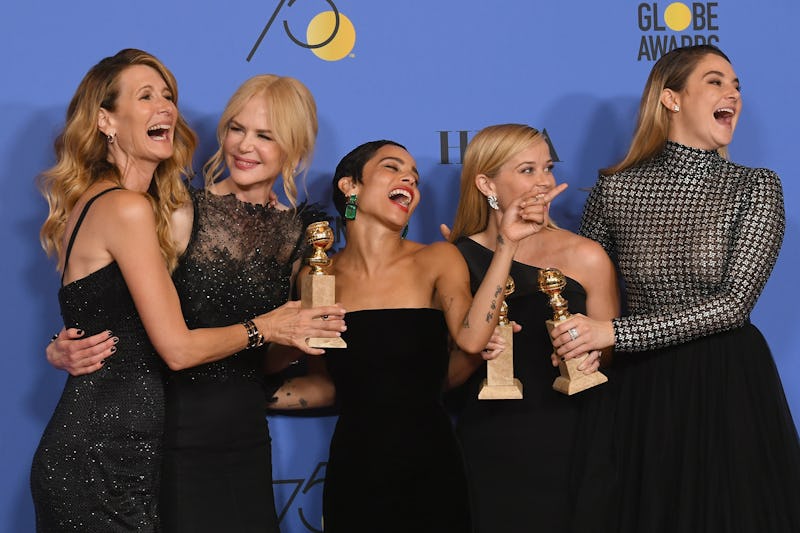 Kevin Winter/Getty Images Entertainment/Getty Images
On Sunday, the Golden Globe Awards confronted the historic culture of sexism in Hollywood. Throughout the evening, women spoke out against the industry's history of harassment and abuse and pushed for change. Here are 11 pictures of girl power from the Golden Globes that show how women used the night to empower each other.
In wake of the revelations last year about the rampant harassment and abuse in Hollywood, the show had a social responsibility to address gender inequity in the entertainment industry. In December, actors announced they would wear black on the red carpet of the Globes in solidarity with accusers. The statement was to raise awareness for the Time's Up movement, a legal defense fund and social advocacy group for women across working in a variety of fields. The Time's Up initiative was announced online on New Year's Day, and was signed by over 300 women working in entertainment.
The night combined celebration with advocacy, and while some moments were more poignant than others (two more hours of Oprah, please), it was refreshing to have women's stories take priority. This year, many of the nominees and winners were stories about women, which could could represent a positive step forward for representation. For example, winners like Big Little Lies (producer: Barbara A. Hall), The Marvelous Mrs. Maisel (creator: Amy Sherman-Palladino), and Ladybird (producer: Evelyn O'Neill) are all stories that center on women. In the future, it would be ideal for women to have a greater role in the production side of nominated projects, but the number of stories about women being celebrated is significant.
Throughout the evening, women continued to honor each other's accomplishments. Here are some of the night's best photos:
1. Elisabeth Moss Celebrating With The Handmaid's Tale Cast
The cast of The Handmaid's Tale (director: Reed Morano) celebrated Elisabeth Moss' Best Actress in A TV Drama win. The show is based on Margaret Atwood's dystopian novel about a totalitarian society that subjugates women, and has been reviewed as both timely and frightening. Pictured cast members include Alexis Bledel, Samira Wiley, and Yvonne Strahovski.
2. Yvonne Orji & Issa Rae's Selfie With Kerry Washington
Yvonne Orji of Insecure (writer: Natasha Rothwell) took this snap with the show's creator and star Issa Rae and Kerry Washington. Insecure just aired its second season on HBO, and Rae was once again nominated for her lead role in the series.
3. The Ladybird Cast Posing After the Show
Ladybird director Greta Gerwig posed with the film's two stars, Saoirse Ronan and Laurie Metcalf. The movie is a coming-of-age story about a teen girl in California and her tumultuous relationship with her mother. It took home several awards, including Best Comedy or Musical Film and a Best Lead Actress in a Comedy or Musical for Saoirse Ronan.
4. Debra Messing & Lena Waithe Meeting
Debra Messing and Lena Waithe greeted each other backstage. Messing made headlines for calling out claims of pay inequality at E! News to the network directly (E! has said it "compensates employees fairly and appropriately based on their roles, regardless of gender"), while Waithe was at the show to support her series Master of None. In September, Waithe won an Emmy award for an episode of the series she wrote titled "Thanksgiving".
5. The Big Little Lies Cast Celebrates Their Big Win
Big Little Lies (producer: Nicole Kidman) was one of the night's biggest winners. The series took home Best Miniseries or TV Film, Laura Dern won Best Supporting Actress in the TV category, and Nicole Kidman won for Best Lead Actress in a Miniseries or TV Film. The cast gathered around after the show to take this adorable snap with the awards.
6. Laura Dern Arriving With Monica Ramirez
Laura Dern posted a picture with activist and director of the National Farmworkers Women's Alliance Monica Ramirez to Instagram before hitting the red carpet. She captioned the picture: "On our way! Holding our mothers and grandmothers and all brave women who taught us about Voice. #timesup".
7. Eva Longoria, Debra Messing, & Kerry Washington Caught Up
Eva Longoria, who has lead the charge with the Time's Up movement, stopped to hug fellow stars Messing and Washington.
8. Stars & Activists Stand Together
Several stars brought activist leaders as their guests to the show, including #MeToo founder Tarana Burke, director of the Domestic Worker's Alliance Ai-jen Poo, and workplace justice advocate Saru Jayaraman.
9. Amy Sherman Palladino & Rachel Brosnahan Show Off Their Awards
The Marvelous Mrs. Maisel was another big winner of the evening. The show tells the story of Midge Maisel, a woman in the 1950s realizing her talent for stand-up comedy. Rachel Brosnahan won Best Actress in a Television Series - Comedy or Musical for her portrayal of Midge, and the series took home Best Comedy or Musical Series. Backstage, Brosnahan posed with creator Amy Sherman-Palladino.
10. Octavia Spencer & Jessica Chastain On The Red Carpet
Octavia Spencer, who was nominated for her role in The Shape of Water (screenplay: Vanessa Taylor), greeted Jessica Chastain, who was nominated for Molly's Game (producer: Amy Pascal) on the red carpet.
11. Reese Witherspoon & Eva Longoria Posing Side By Side
Reese Witherspoon and Eva Longoria posed together on the red carpet. The two stars have led the march for the Time's Up movement, acting as major organizers for the initiative and using their platforms to raise awareness. They also met up before the show, which Witherspoon posted on Instagram with the following caption: "Honored to stand with this woman and women everywhere tonight for equality, parity, safety and inclusion. @EvaLongoria #WhyWeWearBlack @timesupnow #GoldenGlobes".
After the last year's revelations, it was important for the Golden Globes to focus on women and their accomplishments. While the night had many girl power moments, there's still significant progress to be made in the entertainment industry. In the director category, for example, not a single woman was nominated. The Golden Globes shouldn't be a single evening of protest, but rather a sign that the industry is taking active shift toward greater equality.
If you or someone you know has been sexually assaulted, call the National Sexual Assault Telephone Hotline at 800-656-HOPE (4673) or visit online.rainn.org.