CBS' Defense Of Their Lack Of Female-Led Shows Isn't Enough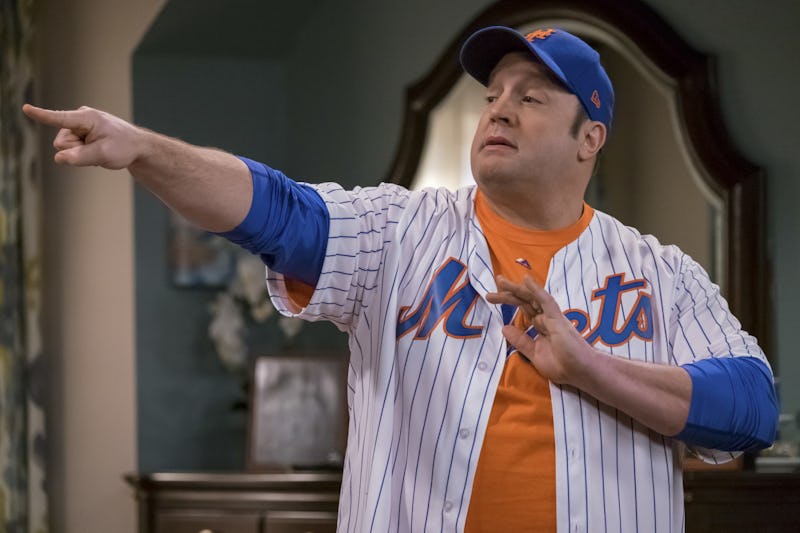 Jeff Neumann/CBS
For the second year in a row, CBS is being called out for the lack of diversity in its TV lineup. And one tweet in particular really sums up the problem with the network's 2017-18 men-centric programming. "Same headline, 1 year apart," user @StarringJohnCho tweeted on Wednesday. "The defense is real." The screenshot that accompanied the tweet showed two Hollywood Reporter headlines back to back, both of which began with "CBS Boss Defends Lack Of Women" in upcoming shows. What this makes clear is that the network executives haven't taken steps to improve CBS' TV lineup based on previous criticism, and are, instead, opting for the same excuse. And, frankly, the network's inability to change shows how little CBS values or understands women.
When CBS revealed its upcoming lineup this week, critics were quick to point out that, once again, it was extremely male-driven. As The Hollywood Reporter noted, seven of the new comedies and dramas CBS picked up star men, such as SEAL Team with David Boreanaz, Wisdom of the Crowd with Jeremy Piven, and SWAT starring former Criminal Minds star Shemar Moore. But CBS Corp. CEO Les Moonves didn't seem to see a problem with this, responding to the backlash with, "We do a number of pilots, a lot of them have women in starring roles. There are a lot of women in the schedule, in this new schedule."
The truth is, though, there really aren't. Looking at the new schedule, there are only three shows starring women: Mom with Anna Faris and Allison Janney, Madame Secretary with Tea Leoni, and Elementary co-starring Lucy Liu as Watson to Jonny Lee Miller's Sherlock. All of these shows are returning series, and Mom, which premiered in 2013, is the newest of the three. There isn't one woman-led show that's new to the lineup, because the executives at CBS seem to think they have enough women already. It's simply not a priority for CBS to find any more shows that star women — even if critics are quick to point out that they sure don't have a lot.
According to The Hollywood Reporter, CBS reportedly passed on "eight pilots — with six of those starring or featuring women as the co-lead." This allegedly included shows starring Amy Brenneman, Poppy Montgomery, and Kristin Chenoweth. "The best pilots went at the end of the day and we think our track record is OK," Moonves told reporters at CBS upfront in defense of its upcoming slate of shows. He then added an interesting tidbit about his network's viewership:
"More women watch CBS percentage-wise than any other network so our shows have a lot of female appeal. I don't think we've ever had to apologize for having Madam Secretary and Lucy Liu and [CBS All Access digital series] The Good Fight and [the since-canceled] The Good Wife and I think we do fine in that area."
While it's true that the series he listed are female-driven and no one should ever have to apologize for Lucy Liu period, it's disappointing that Moonves can only name a few shows in the entire lineup that are led by women or feature them prominently. Especially when one of those series, The Good Wife, is now off the air and another, The Good Wife spin-off The Good Fight, isn't actually airing on CBS, but its streaming channel CBS All Access.
Worse still, this seems to be the network bosses' go-to defense when hit with criticism over the lack of women in the CBS lineup: to namecheck the few female-driven shows they do have as examples of their commitment to diversity. As if they should be commended for doing the bare minimum. "We are the network that has Madam Secretary, 2 Broke Girls and Mom — we have lots of female leads, we have a great balance," CBS Entertainment President Glenn Geller said last year. 2 Broke Girls was canceled this past week, by the way.
It seems misleading for Moonves to brag about the network's female audience while defending its nearly woman-less lineup. The shows that CBS currently airs may have "female appeal," but they clearly aren't made with women in mind. This is obvious from how many female roles on CBS shows could be describes as just "wife." Look at Man With A Plan starring Matt LeBlanc and Kevin James' new series Kevin Can Wait, for example. The network wants to use female viewers as a selling point, a statistic to tick off when advertisers come calling, but they aren't really trying to sell their actual programming to women.
And that's a mistake, because according to a 2013 report from the television industry trade website BroadcastingCable.com, women are often the viewers who decide a show's fate. "Comparing the overall adults 18-49 demo ratings with the women 18-49 ratings reveals a number of shows that would be on the cancellation bubble this season if it weren't for a large number of female viewers," the website explained, citing New Girl, Scandal, and Dancing With The Stars as examples of shows that would have a hard time staying on the air if it wasn't for their high female viewership.
CBS executives seem to assume that female viewers will just be there, but that's not a good business model at a time where TV watchers have more choices than ever. Especially when there are so many other choices that are specifically representative of them.
Other networks seem to understand that women, who make more than half of the population, want to see strong, diverse, and complex women on television. CBS's sister network CW was praised by Rachel Bloom and Gina Rodriguez at their 2016 upfronts for their women-led line-up, including shows like Crazy Ex-Girlfriend, Jane The Virgin, and the newly acquired Supergirl. (The latter originally aired on CBS.) Another network with similar programming is ABC — aka the home of Shonda Rhimes, who created some of the top-rated shows for women with Scandal, Grey's Anatomy, and How To Get Away With Murder. Even streaming services like Netflix, Amazon, and Hulu are great examples; for the most part, Netflix is leading the charge when it comes to diverse and women-led shows like Orange Is The New Black, Jessica Jones, and Luke Cage.
If CBS is so proud of its female audience, it needs to stop taking these women for granted. No more excuses. It's time to put their money where their mouth is — or female viewers may just take themselves somewhere where they're appreciated and represented.