Cecile Richard's Latest Comment On Her Political Future Will Keep You Guessing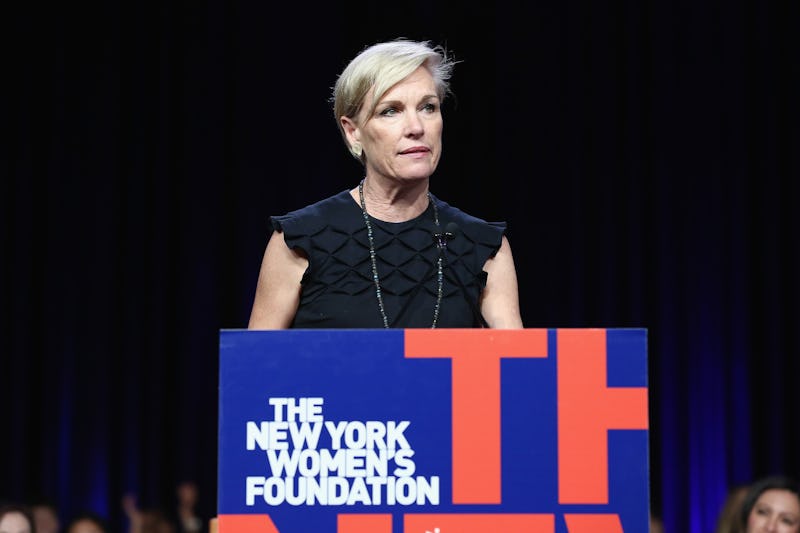 Monica Schipper/Getty Images Entertainment/Getty Images
While speaking on BuzzFeed News' AM To DM morning show on Wednesday, former president of Planned Parenthood, Cecile Richards, said running for political office was an option she hadn't ruled out yet. The renowned reproductive rights activist said that running for office was "not in my plans right now" but gave her viewers an intriguing hint to chew on: "I learned from my mom: Never say Never."
Richards — who became the president of Planned Parenthood in 2006 and stepped down in 2018 — is no stranger to America's intense, often controversial, and undoubtedly polarizing debate on abortion rights and services. In fact, she recently wrote a book titled Make Trouble: Standing Up, Speaking Out, and Finding the Courage to Lead —My Life Story on her journey into the turbulent heart of reproductive rights in the United States.
"I'm on book tour. It's been fun ... it's like a revival meeting," Richards mused. "Women around the country are so eager to know what they can do to make a difference. Women are obviously politically more active than ever in my lifetime."
Although she said she didn't know what she would be doing in the longterm, Richards brought BuzzFeed News' attention to her current plans — and they're unmistakably geared toward politics, including getting women "engaged, organized, registered to vote, participating, and making sure they vote in November." If she does run, it won't be an entirely new world for her as her mother, Ann Richards, was the former governor of Texas from 1991 to 1995.
What would happen if Richards indeed ran for public office? She could win sizable support from American women if she decides to run on a platform that prioritized reproductive rights and health care. While speaking on BuzzFeed News' morning talk show, she said that she knew American women were "deeply" concerned about the future of their access to health care; she pointed to Donald Trump's administration's attacks on the Affordable Care Act.
Some observers may describe Trump's relationship with Planned Parenthood as an antagonistic one. Prior to running for president, Trump called Planned Parenthood an "abortion factory" on CNN's Chris Cuomo in 2015. During the same year, he told NBC News' Chuck Todd that he would defund Planned Parenthood if it performed abortions. In 2017, after he became the president of America, Trump said that he would support Planned Parenthood — on the condition that it stopped performing abortions. Richards unapologetically rejected Trump's conditional support.
Facing such consistent opposition seems to have strengthened Richards and could even make her a formidable political candidate, that is, if she runs for office. While speaking to BuzzFeed, she said that people were questioning what it meant to live in a "participatory democratic system" and that she viewed herself as someone who could make a "big contribution" to that.
But this is just a hypothetical scenario. The well-known reproductive rights activist didn't even specify whether she would run in her native state Texas or her other home, New York.
Richards also discussed a previous meeting she had with White House advisers Ivanka Trump and Jared Kushner in April 2017. The purpose of the meeting, according to a statement from Planned Parenthood to BuzzFeed, was to inform Trump's daughter about the health care work Planned Parenthood did for a reported 2.4 million patients in the country.
Several hours before meeting the couple that day, Richards indirectly spoke of Trump's daughter at the New York summit for Women In The World, "Anyone who works in this White House is responsible for addressing why women are in the crosshairs of basically every single policy we've seen in this administration."
On Wednesday morning, Richards discussed the same meeting with BuzzFeed and said that she told the couple that federal funds do not go to Planned Parenthood's abortion services under the Hyde Amendment, which categorically prohibits that. If the administration did "defund" the organization, Richards said she told the couple that it would deprive patients of services like birth control, cancer screenings, and family planning services.
She also said something that might give viewers an idea of the kind of defiant political candidate she would be — if she runs for office. Richards said she told Ivanka Trump and Kushner, "We are not going to trade away women's rights for money,"