Get Excited, Celine Dion Just Joined 'The Voice'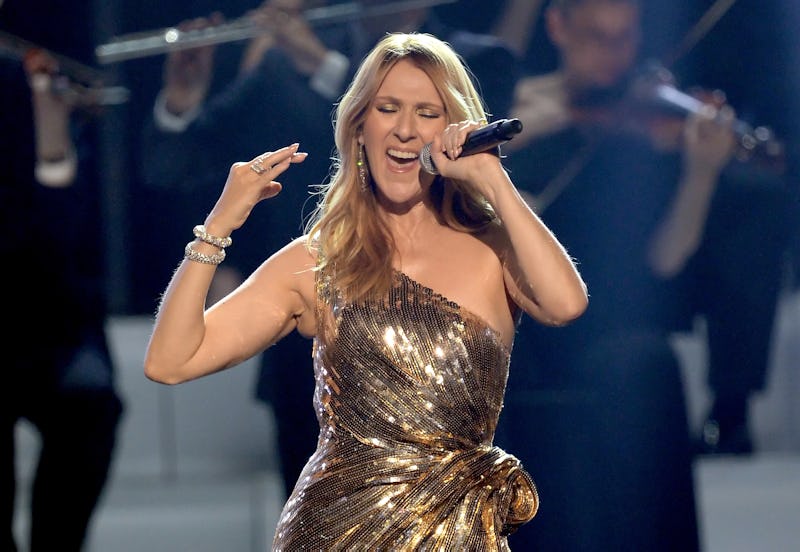 Kevin Winter/Getty Images Entertainment/Getty Images
Future singers of the United States, prepare to hit those high notes. According to her personal Twitter account, Céline Dion is joining The Voice Season 12 as returning judge Gwen Stefani's adviser for the show's battle rounds. The "My Heart Will Go Own" singer is sure to bring a whole new style of coaching to Stefani's team thanks to her unique voice. This is huge for the contestants. Dion's voice is legendary, and having her by their side means Team Stefani has an even better chance of producing the winner of The Voice Season 12.
After reaching blockbuster status in the '90s and '00s, Dion took up a record-breaking residency in Las Vegas, and became one of the most recognized voices in pop music. What is unique about the singer, and what she can impart to the next generation of musicians no one else can, is the valuable lesson no singer should be limited by their genre. While her music is labeled pop, Dion draws from R&B, classical, and even opera inspirations when she sings. Instead of building her career around sounding like everyone else, she has made a name for herself by sounding wholly unique.
The contestants on The Voice come to the show with raw talent and a dream. It is so easy for them to fall into the trap of mimicking their idols, but with Stefani and Dion guiding one of the groups, they are getting advice from two women who have built their careers around pushing the definition of pop music to fit their own needs as artists. To have Dion by their side is to have an adviser who can coach them to explore genres and vocal ranges they may have never considered before joining the show.
This is a wonderful career move for Dion as well. The singer has been dealing with personal tragedies in recent years, and after the loss of her husband and brother, returning to the spotlight to help young singers find their voices is a wonderful way to share her talents and expertise. In May 2016, her contributions to music were recognized with the Billboard Icon Award, and it is clear she still has so much to offer to her fans and the music community.
Seeing her guide Stefani's team as they learn to trust their instincts as singers is going to make Season 12 of The Voice one of the best seasons yet. Getting on the show is already an amazing accomplishment for the contestants, working with a living legend whose voice is unlike anyone else's is next level amazing. Dion always brings a unique mix of showmanship, booming vocals, and her own undeniable talent to her own performances — watching her impart her wisdom is going to be a masterclass in how to be a superstar for the contestants and the audience.