Mindy Kaling Has A Really Simple Solution For Getting More Women Behind The Camera In Hollywood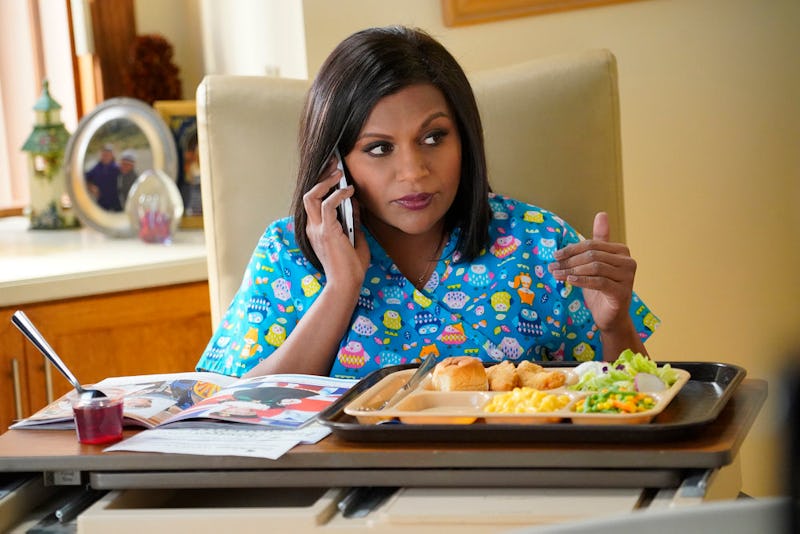 Paul Drinkwater/NBC
By this point in her career, Mindy Kaling is more than comfortable being the boss. It's kind of her natural state. After spending six seasons writing and starring in her first TV creation, The Mindy Project, Kaling moved on to NBC's Champions, another comedy she co-created with her The Office and Mindy Project colleague Charlie Grandy. And as a strong proponent of empowering women as leaders both in front of and behind the camera, she brought with her a good strategy for increasing behind-the-scenes representation that she tells Bustle she's found "easy" and "practical." Sometimes, she says, all it takes to get more women involved behind the scenes is to simply encourage them to do more.
"I love women who aren't afraid to branch out. I will always encourage that on my projects," Kaling wrote in a recent Instagram post in honor of #FemaleFilmmaker Friday, a campaign spearheaded by Crazy Ex-Girlfriend co-creator Aline Brosh McKenna to celebrate women storytellers. When we speak on the phone, Kaling traces her commitment to encouraging her employees — particularly women — to expand their horizons back to The Office, her first series writing job. She remembers showrunner Greg Daniels taking her aside several seasons into the comedy's run and asking her to direct an episode.
"I was really scared by it," she says, "but he said, 'I believe in you and I think this is a great opportunity to [try directing] in a really safe environment on a show that you've been on and you know inside out.'"
Kaling needed the push, which she realizes may sound surprising to people who think of her as being eager and confident. "Lots of times for women in certain kinds of roles in Hollywood we think, 'OK, well this isn't a typically female role so I feel nervous about it because I don't see a lot of people doing it,'" she says. But with Daniels' encouragement, she made the leap from being a writer-performer to being a writer-director-performer; it landed her in the Directors Guild of America (DGA) and prepared her to step into the ultimate leadership role on her two most recent shows.
"Sometimes women don't want to ask because they don't want to seem like they're being pushy or demanding."
According to Deadline, the DGA reported huge strides for women and minority directors in episodic television during the 2016-2017 season. But still, women made up only 21 percent of the pie — and a mere 5 percent were women of color. Kaling's method for evening up those proportions on her own shows is just to entrust women who've proven themselves in other areas with more responsibility. Assistant directors, for example, can get stuck in a rut, she says, if they're not given the opportunity to step up.
"It's just important because I think if you don't think of those things," Kaling explains, "sometimes women don't want to ask because they don't want to seem like they're being pushy or demanding." So Kaling has paid her experience forward — not necessarily to be the fairy godmother of directing jobs, but because it's just good, smart management. She compares the practice to the inclusion rider Frances McDormand famously mentioned in her Oscars speech.
"What better way to fill out your crew with 50 percent female directors than with the women you already know who are super confident in another area?" Kaling asks. In the midst of launching this series, Kaling was also spending time with some other "super confident" creators — her A Wrinkle In Time castmates Reese Witherspoon and Oprah Winfrey and director Ava DuVernay. And though she's already in a position to help women coming up the ladder behind her, Kaling is still learning from her contemporaries.
"[Being with them] just makes me feel like, in a good way, I can never be tired. Before I did that movie, I thought I was a very busy person. I'm writing, acting, do TV and movies. I have a kid. And then you see Reese and Oprah and Ava, who are all doing those same things plus more," she says. "As ambitious as I am, if I hadn't done a movie like that, I wouldn't have seen just how more ambitious I could be."
Sometimes, all it takes to learn how to achieve more is just knowing that it's possible, and that's especially true for women — and particularly women of color — who face roadblocks thanks to institutionalized sexism and racism in Hollywood. But clearly, Kaling is dedicated to making tangible changes that fly in the face of assumptions about how much time and elbow grease it'll take to balance the scales. Take a note, Hollywood: it's just that easy.