This Badass Detail About Mindy Kaling's Baby Name Will Make You Love It Even More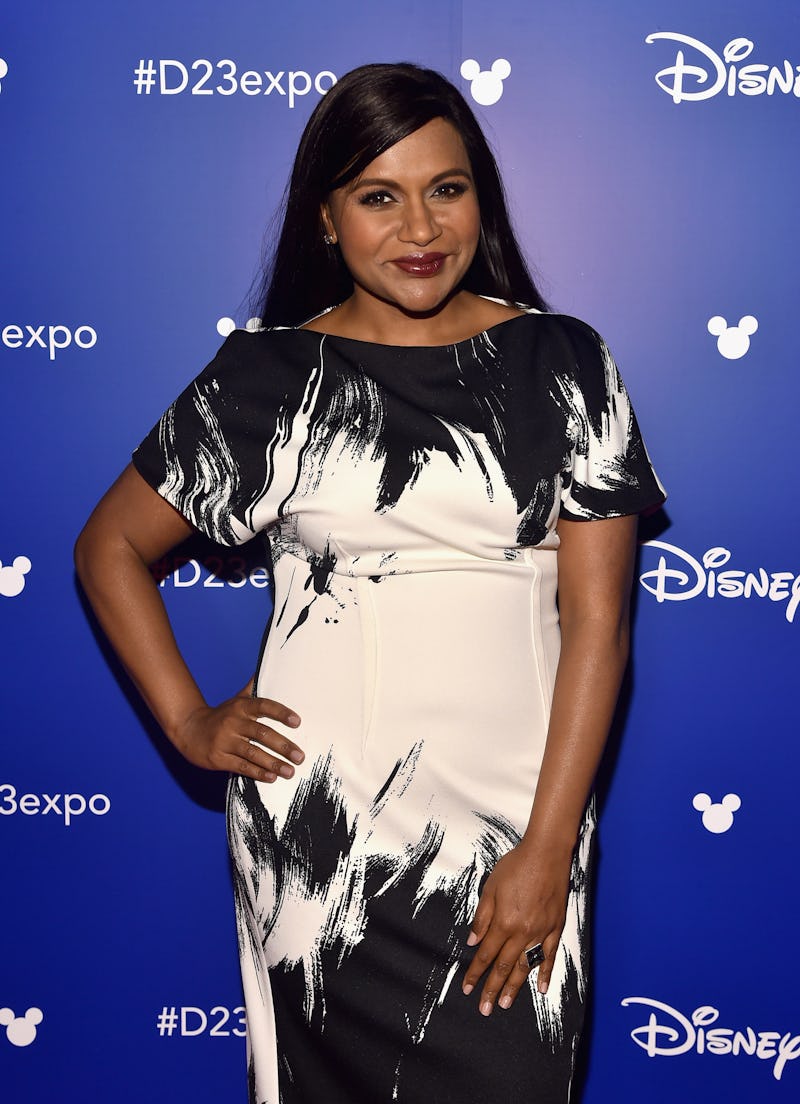 Alberto E. Rodriguez/Getty Images Entertainment/Getty Images
It seems like just yesterday when Oprah Winfrey broke the news that her A Wrinkle In Time costar is expecting her first child. And it's being reported that Mindy Kaling gave birth to a baby girl on Dec. 15, and her daughter's name is even better, once you notice one key detail. (Bustle reached out to Kaling's rep for comment, but did not receive an immediate response.)
According to E!, Kaling named her first born Katherine Kaling — giving the new tot her own last name. Of course, seeing as Kaling hasn't shared any details about her pregnancy, it could be that she used a sperm donor and her baby does not have a father. However, if that is not the case, giving her daughter her last name may not seem as if it's a big deal, but in actuality, the act most certainly is.
Though there isn't a law in the United States requiring parents to give their children the father's last name, it's pretty common to do so. According to a New York Times article on the subject, it wasn't until the late 1980s that American birth records saw a spike in women giving their children their surnames. The article states that an increase in married women deciding to keep their own last names in the '80s helped for couples to see the importance in "recognizing the maternal line in their children's surnames."
The "like father, like son" namesake tradition can be seen within non-married partnership, as well. And seeing as Kaling is unmarried, the Mindy Project creator is going against the grain, just as the great amount of brave women before her had. Fans on Twitter, including Bustle editor Erika Abdelatif, noticed Kaling's "badassness," as well, and couldn't help but to celebrate the actor for her decision to break the conventional mold.
Prior to giving birth, Kaling spoke about her desire to be a "fun mom" to her future child. In an interview with NBC's Today Show back in July, the actor says, "I'd like to be the fun mom, I know I'm gonna be the dorky mom. So if I can be kind of fun too, I think that would be nice." One look at Kaling's social media accounts, and it's clear that the entertainer won't have to worry about "fun" lacking within her tiny family. She's obviously the life of the party wherever she goes. And if her pregnancy plot in The Mindy Project serves as a bit of insight into the type of mom Kaling wanted to be too, she's definitely on the right track.
Oh, and it's safe to assume that matching outfits between Kaling and her tot are totally in the near future. And baby Katherine rocking her mother's surname could make for some pretty adorable mommy-and-daughter monogrammed apparel as well. Who else can see the two walking around in #TeamKaling gear? If anyone can pull it off, Kaling most certainly can.
Kaling's known for keeping her personal life out of the lime light, and honestly, if it weren't for Oprah accidentally spilling the beans, the public probably wouldn't have found out about Kaling's pregnancy as soon as they did. She has yet to say whether or not her decision to give baby Katherine her last name was a subtle nod to the feminist movement, and because Kaling's so private, that confirmation probably will never come. But even if Kaling settles on staying mum about everything, one thing could certainly still remain true: the gesture potentially speaks to the type of lessons Kaling is hoping to instill into her newborn child — both loving and strong.
Here's to hoping that Kaling decides to let fans into a little of her mother-and-daughter adventures. Because with her jovial personality, great sense of style, and feministic edge, Kaling and baby Katherine will be one mother-daughter duo to obsess over.
Editor's Note: This post has been updated from its original version.