Chandon Released Mini Sparkling Wine Bottles That Are Pure, Undiluted Instagram Bait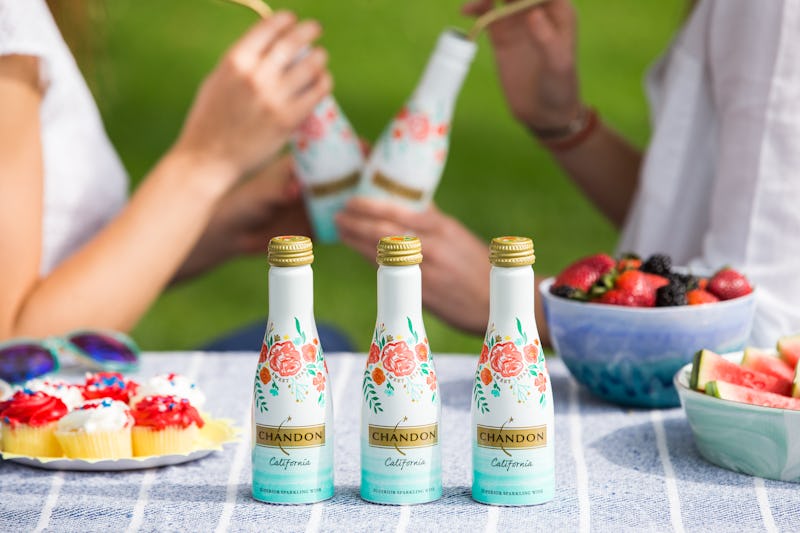 Courtesy of Chandon
In a little over a week, we'll be in August, and past the prime of summer. It's hard to believe, but take this as a recommendation to get all the picnics and pool trips out of your system now. Summer is optimal time for Instagrammable outdoor outings, and what's more Instagrammable than food? The only thing that even compares is drinks. So, before summer comes to a close, be sure to go on one last picnic with your best friends — because Chandon's new mini sparkling wine bottles are genuinely so Instagrammable it hurts.
The can/bottle hybrid, called Chandon Aluminum, could be a total wine game changer. Rather than the huge, heavy glass bottle you are used to with wine, Chandon's newest release comes packaged in a small, portable aluminum bottle. Plus, it's decorated with a beautiful and dainty floral pattern, making it look like a designer reusable receptacle, rather than just something you will later recycle (because yes, the bottles are 100 percent recyclable — huzzah!).
Inside the bottles is a wine of Chandon's creation called Sweet Star cuvée, a semi-sweet blend of Chardonnay and Pinot Noir. Described on the website as possessing a taste that "pops with aromas of bright peach, nectarine, grapefruit and tropical fruits complimented by floral notes," the wine is, "rich and sweet but with a distinctive, refreshing acidity that brightens the mouthfeel."
Anne-Sophie Stock, the vice president of marketing for Chandon California, said in a statement that the inspiration for Chandon Aluminum stems from observations about consumers' transient lifestyles. "We believe our #ChandonSquad wants to enjoy their quality bubbles anywhere, outdoor experiences are part of their lives and we want to follow them at music festivals, sporting events and concerts," said Stock. "We are thrilled to introduce Chandon Aluminum bottles with Sweet Star, our delightfully lush cuvée which is the perfect match for the aluminum experience, and can be enjoyed at the beach, in sports arenas and anywhere our busy consumers would like to go."
Pauline Lhote, the head winemaker at Chandon California, said in a statement, "It took several tastings and trials to ensure that the wine quality remained superior in the new packaging. Now finally after a full year of trials, we are excited to share this delicious varietal in the convenient aluminum bottle so you can enjoy your bubbles with just a simple twist."
Portable wine has quickly become an unexpectedly competitive market, particularly when drinking wine from anything other than a glass bottle was a happy hour faux pas for years. But nowadays, if lugging around a big ol' bottle with you to a picnic seems like a hassle, you can easily opt for something more portable. Union Wine Comapny's Underwood Strawberry Cooler, Barefoot Wine's Canned Spritzers, and Simpler Wines (which you can find at Trader Joe's) are just a few of the constantly expanding options of canned wine you can snag for your next picnic.
In the meantime, though, if you're looking for these Instagrammable hybrid bottle-cans, you can buy Chandon Aluminum both individually, or in a case of 24 on Chandon's website. Happy sipping!