Charlize Theron Hid Her Roots With A Tiffany Bracelet At The SAG Awards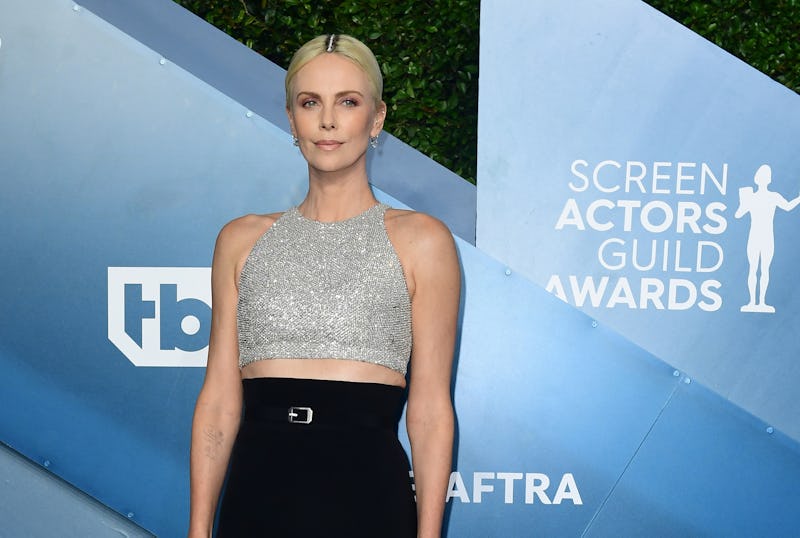 FREDERIC J. BROWN/AFP/Getty Images
Sometimes, you just don't have time to get your roots done — and turns out, celebrities often run into the same problem. Charlize Theron's 2020 SAG Awards hairdo included a Tiffany bracelet, which the actor revealed in an interview she wore to disguise her roots.
Theron walked the red carpet as a 2020 SAG Awards nominee thanks to her performance in Bombshell. For the role, Theron transformed herself into former Fox News anchor Megyn Kelly, but all signs of Kelly's look were gone on Sunday night's red carpet.
The actor wore separates, opting for a high-neck bejeweled crop top and a chic black skirt with a middle slit that revealed strappy pumps. While her look was modern and unique on the carpet, it was her hair accessory that stole the show.
In an interview, Theron was asked about the diamonds in her hair, and laughing, she revealed that she didn't have time to get her roots done before the show. And sure, while not everyone can use a Tiffany bracelet to disguise their 'do when they need to hit the salon chair, the idea is low-key brilliant.
The piece of jewelry was set in a center part atop Theron's head. She styled her pixie cut straight and sleek, making the bracelet the focal point of her look.
Theron's 2020 SAG Awards look was also a marked departure from her appearance earlier this month at the Golden Globes. Where her SAGs dress was sparkling, it skewed toward a deep palette — unlike the vibrant green draped corset frock she wore to the Globes. She also styled her hair differently, with her pixie swept forward and to the side with subtle bangs.
While celebrity style fans may be seeing many of the same faces on award season red carpets, Theron shows that the style moments will be unique each time.