Charlize Theron Isn't Over The 'Bachelor' Finale Yet & She Has Some Choice Words For Arie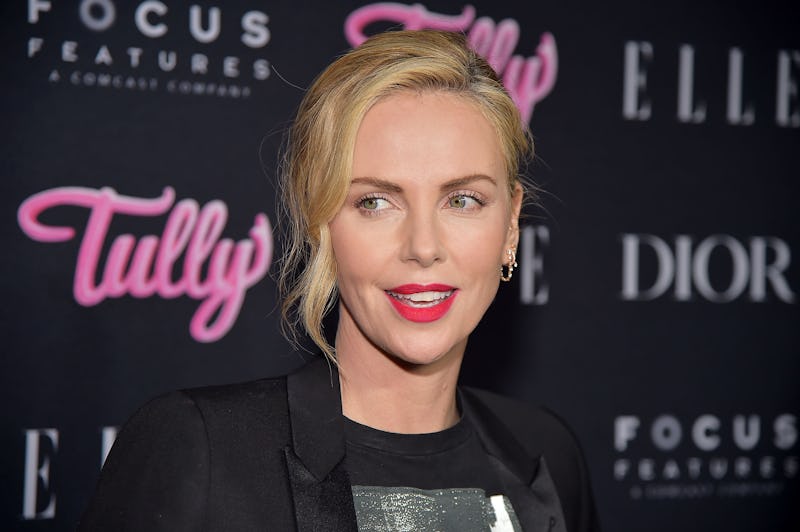 Theo Wargo/Getty Images Entertainment/Getty Images
Even though Season 22 of The Bachelor ended in March, Bachelor Nation is still reeling from that controversial finale. One of those fans is actor Charlize Theron, who talked about Arie Luyendyk Jr.'s Bachelor finale in a recent interview, and her thoughts are just so relatable for anyone who watched the season. Plus, Theron is just as excited for and invested in Becca Kufrin's season of The Bachelorette as the rest of fans of the show are.
During her appearance on the May 7 episode of Watch What Happens Live With Andy Cohen, Theron told host Andy Cohen that Becca "is so much better off."
In case anyone has been living under a rock, the Oscar-winning actor was responding to Luyendyk Jr. proposing to Kufrin, blindsiding her with a breakup, getting together with his initial runner-up Lauren Burnham, and proposing to her all in front of reality TV cameras during The Bachelor Season 22 finale. Theron declared she is "not impressed with him at all."
That's all in the past, though. Kufrin has the perfect way to bounce back from the tough breakup: staring in the next season of The Bachelorette. Theron said of Kurfin, "I think she's going to be great."
And just like everyone else who watched The Bachelor, the Tully actor still cannot get over that unedited breakup scene with Luyendyk Jr. and Kufrin. "She's fun and I think she handled the whole thing so well too, because that was the most awkward watching experience of my life," she said. "It was just, like, brutal, and she just kept it together and had integrity about it. He just looked like a f*cking dick!"
What bothered the mother of two the most when she was watching that breakup was when the Bachelor asked his original winner, "Do you want to talk about it?" while he was dumping her during their "Happy Couple Visit." Theron said, "No, motherf*cker" and added, "she doesn't want to talk about it. Just leave already!" Amen.
The South African-born actor's assessment of the breakup is in line with viewers' live reactions to the episode. Plenty of people tweeted about his refusal to leave the house where he and Kufrin were talking.
Watch What Happens Live wasn't the only time Theron shared her devotion to the reality TV dating show. According to a recap from Us Weekly, during The Late Late Show, Theron told James Cordon, "I basically feel like I'm dating The Bachelor, like, the show." She also said, "I get all ready and that's my date night. I date the show."
And once again, this is very understandable for fans of the show. She's not the only fan who prioritizes Bachelor Mondays in her weekly routine. Plenty of viewers have shared similar sentiments throughout the years.
Even before Luyendyk's controversial Bachelor season, Theron shared her love for the franchise on Watch What Happens Live. During a July 2017 episode, she discussed Season 13 The Bachelorette star Rachel Lindsay. Theron gushed, "I am such a fan of her. I think she's incredible. She is smart. She is sexy. She is beautiful."
Once again, Theron demonstrated that she really is just like most of the other fans of this show who adore Rachel Lindsay. Well, she's just like them plus an Academy Award, worldwide fame, millions of dollars, and everything else she has going for her.
Now, the real question is when will Charlize Theron take her fandom to the next level and appear on an episode to give her input? She could host a group date, give advice to the lead, or even just sit in the audience during the live After the Final Rose special.