A Big-Time Trump Ally Actually Compared Chelsea Clinton's Views On Abortion To Hitler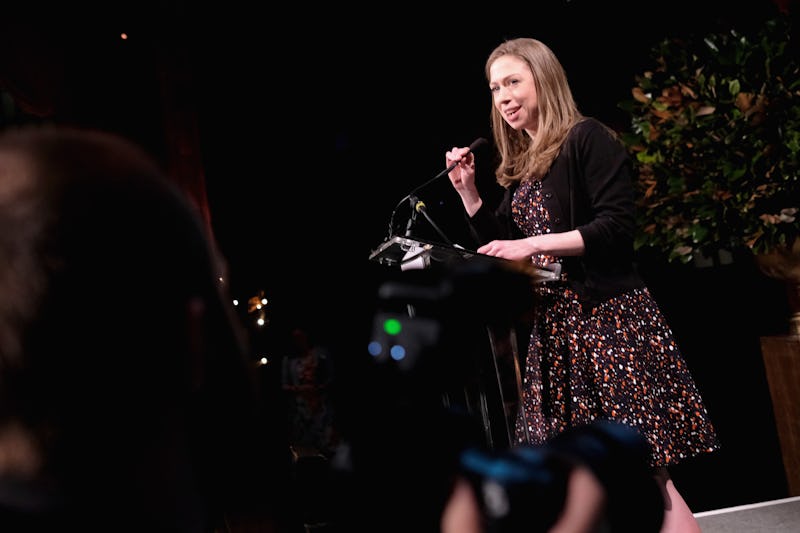 Nicholas Hunt/Getty Images Entertainment/Getty Images
One of America's most well-recognized evangelists took to Twitter to express his strong disagreement with abortion. On Wednesday, Franklin Graham appeared to compare Chelsea Clinton's pro-abortion stance to the Holocaust. Graham likened Clinton's point that keeping Roe v. Wade intact would be an economic asset to Adolf Hitler's support for "killing the Jews."
On Wednesday evening, Graham tweeted, "@ChelseaClinton, daughter of former President @BillClinton and @HillaryClinton, claims that legalizing abortion added trillions of dollars to the economy. What a lie. Hitler probably also claimed that killing the Jews would be good for their economy." He shared a link to a Breitbart article citing Clinton's comments.
The comparison came after Clinton attended an event protesting Donald Trump's Supreme Court nominee, Brett Kavanaugh. At the event, "Rise Up For Roe," Clinton said, "Whether you fundamentally care about reproductive rights and access right, because these are not the same thing, if you care about social justice or economic justice, agency — you have to care about this."
"It is not a disconnected fact — to address this T-shirt of 1973 — that American women entering the labor force from 1973 to 2009 added $3.5 trillion to our economy. Right?" Clinton went on to say. "The net, new entrance of women — that is not disconnected from the fact that Roe became the law of the land in January of 1973."
At "Rise Up For Roe," Clinton also expanded on keeping equal rights for women alive. "So, I think, whatever it is that people say they care about, I think that you can connect to this issue," she said. "Of course, I would hope that they would care about our equal rights and dignity to make our own choices — but, if that is not sufficiently persuasive, hopefully, some of these other arguments that you've expressed so beautifully, will be."
On Twitter, Clinton has been active in making her comments clear to her followers and other users on the social network. When a Twitter user called her comments "pure evil and disgusting," Clinton responded with a tweet, "Hi KrisiAnn. That's not what I said as you can see in the video. Reproductive rights have always been economic rights. A recent study found denying women — often already mothers — a wanted abortion results in years of less employment and more family poverty."
In her response tweet, Clinton was citing a study published by the Los Angeles Times that reported limiting access to abortion services exacerbated poverty for women who already earn very little. According to the study, which was published in January 2018, "the most common reason women give for terminating a pregnancy is not being able to afford to support a child or, very often, another child." It concluded that restricting abortion "nearly quadrupled the odds that a woman's household income would be below the poverty line."
In addition to Graham, other right-wing figures to attack Clinton included Erick Erickson who compared her comments on abortion rights to defending slavery. In response, Clinton told Erickson that abortion rights were about protecting women's agency. "It's not the same at all," she tweeted.