Chelsea Peretti Is Leaving 'Brooklyn Nine-Nine,' But There's Still Hope For More Gina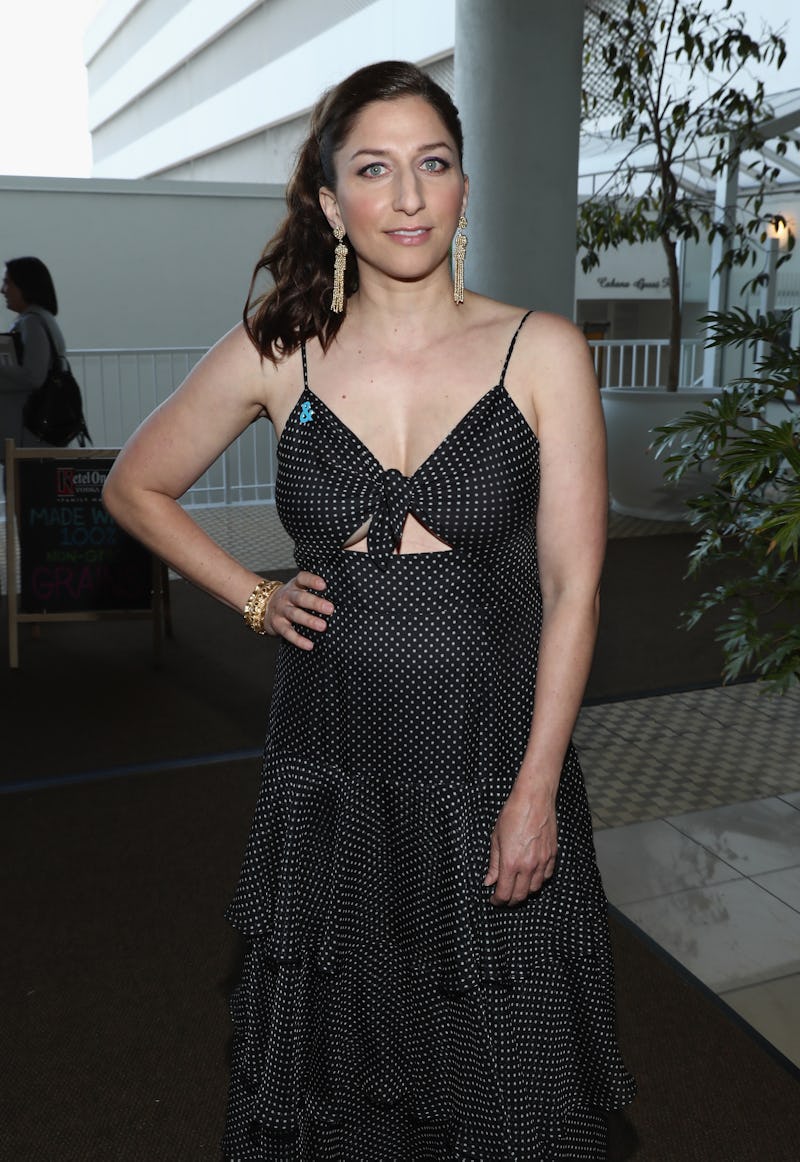 Rich Polk/Getty Images Entertainment/Getty Images
Brooklyn Nine-Nine fans, prepare yourself for some "cartoony thumbs-down" news that will make your feel "face with X-s for the eyes": Chelsea Peretti is leaving Brooklyn Nine-Nine, and will step down from her role as civilian administrator, social media superstar and the human form of the 100 emoji, Gina Linetti, sometime during Season 6.
The comedian revealed the news to B99 fans on Wednesday via Twitter, where she wrote in a message, "I won't be doing a full season of Brooklyn Nine Nine in Season 6. But that doesn't mean I won't ever be back, winky face emoji, heart emoji. I want to thank you for the hours you spent watching Gina be Gina: confident, idiotic-but-smart, pithy, and infused with rhythm and cell-phone radiation. It is hard for me to know exactly what to say."
Peretti also used Emmy Rossum's departure announcement from Shameless to explain her emotions over leaving the show, tweeting, "perhaps Emmy Rossum said it best," before strategically bolding parts of Rossum's statement to reflect her own feelings, as well as to inject a sense of humor into her heartbreaking reveal.
However, both Peretti and Brooklyn Nine-Nine's co-creator, Dan Goor, confirmed that though Gina would no longer be a regular feature of the precinct's bullpen, she will continue to make guest appearances on the show.
"While it's sad to see a member of the family leave, we are so proud of Chelsea and excited for what she does next. Also, I know for a fact this isn't the last we'll see of Gina Linetti," Goor wrote in his own tweet, before noting that Gina "got run over by a frickin' bus, and she only missed like a week of work."
Peretti's character has technically departed from the precinct twice before: In Season 3, Gina accompanied Captain Holt when he was moved to the NYPD's public relations department, and in Season 5, she declared plans to quit her job in order to run "a sports league for other people's pets." Fans can only hope that her upcoming, official departure from the ninety-ninth precinct will be for an equally insane, potentially dance-crew-inspired reason. (Dance-y Reagan truly deserves it's moment as the preeminent dance crew of New York.)
Though Season 6 will not be the last that B99 fans will see of Gina Linetti, it's understandable that they might be, in the words of Captain Holt, devastated. After all, the show was cancelled by Fox after five seasons and over 100 episodes back in May, before being picked up for a new, extended Season 6 by NBC just one day later. Gina has been a fan-favorite character from the beginning, thanks to her sarcastic one-liners, her weird and complex relationship with new step-brother Charles (Joe Lo Truglio), her absurd hobbies and name-dropping stories and, of course, the fact that she named her daughter Enigma.
Despite Peretti's departure, there are plenty of reasons for fans to be excited about Season 6 of Brooklyn Nine-Nine; in addition to NBC's decision to expand the new episode run from 13 to 18, the Season 5 finale introduced a possible new love interest for Rosa Diaz (Stephanie Beatriz) in the form of Alicia, played by Gina Rodriguez. The new season will also follow Jake (Andy Samberg) and Amy (Melissa Fumero) as they continue to fight crime as partners in both work and marriage after their nearly-disastrous wedding in the finale.
While Gina and her frequent singing will surely be missed around the ninety-ninth precinct, this news hopefully means that Peretti has some major plans of her own in the works, so that neither she nor Gina Linetti will be away from our television screens for too long. And in the meantime, fans can always take comfort in the fact that Gina truly does, know what's best.