Why Gina Rodriguez Should Stick Around 'Brooklyn Nine-Nine' As Rosa's Long-Term GF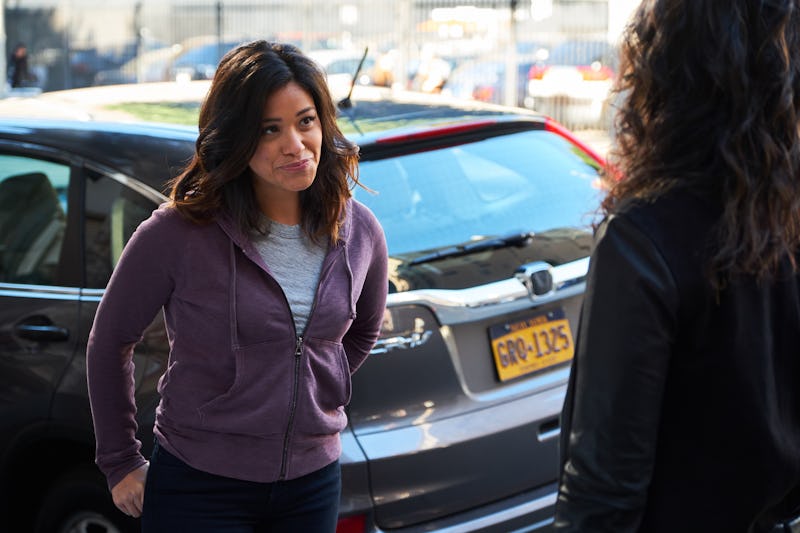 John P Fleenor/FOX
One of the many plotlines in the Brooklyn Nine-Nine Season 5 finale could mean there's another romance for Rosa in the show's future. While running an errand, Rosa has a brief meeting with a possible love interest played by Jane The Virgin's Gina Rodriguez and manages to fall head over heels. Now that the show is officially returning for a sixth season, there may be a chance that Gina Rodriguez will return in Brooklyn Nine-Nine Season 6 for an extended arc as Rosa's love interest.
While trying to find Amy's wedding veil, Rosa and Terry meet a personable rideshare driver named Alicia, played by Rodriguez. Alicia and Rosa won't be able to spend much time getting to know each other in the finale, what with everyone being so focused on getting Jake and Amy married, a preview clip from the episode indicates that their chemistry is immediate. This shouldn't be surprising to anyone that's familiar with the friendship of Rodriguez and Stephanie Beatriz, who plays Rosa.
Before Rodriguez was officially cast on the show, she told BUST magazine how much she wanted to fulfill fans' dreams of seeing her on the series. "I want to play [Rosa's] love interest so bad," she said. "really hope they make that happen." She also tweeted a request to be considered for the role of Rosa's love interest. It seems her efforts were fruitful, and her passion for the role may encourage her to find time from her main gig of playing the titular role in Jane The Virgin to dedicate energy to continuing Alicia's story in Brooklyn Nine-Nine's sixth season.
Whatever her future on the series, the fact that Season 6 of Brooklyn Nine-Nine is happening at all is something of a miracle, since Fox cancelled the series about a week before the show's Season 5 finale. However, NBC jumped in and ordered a sixth season of Brooklyn Nine-Nine, a rare network save that means the future of the show is brighter than ever.
The renewal is certainly great news, but a big change is coming to the series because of it — Brooklyn Nine-Nine Season 6 will only be 13 episodes long, compared to Season 5's 22. However, Brooklyn Nine-Nine isn't the only network show making some changes before its next season. Jane The Virgin is also altering its schedule in a way that could allow its star to appear on Brooklyn Nine-Nine in more than a one-off co-star capacity.
The shortened Brooklyn Nine-Nine season could mean that Rodriguez can play a reasonably significant role with less of a time commitment than a longer season would require. Additionally, the final season of Jane The Virgin won't be coming to television until 2019, indicating that Rodriguez has a little more time than usual between seasons — possibly enough time to become a recurring character on Brooklyn Nine-Nine. Who knows? With Jane The Virgin coming to an end, Rodriguez's Alicia could become a long-term love of Rosa's and appear in even more seasons of the other series — should it get renewed again.
While Rodriguez has been campaigning hard for the role of Rosa's love interest, there's no denying that she'd be a perfect fit even if she hadn't been so enthusiastic about being cast. She plays a lighthearted romantic in Jane The Virgin, and proved that she can be a Rosa-esque stoic badass in the film Annihilation. There's no official word yet from NBC, the producers, or Rodriguez about on whether or not she'll be returning to the show in the future, but fans rooting for Rosa's happiness would surely be thrilled to see it happen.