Chester Bennington's Wife Shares A Heartbreaking Statement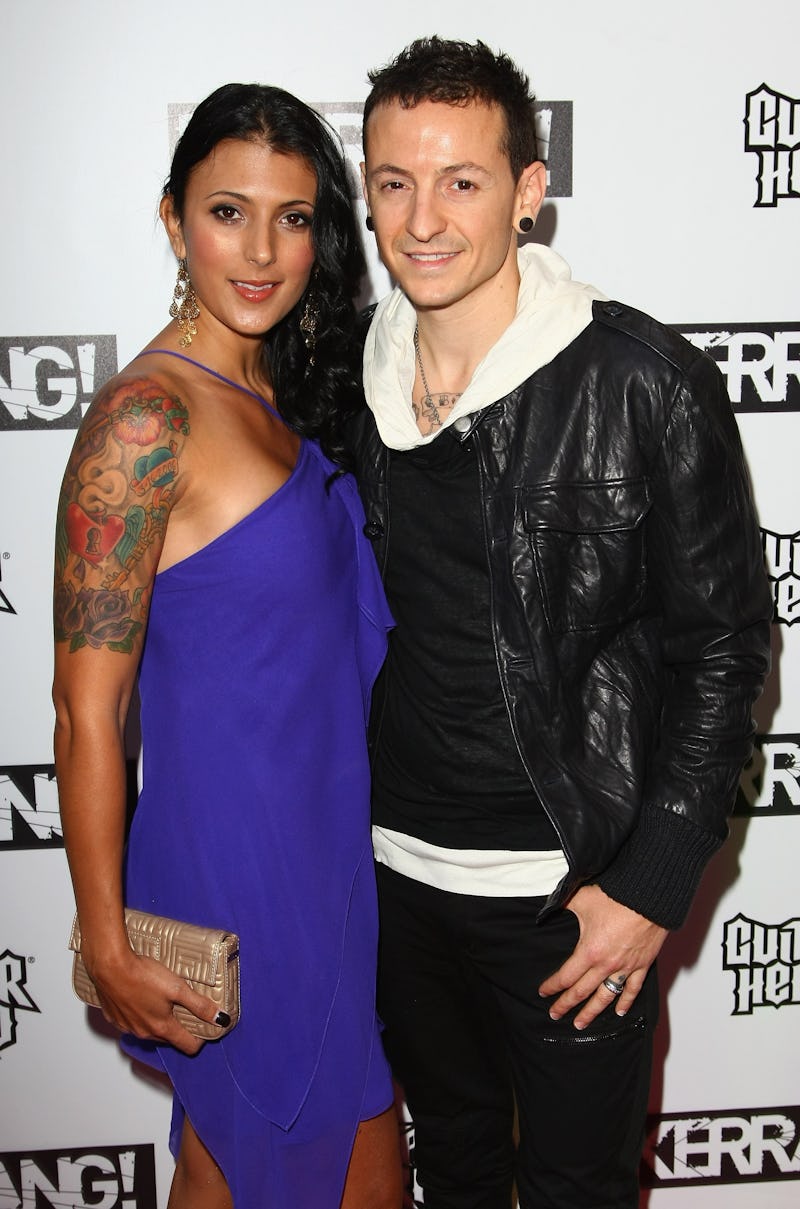 Gareth Cattermole/Getty Images Entertainment/Getty Images
Last week, news broke that Chester Bennington, frontman of Linkin Park, died by apparent suicide at the age of 41. On Friday, his widow, Talinda, released a heartbreaking statement to her husband's fans, asking the devastating question: "How do I move on?" Talinda, who was married to Chester for 12 years, vowed that she would try to pick up the pieces for the sake of their children. She and her late husband had a huge family.
In the statement that Talinda released to ET, she said,
One week ago, I lost my soulmate and my children lost their hero, their daddy. We had a fairytale life and now it has turned into some sick Shakespearean tragedy. How do I move on? How do I pick up my shattered soul?
Talinda searches for answers in the raw and emotional statement, and her answer is to find the strength to go on for her kids and give them all the love that she has. She said,
The only answer I know is to raise our babies with every ounce of love I have left. I want to let my community and the fans worldwide know that we feel your love. We feel your loss as well. My babies are so young to have lost their daddy, and I know that all of you will help keep his memory alive.
Bennington was a father of six. He and his former girlfriend, Elka Brand, had their first child, Jaime, in 1996; then, he and his first wife, Samantha Marie Olit, had a son, Draven Sebastian, in 2002. He and Talinda married in 2005, and their first child, Tyler Lee, was born in 2006. That same year, Bennington formally adopted Brand's son Isiah. Then in 2011, he and Talinda had twin girls, Lila and Lily.
Talinda's statement went on to say that though she is heartbroken, she's comforted knowing that Bennington is no longer suffering after his long battle with depression and substance abuse.
"He was a bright, loving soul with an angel's voice, and now he is pain free, singing his songs in all of our hearts," she said. "May God bless us all and help us turn to one another when we are in pain. Chester would've wanted us to do so. Rest In Peace, my love."
Bennington's music affected so many, and fans mourned the Linkin Park frontman on Twitter. Countless fans said that his music got them through their "angsty teen years" and more.
Overall, Talinda's statement revolved around her family and reflects what Linkin Park said in a statement addressed to Chester earlier this week. The band mentioned that Talinda wanted the world to know that Chester was the best husband and father, and "the family will never be whole without you."
While Talinda's statement is heartbreaking, there's no doubt that love and support from fans, friends, and Bennington's Linkin Park band mates will continue pouring in.