How This Horror-Averse 'Sabrina' Star Ended Up On Fall TV's Spookiest New Show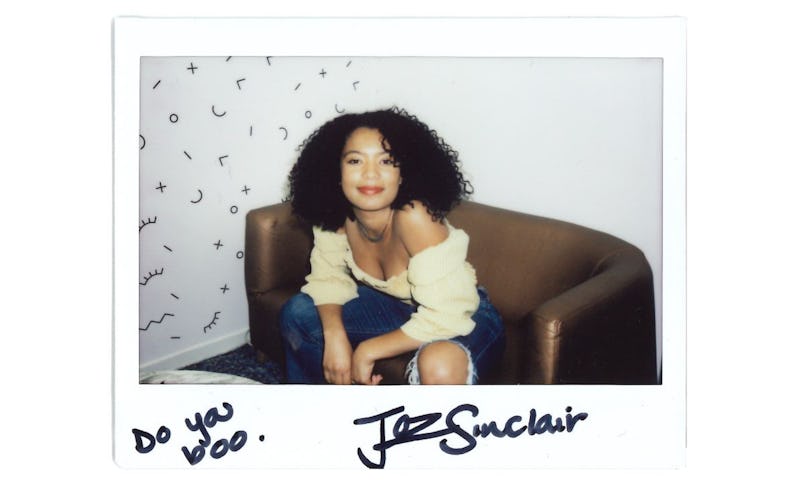 When celebrities hang out with Bustle editors, we want to give them the chance to leave their mark. Literally. So we hand them a pen, a piece of paper, a few questions, and ask them to get creative. The rest is up to them. This time, Chilling Adventures of Sabrina star Jaz Sinclair is leaving her mark in the Bustle Booth.
Jaz Sinclair is about the last person you'd expect to wind up on a show as dark as Chilling Adventures of Sabrina. When she comes into the Bustle offices on a bright October afternoon, she practically radiates sunshine — she's beaming, dressed in yellow. She talks with sincerity and big-eyed enthusiasm — you can see a half a dozen emotions reflected on her face within an instant. She's also deeply, intensely terrified of horror films — not exactly the best fit for a show billed as taking cues from Rosemary's Baby and The Exorcist.
"I'm such a baby," Sinclair says. "If it's one of those horror movies that has a really interesting story or a really interesting plot, I will watch it and grit my teeth and bear it, but I'll be yelling, jumping out of my seat, talking to the screen. I'm not a fun person to go see a scary movie with."
She is, however, the perfect person to play Rosalind, a "passionate feminist nerd" who, amid Sabrina's spooky, dark magic-saturated universe, comes across as endearingly human. She's strong yet sensitive; self-assured yet uncertain about her future. And even though she, like Sabrina, must navigate her own supernatural powers — as she begins to lose her sight, she suddenly gains psychic abilities — she's still just trying to manage being an average teenage girl.
"I don't think that Rosalind is jumping to be psychic," Sinclair explains. "If it was me, I'd be like f*ck yeah, bring on the visions, but Rosalind is just like, what is happening to me? Can I just be a normal kid?"
But whereas Ros feels conflicted, Sinclair feels validated. "I was hesitant to do TV for a long time because I didn't want to be on a project that, first of all, I wasn't passionate about, or second of all, I was underutilized on, and so even coming out to do this show, I was scared that was gonna happen," she says. "[But] I get a lot of different dynamics to play with within the character. It doesn't feel like I'm an archetype at all. I'm a whole person... I'm not just there to look at."
At least this time, she had nothing to be afraid of. Read on for more about Sinclair in her Bustle Booth.