Chloe Kim's Mom Will Make You Want Olympics-Inspired Nail Art NOW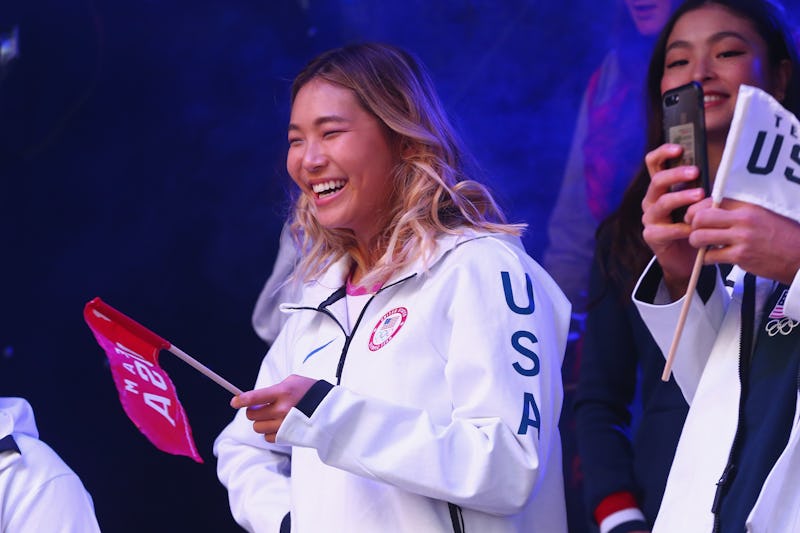 Mike Stobe/Getty Images Sport/Getty Images
On Tuesday morning in South Korea, 17-year-old American snowboarder Chloe Kim won an epic Olympic gold medal in the women's snowboard halfpipe, blowing away her competition. Chloe's family was there to witness her historic victory and has been her biggest cheerleader in the lead-up to the games as well. In fact, yesterday, Boran, Chloe's Mom, shared her Olympics nail art on Instagram, revealing a unique and special message of support for her daughter.
Boran's nails featured both Korean and American flags, seemingly paying tribute to Chloe's Korean heritage and the location of the games in South Korea, while also showing support for Chloe as an American athlete. Boran gleefully held up her nails in the Instagram photogram and captioned it, "Ready to watch Chloe NAIL it! :)." Her daughter readily responded in a comment, saying, "my mama is the cutest!"
Chloe absolutely crushed her competition in Tuesday's halfpipe final, beating the silver medalist by eight and a half points. She also took the competition as an opportunity to push herself, even though she had already secured the gold medal by the time her final run arrived.
According to the New York Times, Chloe said she had wanted to "one-up" herself on her final run, choosing to execute challenging back-to-back 1080s. The Times reported that Kim reflected on why she chose to challenge herself shortly after she finished her final run. The athlete mused, "I knew that if I went home with a gold medal knowing I could do better, I wasn't going to be very satisfied."
Chloe's family has always served as a strong support system for her. In addition to her mom's display of support, Chloe's father, Jong Jin, also had one of his own at the Olympics. While cheering his daughter on, Jong Jin passionately held a handwritten sign that featured the words "Go Chloe!" and a heart. Many on Twitter were enamored with Jong Jin's sign, calling it the "ultimate dad sign move" and praising Jong Jin for the love and support he showed his daughter.
After Chloe won her gold medal, her father reportedly pointed to himself and said "American dream!," implying that his daughter was accomplishing his American dream through her achievements. Kim's parents emigrated to the United States from South Korea in 1982.
Chloe has previously discussed her views on her role as an American with Korean heritage competing for the United States in South Korea at length, as reported in a Feb. 6 article by ESPN. The publication noted that, at times, Chloe has struggled with how exactly to represent herself, but, over time, she has forged her own path and become more comfortable "represent[ing] both countries." As Chloe put it (via ESPN), "I have this different opportunity because I'm Korean-American, but I'm riding for the States ... At first I was confused on how that would be accepted. But now I'm starting to understand that I can represent both countries."
In addition to Chloe's parents, many members of her extended family, who reside in South Korea, also watched her win her historic gold medal. Prior to the games, Chloe told People magazine how excited she was to have the opportunity to compete in front of such a large group of family members.
"A lot of my relatives over there have never really seen me compete before, so I think it's going to be pretty cool for everyone," Chloe noted. "It's really exciting, my whole family is really excited about it, so that gets me even more stoked!"
It is quite clear that Chloe has an incredibly strong support network both in the United States and in South Korea — and it is truly special that she was able to take home a gold medal as so many members of her family watched her make history.