Chris Harrison Was Just As Shocked By Jordan & Jenna's Split As The Rest Of 'Bachelor' Nation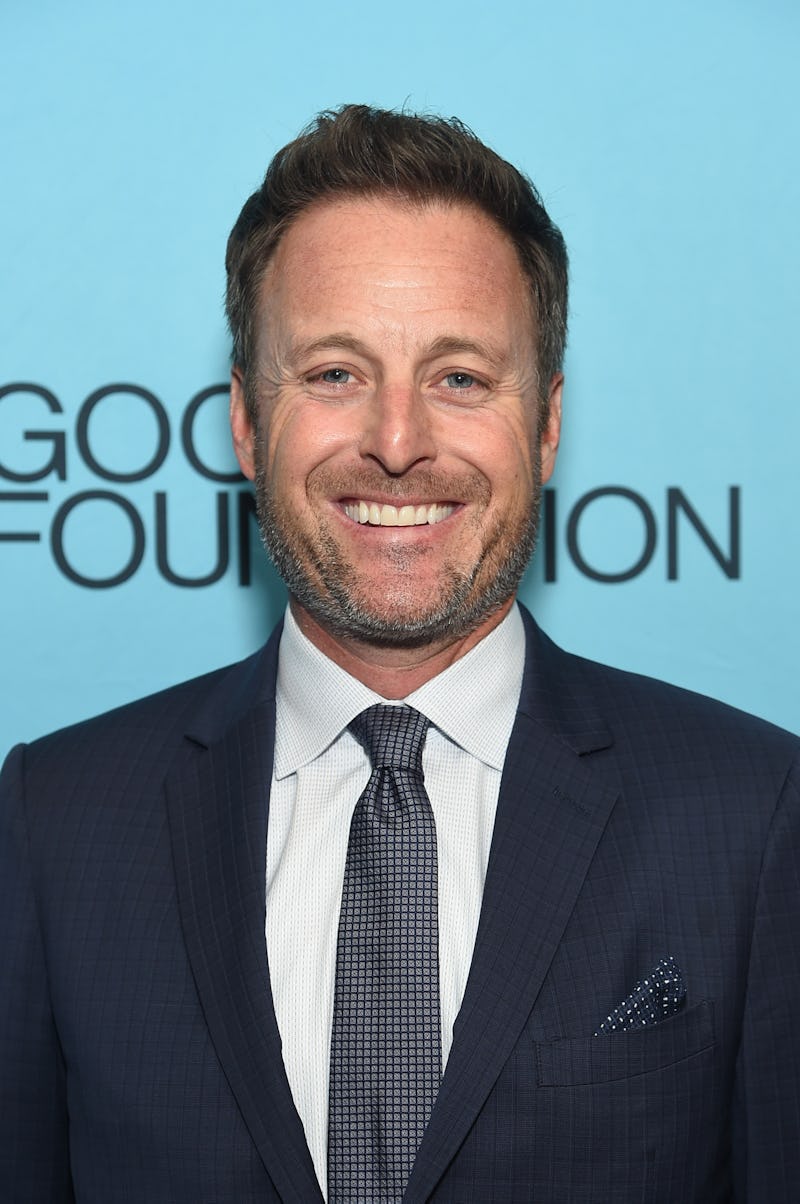 Jamie McCarthy/Getty Images Entertainment/Getty Images
As much as fans feel intimately involved with the relationships in Bachelor Nation — being that we all watch them from start to finish — it's hard to imagine anyone having more of a vested interest in what happens on the show than host Chris Harrison. And now that cheating rumors have rocked the franchise the same week as the Bachelor in Paradise finale aired, he's speaking up. In an interview with Entertainment Tonight, Chris Harrison reacted to Jordan Kimball and Jenna Cooper's breakup, and it sounds like he was just as shocked by it as everyone else.
Despite the fact that Jordan and Jenna got engaged on the BiP finale and were already planning their wedding, on Tuesday, Reality Steve released text messages allegedly sent by Jenna to another man, who claims he was dating her at the same time as Jordan. Jenna has since denied these allegations, while Jordan told People in an interview that he thinks the texts were actually sent by Jenna. Regardless of what's truly happening, it's a heartbreaking situation, and it sounds like Harrison feels the same way. (Bustle previously reached out to Jenna and Jordan for comment on the situation, but did not receive an immediate response.)
First things first: Harrison confirmed that they won't be airing any breakup footage, because the priority here is "making sure these human beings are OK."
But according to Harrison himself, everything seemed just fine between them at the reunion taping, so he's very blindsided by these allegations himself. He said:
"All I can say is that when I left them on the beach engaged, they seemed to be very much in love. The last time I saw them together was on stage at the special that we shot, and you know if she's faking it, she fooled me too. I haven't talked to either one of them, so I don't know the validity of any of it. I don't know what has happened since today, because it seems to be a very fluid situation, but I hope it's not true, I truly do."
He also added that if Jenna did, in fact, cheat with the intentions of making Jordan look bad later, it would be a "pretty terrible thing to do." "I know Jordan is very much in love with her, but then again... I don't know," Harrison said.
While a lot of details remain unclear, Jenna posted her own statement to Instagram on Wednesday afternoon, where she denied the claims:
"I want to start by saying those texts were completely fabricated, and I never sent them to anyone. I did not cheat on Jordan, and I have nothing to hide. I have been extremely open and vulnerable throughout this whole process. I was looking for love, and I found it. I was excited to share this journey with all of you. I am hurt by these fake texts, and that anyone would believe this story so quickly without proof. I have an attorney helping me investigate this hurtful and fraudulent attack on my character. We are evaluating all legal remedies available to punish those responsible."
Meanwhile, earlier that day, Jordan shared an Instagram post that seemed to confirm that he and Jenna had decided to go their separate ways. The model wrote:
"I deal with unreasonable circumstances reasonably and have come to terms with a decision to remove myself from the relationship. It breaks my heart to think, feel and fall for this. It's dropped me. Fumbling emotions and being understanding is not easy. I'll be taking time to pursue my inner peace and she will always have me to talk to, if you've reached out to me, allow me time."
It's hard to imagine what this time might be like for Jordan, so hopefully, he's able to process this in private. Same for Jenna. One thing's for sure, though: It sounds like Chris Harrison will be behind them every step of the way.