Jordan & Jenna From 'BiP' Already Set Their Wedding Date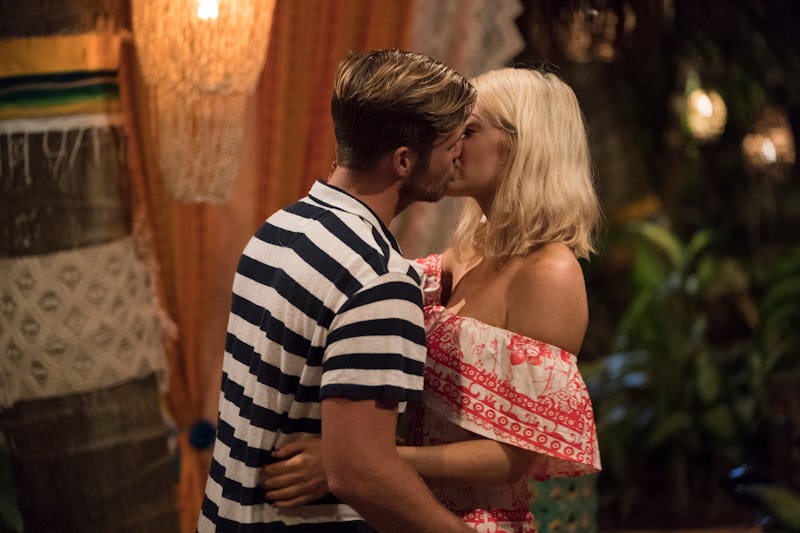 Paul Hebert/ABC
Couples getting engaged on Bachelor In Paradise is a funny thing — the rational part of our collective brain knows that the odds are against the couple in question. I mean, they've known each other for uh, three weeks? And they're already picking out china patterns and deciding that their children should be named Ashlyn and Jacob? But when it actually happens, oh, it is really delightful. There are tears and laughter and swells of the heart — and that's just from my own couch. So now that he's popped the question and she accepted the ring, when will Jordan and Jenna get married on Bachelor In Paradise? Maybe these two will take their time to the altar, since their romance was fast and furious.
Jenna and Jordan are certainly the blondest couple (not metaphorically — literally) on this season of Bachelor In Paradise, and maybe it's this towheaded nature that makes them so compatible. Who would have thought that Jordan, who was the villain on his season of The Bachelor, could be such a supportive and caring partner? It's probably because Bachelor In Paradise is much more conducive to learning who people really are versus the caricature that they can easily become on The Bachelor or The Bachelorette. It's more about the group and less about the individual on those shows, so no one can let their shine through.
Jordan started off the show with Annaliese, but when Jenna walked through the metaphorical door in Paradise, bam — that was it. Jordan was the equivalent of a cartoon wolf with his eyes bugging out. Since then, we've seen Jordan and Jenna canoodle up a storm. We've seen a lot of smooching. We've seen a few fun dates. And most importantly, we've seen Jordan comfort and support Jenna when she was convinced the walls were going to crumble down on their relationship — where was that Jordan on The Bachelorette?
Jordan and Jenna's engagement was super sweet. He and Jenna were both so nervous they could barely find the words to explain their feelings. Seeing the breakups the day before couldn't have been easy, but they prevailed. It was actually a very sweet moment between a couple of kids who met each other on a reality dating show. The Neil Lane diamond shone brightly in the sun, and all was well.
So, when will they actually get married? Eh, let's not count on that for a while. Jordan and Jenna may have jumped together in Bachelor In Paradise, but neither seem like the type for a huge Bachelor television wedding to take place next season. That's more Ashley Iaconetti and Jared Haibon's speed. No, Jordan and Jenna may take the routes of Kaitlyn and Shawn and Jordan and JoJo and — gasp — get to know each other before they get married. Because, let's face it — the whole engagement thing often feels like it's just for television. People don't often get married within the year coming from this franchise, but that's exactly what Jenna and Jordan plan on doing. During the finale tell-all special, they asked Chris Harrison to officiate their wedding next summer on beach in Mexico. We'll have to wait and see if that actually happens.
Now that the cameras aren't rolling, Jenna and Jordan will have time to get to know each other even more and see if they can make it last. It seems like they really have what it takes, too. Mark my words — Jenna and Jordan will actually get married from Bachelor In Paradise, but don't count on seeing it on TV.